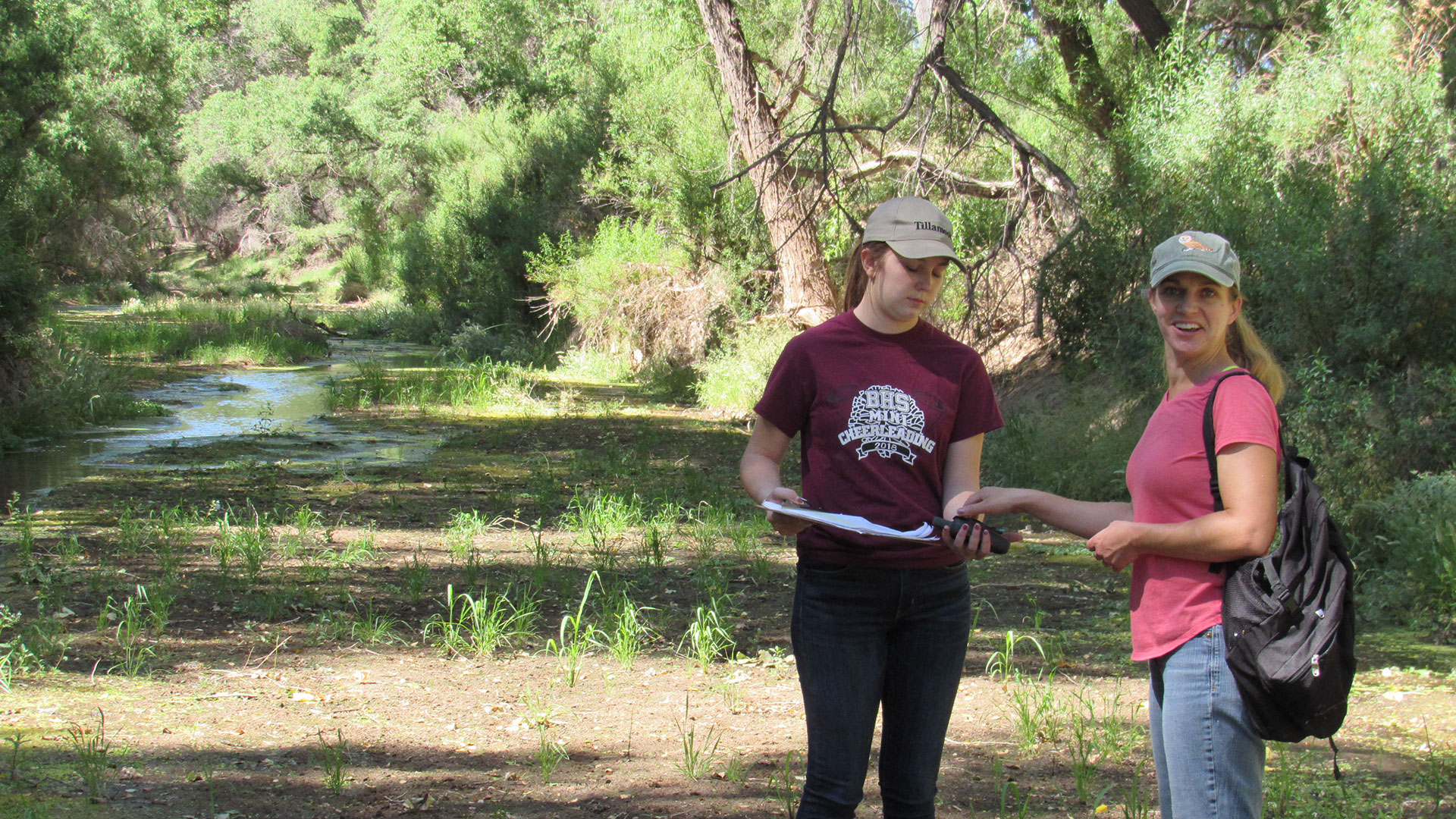 Volunteers Sara Ransom and Kaya Foss doing wet-dry mapping on the San Pedro River.
Holly Richter/The Nature Conservancy
The unusually high rain and snowfall in the last few months likely resulted in higher flows this summer in the San Pedro River. That's according to data collected by a citizen-science project led by the Nature Conservancy, which maps the presence of water in the river every June.
"I think the difference is that [with] multiple storms, you can get a lot more infiltration into the groundwater and aquifer over time, and that adds up and can make a difference in the water at the surface," said Holly Richter, Arizona water projects director.
Richter said while they haven't finished compiling the data yet, volunteers saw more water than in years past. Last year was the driest in their 21 years of records.
The wet-dry mapping project started back in 1999. At that time, Richter said there was a lot of controversy and opinions about how much water remained in the river.
"So we thought, why not go out and map it with people with lots of different opinions to see what really does exist," Richter said.
By design, the mapping project is held at the hottest time of the year, before monsoon rains, when the river is most reliant on groundwater. Volunteers walk down sections of the river, punching into their GPS units every time water starts or stops.

"Every one of those data points is then compiled into an overall map showing the water presence throughout the river and its tributaries," Richter said.
Richter said this kind of mapping is hugely useful on arid western rivers such as the San Pedro, which have intermittent flows. The Nature Conservancy can use the data to identify areas harder hit by groundwater pumping, and then target those areas with recharge projects like the Cochise Conservation and Recharge Network.
The San Pedro River is a critical source of water and habitat for hundreds of species.