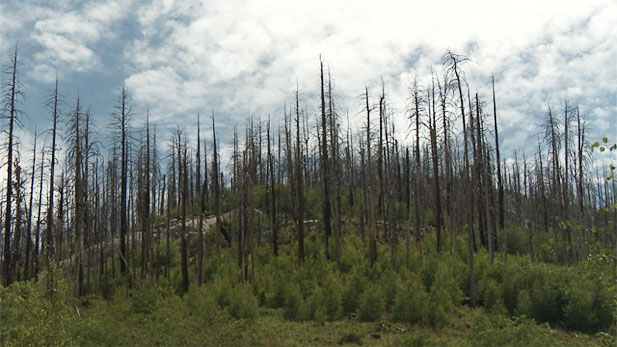 Atop Mount Lemmon, north of Tucson, remnants of wildfire. (PHOTO: AZPM)
Last month's Monument Fire, near Sierra Vista, consumed more than 30,000 acres on the U.S. side of the border, and another 1,500 acres in Mexico. Much of the fire burned along the steep slopes of the Huachuca Mountains, where fire crews consider the terrain extreme.

Michael Crimmins is an associate professor in the Department of Soil, Water, and Environmental Sciences at the University of Arizona College of Agriculture and Life Science. He says the prolonged drought in the Southwest has contributed to this year's intense fire season, and likely played a role in the severity of the Monument Fire.
Crimmins says the recent rains are a welcomed reprieve from the dry conditions, but they come at a time when the charred ecosystem cannot take full advantage of the moisture.
"When fires burn really hot, then the organic material in the soil is gone," he says. "It actually changes the whole composition [of the soil]."
The fires along the extreme terrain of the Huachuca Mountains have created an increased danger of flash-flooding during the monsoon.
"The soils become hydrophobic," says Crimmins. "When water falls on them, it quickly pools up and runs off the top, rather than soaking in and slowing down the flows after a rain event."
The USDA Forest Service conducted pre and post fire discharge calculations at washes and canyons at the fire site. They say some areas will experience up to a 20 percent increase in runoff as a result of the fire. Crimmins says the rain is essential in helping overcome the state's prolonged drought conditions, but it can also make restoration work more difficult.
Most experts now believe that fire management needs to look at ways to allow fire back into our landscapes. Don Falk is an associate professor at the UA School of Natural Resources and the Environment. He says recent fires have had a big impact on homes and other structures, but we need to allow them to fulfill their role within our ecosystems.

"It's important to understand that fire is something that ecosystems do," says Falk. "It's not something that happens to them, like a meteor falling from the sky."
Falk says fire management strategies that emphasize suppression have contributed to many of the more damaging fires by allowing the build-up of fuel.
"Fires are one way that ecosystems redistribute energy," Falk says. "We have a choice whether we let fire on the landscape to do its work, or whether we try to exclude it and pay the price later."
Luis Carrión has an update on the aftermath of the recent rains and fires. (VIDEO: AZPM)