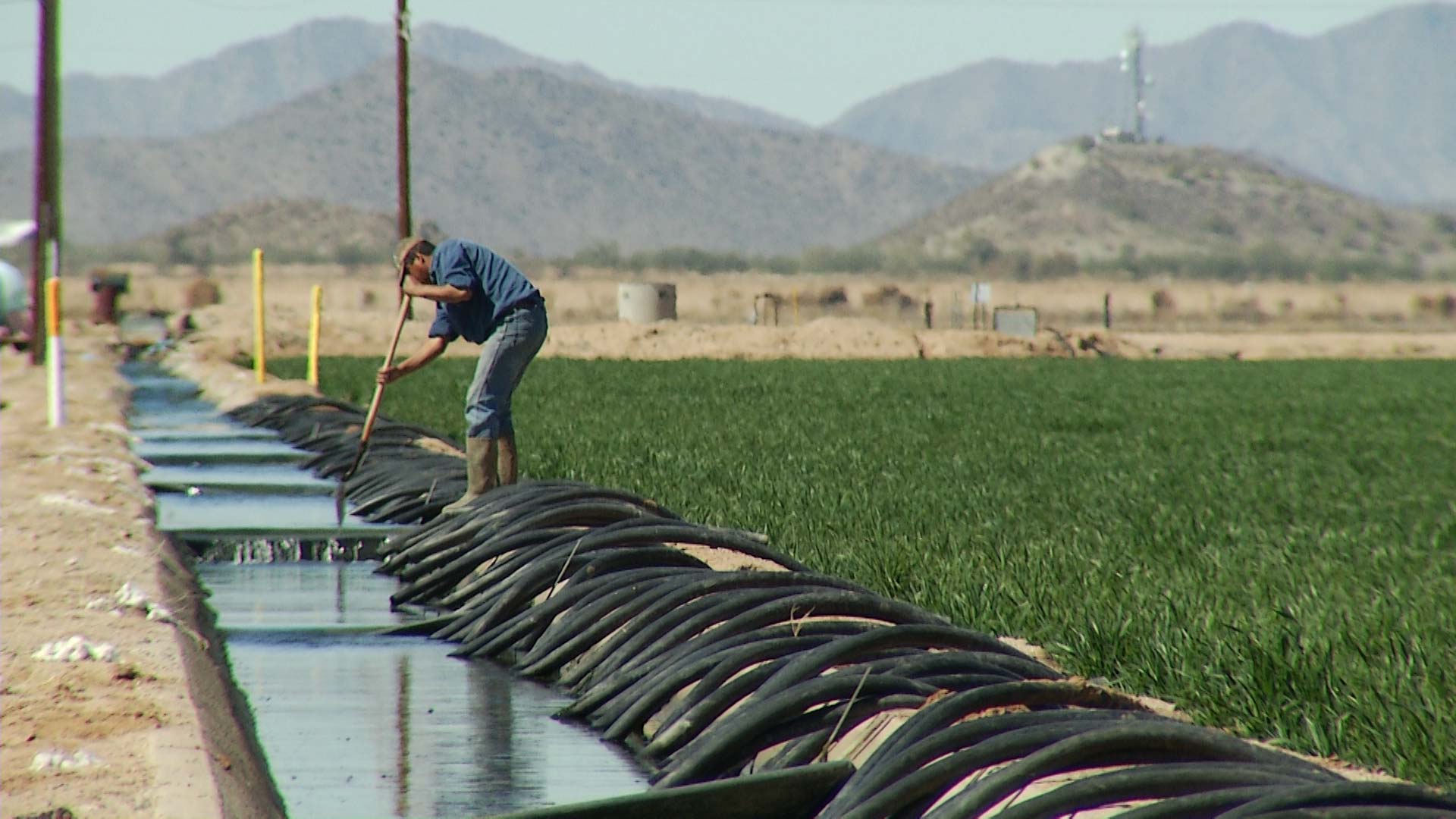 A farm in Central Arizona.
AZPM Staff
Central Arizona farmers are making another plea to state lawmakers to give them an additional $20 million to increase their reliance on groundwater as they prepare for less surface water from the Colorado River.
Lawmakers have already committed $9 million to help Pinal County farmers, who will face the most drastic cuts when the drought contingency plans take effect.
At a panel discussion on the future of Colorado River water supplies in Phoenix on Wednesday, Chelsea McGuire of the Arizona Farm Bureau said those farmers are planning for a drier future, according to Dave White, who moderated the panel. That also means preparing for the social and economic changes that will result from impacts to water supplies.

"They're aware of these changes, they're actively engaging in conversations about these changes and [understand] that it will be most successful in transitioning into the future both in terms of new forms of agriculture and economic development if they lead the way," White said.
White is director of the Decision Center for a Desert City at Arizona State University, which hosted the panel discussion. Representatives from the city of Phoenix, the Gila River Indian Community and the Environmental Defense Fund also participated. The conversation focused on what lies ahead for Colorado River water planning now that the contentious and time-consuming drought contingency plan is on the books.
"That future will very likely be one in which there will be limited supplies and diminishing natural flows due to the lingering effects of long-term drought, warming temperatures and declining precipitation as a result of regional effects of global climate change," White said.
White said there's widespread recognition that the drought contingency plan did not directly address climate change and the fact that the river is already overallocated. He said the panel agreed that to move forward effectively, water managers must address those challenges head on and create a planning process that's diverse and transparent.
Last week, the governor's Drought Interagency Coordinating Group voted unanimously to continue Arizona's long-running drought declaration.
The next round of Colorado River negotiations starts next year and will last through 2026.