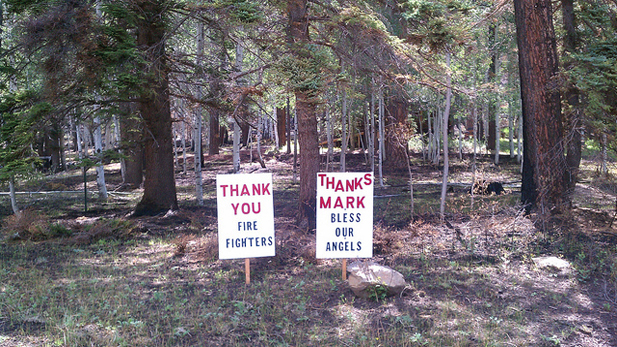 With many of the state's largest wildfires contained, residents of fire-afflicted communities offer the firefighting community their thanks. (PHOTO: Robert Rappaport)
Around the town of Greer, the love letters abound.
Signs reading "Thank You," "Bless our Angels," and "You Rock" stand out in the landscape, paying public tribute to the firefighters who risked their lives for this White Mountain community.
The Wallow Fire claimed 538,049 acres—more than any other fire in Arizona history—and 22 Greer homes before its containment. And it was just one of several megafires in this intense fire season.
In southeastern Arizona, the Horseshoe 2 fire burned 222,954 acres before firefighters contained it; in the mountains south of Sierra Vista, the now 98 percent contained Monument Fire has blazed through 30,526 acres and at least 60 homes.
With the state's largest wildfires under control, residents of fire-afflicted communities are coming back, taking stock of the damage, and looking to the future.
Their leaders are planning their recovery: new marketing campaigns and business initiatives, celebrations and fundraisers.
But healing a forest is a different story.
"No one living or for generations to come will see productive forest" in the most severely burned terrain, says forest ecologist Wally Covington. "It takes a hundred years to grow a hundred-year-old tree."
As a professor in the Northern Arizona University School of Forestry and director of the NAU Ecological Restoration Institute, Covington has spent his nearly four-decade career in search of the best methods to restore forest health. His dream is to turn back time: restoring half of the Southwest's forests to their condition before European settlers arrived, using a combination of forest thinning and prescribed burns.
His ideas are controversial and not always easy to implement. Just turning back the clock a few weeks, to before a Wallow or Monument Fire, takes considerable manpower and planning.
In the case of the Monument Fire, for example, a special team of experts that included a botanist, hydrologist, geologist and archaeologist was called in to assess the fire's damage and devise a plan for the first year following the blaze.
Burned Area Response Team (BAER) members look at satellite and historic data to get a preliminary sense of the damage done, and then walk the burned site themselves to "ground-truth" or verify the data. Once they've surveyed the affected area, they create a map of the burn's severity.
The maps tell the team and the forest's managers where to focus their efforts. The most severely burned stretches will become "hydrophobic" or water resistant, and need intervention to prevent flooding or landslides that can prove devastating downslope. That can include straw or "hydromulch," a sticky mix of paper, straw, wood fiber and guar gum that helps hold the soil in place.
Less severely burned areas stand a chance at a quicker recovery, converting into shrublands over decades. Forest managers may seed them with native plants to spur the process along.
Emergency responses work well, Covington notes, but typically don't last long enough. Once funding runs out, those in charge of restoration often have to walk away, he says.
"Now that this [burned area] is such a large portion of our landscape," he says, "we can't afford to do that. We can't just walk away."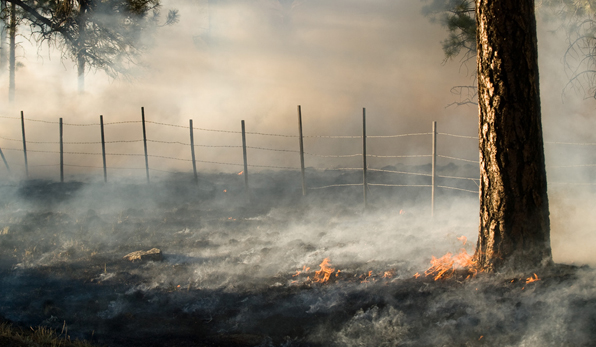 Low-intensity flames from a preventive "burnout" operation meant to stop the Wallow Fire. (PHOTO: Kari Greer for the U.S. Forest Service)
The story of Southwestern ecology has always revolved around fire.
"These forests and grasslands have burned as long as they've existed, and they will continue to burn," says Don Falk, a University of Arizona fire ecologist.
But megafires that scorch hundreds of thousands of acres and destroy whole tree stands are new. A century's worth of fire suppression has given rise to unnaturally dense forests stocked with a hundred years of fuel—a tinderbox for megafires that destroy whole forests, instead of clearing them for new, healthy growth.
Climate change compounds the problem by extending the fire season, Falk says.
"We can have fires from March to November now," he says. "Fires that start earlier in the season have much longer to burn."
Megafires will continue as long as the right conditions persist. Covington and Falk would like to see forest management plans geared toward preventing them by restoring something like the natural order: frequent, low-intensity fires that sustain sparser stands of trees and healthier grasslands.
Thinning and carefully managed grazing can get Arizona's fire-prone places part of the way there, says Falk, but fire itself will play the biggest role.
"We need to get fire on our side, turn it from an enemy into an ally," he says. "We need much larger-scale prescribed burns"—20,000- to 30,000-acre burns that dwarf the U.S. Forest Service's current prescribed fire efforts.
Those living on the edge of wild places will also have to face some uncomfortable truths, adds Falk, to keep those places healthy. They may have to adopt land use planning policies that buffer fire-prone areas--that is, they may have to live a little farther from the lands they love, or accept the risks that come with them.
And they will have to confront the challenges of climate change.
"If you don't want to see a longer fire season, get serious about climate change," says Falk. "That's the connection."