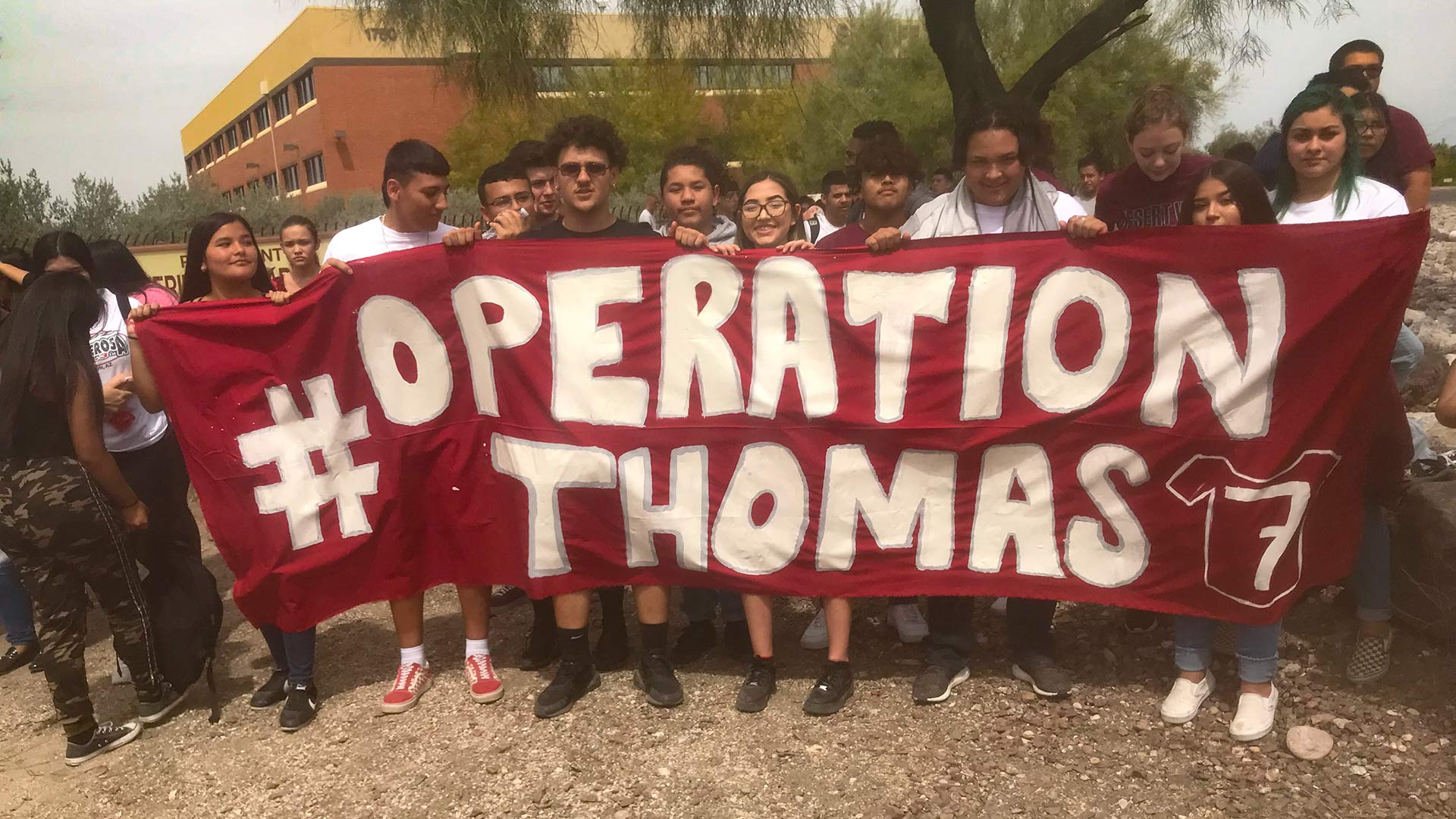 Desert View High School students hold a protest at the Pima County Sheriff's Department on Benson Highway in Tucson. Students walked for two hours to protest the detention of senior classmate Thomas Torres.
Nancy Montoya/AZPM
PHOENIX — A high school football player who has been in the U.S. since he was a toddler was in custody for possible deportation to his native Mexico, prompting a protest Monday by classmates outside an Arizona sheriff's office.
Thomas Torres-Maytorena, a senior about to graduate from Desert View High School in Tucson, was taken into custody Thursday after a traffic stop by sheriff's deputies and turned over to Border Patrol, said Victor Mercado, a spokesman for the Sunnyside Unified High School District.
The Sheriff's Department said in a statement that the deputy stopped Torres-Maytorena due to expired registration. The deputy asked for identification, as is normal in all traffic stops, and when the driver said he didn't have ID and wasn't in the country legally, the deputy called Border Patrol.
Border Patrol said in a statement that Torres-Maytorena was in violation of U.S. immigration laws and will be charged.
Mercado said Torres-Maytorena, 18, has a court date on May 22, the same day he is supposed to graduate.
"Thomas is the American Dream," said one of the many homemade signs carried by the students protesting outside the sheriff's office. Other signs read, "Abolish the Border Patrol" and "Without Justice, There is No Peace."
The students called on law enforcement agencies to not collaborate with immigration authorities. On Tuesday, the Pima County Board of Supervisors is scheduled to discuss a federal grant available to law enforcement agencies that cooperate with immigration officials. The county is considering accepting the grant funding to help pay for migrant shelters it has opened or assisted with in recent weeks.
There is no information on where Torres was when he was stopped.
A federal judge ruled in the 1990s that the Border Patrol violated the civil rights of Hispanic students and staff at an El Paso, Texas high school by stopping them at the school without good cause to determine their citizenship. Bowie High School is just a few yards from the U.S.-Mexico border.
Lorena Rodriguez, a family friend who launched a GoFundMe page to raise money for Torres' legal costs, said the boy was a toddler when his relatives moved from Mexico to the U.S. "to seek a better future."
Rodriguez said Torres' family had long since returned to Mexico and he had been living with her family as a close friend of her brother, who also is scheduled to graduate.
She said Torres called the family from a detention facility in Casa Grande. He told them he was driving when he was stopped by sheriff's deputies for going slightly over the speed limit, but was unable to produce a driver's license.
Arizona does not issue licenses to people who are in the county without authorization.
Rodriguez said Torres and her brother had already picked up their graduation robes, which are hanging in the bedroom they share.
Torres attended Desert View High School for the past four years, where he was involved in school and was a member of the football team, said Rodriguez. She said he also worked busing tables at local restaurant, as well as doing yard work and other side jobs.
"People like Thomas are needed in this country," Rodriguez wrote on the fundraising site. "He's a hardworking young man willing to better his future."