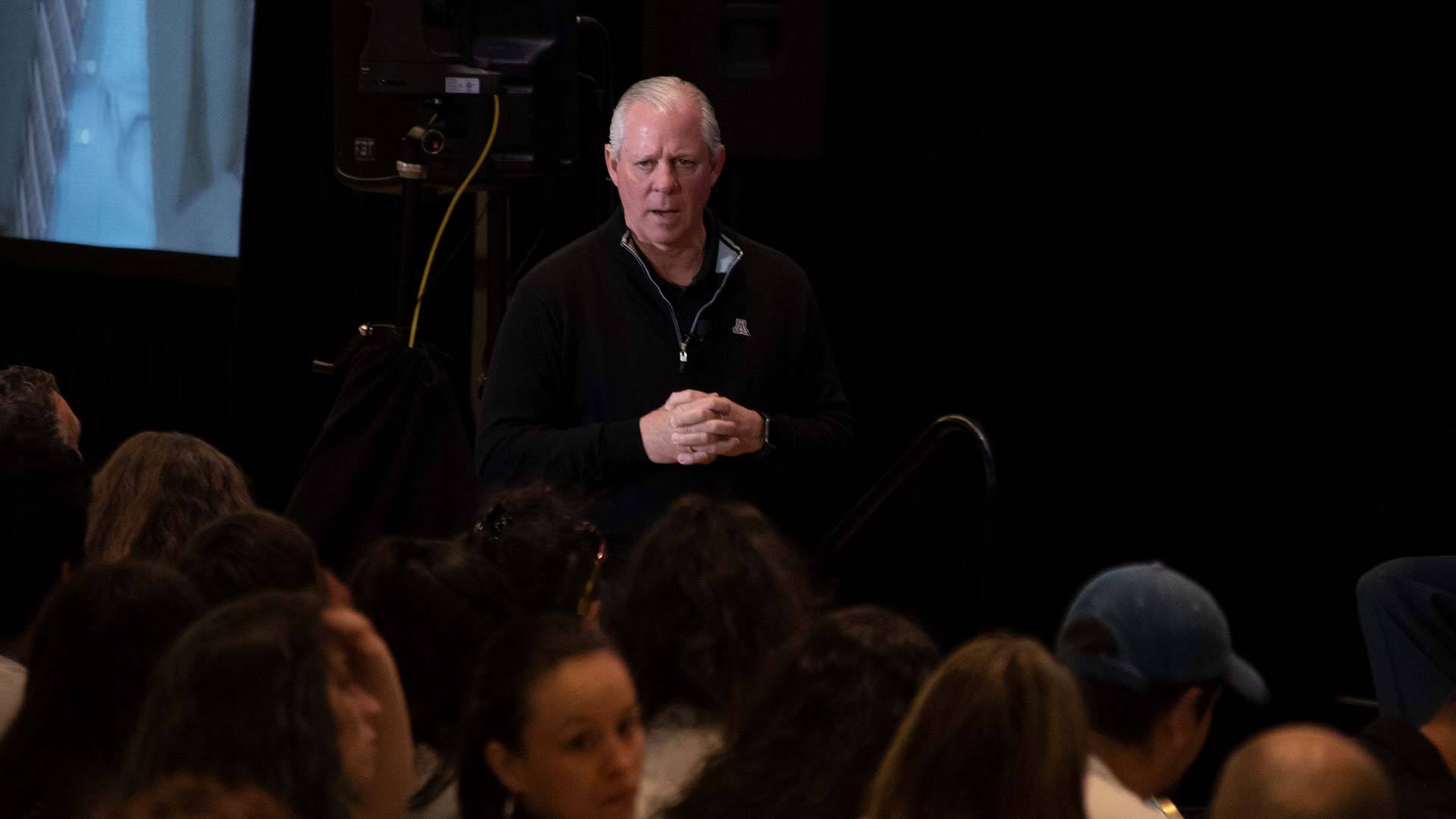 UA President Robert Robbins addresses the audience at an event called "campus conversation," April 23, 2019.
Christopher Conover/AZPM
University officials gathered with students, faculty and community members Tuesday for a two-hour "campus conversation" at the University of Arizona.
The discussion centered on First Amendment rights and the presence of Border Patrol officers on campus.
The forum came about after nearly a month of protests and calls for the resignation of University of Arizona President Robert Robbins.
In March, three people were charged with misdemeanors after protesting the presence of Border Patrol officers at a meeting for an officially sanctioned university criminal justice club.
Those charges were dropped last week, but that has done little to quell the tension on campus.
Robbins opened the meeting with a statement. In it, he said he has learned a lot in the last month.
"I will tell you that there have been mistakes made. I am very focused on how we learn from these mistakes, and today is meant to be continuing that process of listening," Robbins said.
Many in the audience wanted Robbins to apologize for the charges against the protesters. He did not. Nor did he sit with the panel or answer questions. Instead he sat in the audience.
Many in the audience wanted more than an apology from Robbins.
"Why is the presence of armed and uniformed Border Patrol being framed as speech?" asked a graduate student who identified herself as Liz. "What we want from you guys is a commitment that there will be no armed and uniformed Border Patrol on this campus," she said.
University officials in attendance did not give that assurance.
The UA's designation by the U.S. Department of Education as a Hispanic Serving Institution (HSI) was brought up during the meeting.
"As an HSI in Southern Arizona, the presence of Border Patrol and ICE is antithetical to our identity and forsakes our obligation to serve and protect the Latinx community. How do we reconcile our identity as an HSI with ICE and BP's traumatizing and antagonistic presence on campus?" asked Vanessa Perry.
Throughout the meeting, the questions were pointed. At times comments and questions were interrupted by protesters.
One of the panelists was Natalynn Masters, the student body president. She said she thinks the university is beginning to move in the right direction.
"Have we gotten it right? No. And I will acknowledge that and own that as a representative of the university and as a student government representative we have failed, period. But will we work to get better? Yes," Masters said.
Three university officials, including Masters, took part in the conversation. All pledged to make the university better but none would put a timeline on when that will happen or what steps should or will be taken.
The university is planning another campus conversation in the fall when students return to campus.