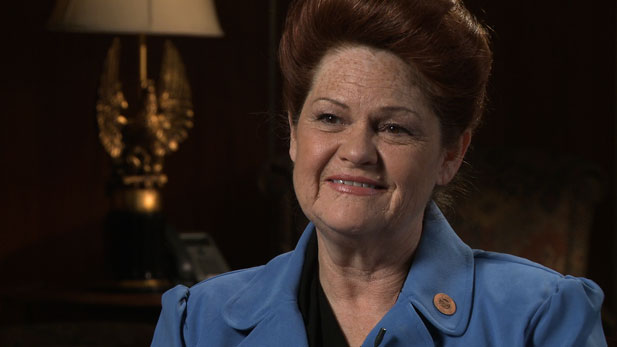 State Rep. Brenda Barton, R-Safford, says White Mountains communities have pulled together in Wallow Fire aftermath. (PHOTO: AZPM)
Wildfires that burned nearly 1 million acres of Arizona forest and grassland in the last two months have again brought to the fore the question of how to prevent such monster fires.
Politicians, environmentalists, businesspeople and scientists are all tackling the complex question. The Arizona House Ad Hoc Committee on Forest Management held an initial hearing on the matter Tuesday in Phoenix.
State Rep. Brenda Barton, R-Safford, chairs the House ad hoc committee. Her Legislative District 5 encompasses the 538,000 acres scorched by the Wallow Fire, which was brought into containment just last week--five weeks after it started in the White Mountains. It is the biggest fire on record in Arizona.
"We had almost a million acres burned within the last couple of months (in several fires around the state)," Barton said in an Arizona Week interview. "In my opinion, that's really unacceptable. If you're not going to allow it to be harvested, but you allow it to be burned, I don't understand that methodology."
Barton said she thinks all parties must come together to find ways to improve forest conditions. Included would be more thinning, the timbering connected to thinning and a return to more cattle grazing on forest land, all using scientific methods, she said.
Democratic Rep. Bruce Wheeler of Tucson, also a member of the ad hoc committee, said he favors a scientifically based approach but objects to finger pointing at environmentalists and others for blame in the fires.
"Blaming radical environmentalists and undocumented workers for starting these fires I think is irresponsible and dangerous, and I think we ought to go back to a scientific analysis of what is truly happening," Wheeler said in an Arizona Week interview.
Reporter Michael Chihak further explores the political and scientific dimensions of wildfire on Arizona Week. Watch here:
(VIDEO: AZPM)