The fires that blazed across Arizona are finally under control, but in their aftermath, much of the wildlife from affected areas is now without a home.
According to the Arizona Game and Fish Department, the Arizona-Sonora Desert Museum has taken in over 200 fish salvaged from the creeks around the Horseshoe Two fire. The Tucson Wildlife Center has taken in a number of wild animals as well, including a golden eagle.
LouRae Whitehead is the director of animal care at the Tucson Wildlife Center, and has the scratches on her forearms to prove it. She believes preserving wildlife is her personal contribution to society.
"I have a strong drive to help the animals," she says. "It's something I've always wanted to do."
As she feeds a baby skunk, Whitehead explains that the skunk's parents probably left him to search for food and never returned. Their home, and the food in it, had been destroyed by fire.
"He wasn't moving" when he was found, says Whitehead, "but they picked him up and he squeaked."
Summer is a busy time for animal rescue centers. The extreme heat can cause birds to flee their nests and animals to leave their territory in search of food, water or relief from the sun.
"The fires are an added burden," says Lisa Bates, director and co-founder of the Tucson Wildlife Center. "Normally we take them right back to their territory … but if the territory is burnt, there won't be any food … or places where they'll be safe."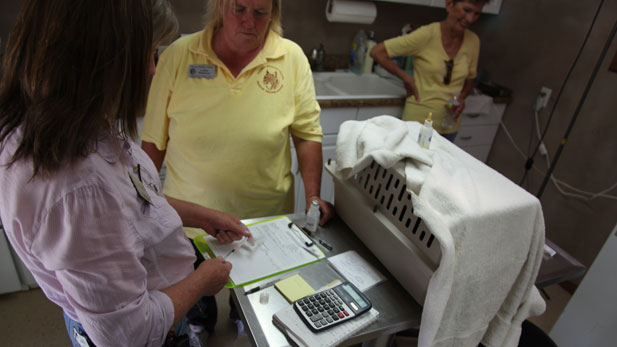 Lisa Bates (left) and LouRae Whitehead of the Tucson Wildlife Center analyze a medical chart belonging to a red-tailed hawk that suffered burn injuries in one of the Arizona fires. (PHOTO: Anna Latta)
Large birds are particularly territorial, says Bates, and that presents particular problems when reintroducing rehabilitated animals into the wild. If their own territory has been destroyed and they have to be released into a new area, they may have to fight other birds--birds who have already claimed the new territory as their own--for food and water.
At least two red-tailed hawks were being treated at the center for fire-related injuries. Singed feathers can make it difficult or impossible to fly, which may have caused the fractured tibia and fibula of one of the hawks.
Keeping wild animals wild can also be a tricky task.
"We try not to talk to them too much when we feed them." Whitehead explains. She doesn't want the animals to associate humans with food. Rehabilitation workers often wear animal masks to cover their faces, and try to keep the animals in groups so they can teach one another to be wild.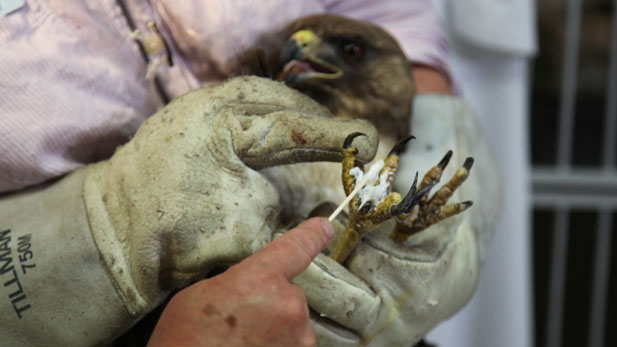 LouRae Whitehead, director of animal care at the Tucson Wildlife Center, applies antibacterial cream to the burned feet of this red-tailed hawk. (PHOTO: Anna Latta)
Much of the wildlife is brought in by the people who find them, but Whitehead cautions against handing large animals.
"People want to help [the wildlife], but they need to be careful about how they do help," she says.
The Arizona Game and Fish Department advises that it is best to wait and watch before assuming a wild animal is truly alone and in trouble. For more information on helping wildlife, visit the AGFD fact sheet.
The fires in Arizona are under control, but the damage has affected more than just people and businesses. Much of the wildlife have been displaced or injured. Fortunately, there are centers for their recovery and rehabilitation. (VIDEO: AZPM)

Read more about Arizona's ongoing battle with wildfire at the AZPM Fire Hub.