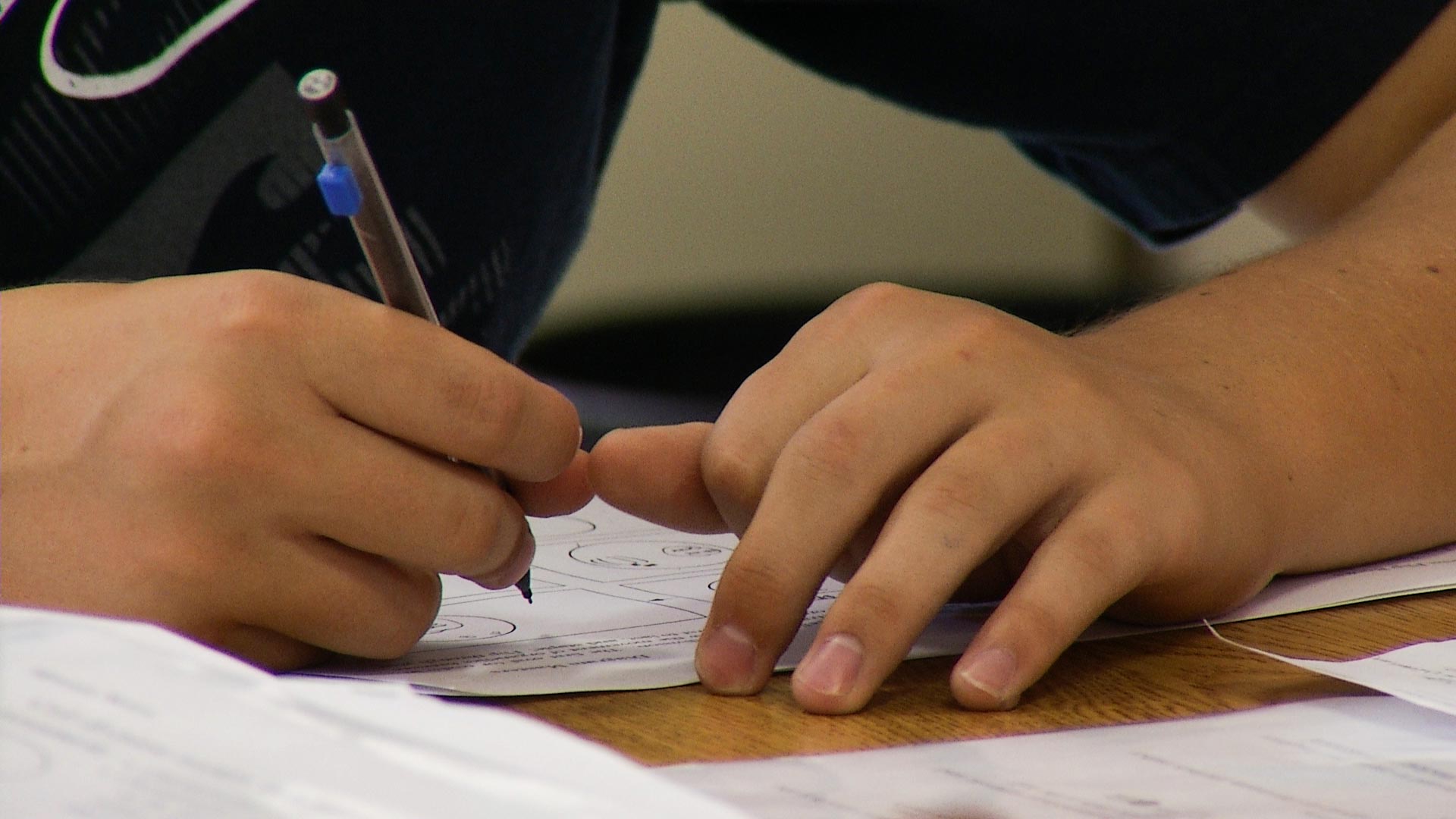 A student in the Vail School District works in class.
AZPM
Arizona decided in 2016 to let school districts choose from a menu of state assessment tests rather than rely solely on AzMERIT. Two weeks ago, the U.S. Department of Education told the state that decision —along with what the department deemed to be insufficient metrics for those alternative tests — has put it out of compliance with national standardized testing requirements. If the state fails to fix the situation, it could be at risk of losing funds targeted to serve low-income students.
Arizona Superintendent of Public Instruction Kathy Hoffman said her department is working to address those issues. The former teacher said the value of standardized tests like AzMERIT lies in their usefulness in doing a "systems check" of instruction and school accountability. But she acknowledged some high schools are seeking more flexibility in test options, like the ACT and SAT.
"What I've heard very clearly is we want to reduce testing time for teachers and students, we want our tests to be meaningful, fair, unbiased, and we need to have stability," Hoffman told The Buzz.
Hoffman stressed there will be no impacts to this year's testing schedules. Based on her conversations with the U.S. Department of Education, it seems likely that grades three through eight will continue to use the AzMERIT for the next couple of years while the Arizona Board of Education continues to pursue additional options at the high school level.
---
Gabriel Trujillo is Superintendent of Tucson Unified School District, which is one of the few local districts that shifted away from AzMERIT for high school students in favor of the ACT. Trujillo said they made that decision primarily because of the level of interest, urgency and relevance high school juniors feel toward the ACT, which his district has been administering to students for the last decade. Trujillo said his schools see far better attendance and performance from students with the ACT versus the AzMERIT, because students know the latter isn't required for graduation, and the former can help get them into college.

"We saw a lot of juniors just either failing to show up to take AzMERIT or just tanking it, not taking it seriously, blowing it off and flunking it. Because there's not the same relevance attached to AzMERIT …it's been a struggle to get juniors to take AzMERIT seriously," Trujillo said.
Trujillo said TUSD also has a technology infrastructure challenge that makes administering the AzMERIT more difficult, since schools are no longer allowed to use the paper test. Many schools in his district do not have a one-to-one computer ratio.
"When Tucson High only has three or four computer labs for 3,200 students, I've got a 15-day test window I have to deal with," as opposed to the ACT, which can be administered in a single day with paper tests, Trujillo said.
Trujillo said he does support using AzMERIT from third through eighth grade. Debbie Penn, deputy superintendent for the Vail School District, agrees. Her district decided to continue using AzMERIT at the high school level. Penn said AzMERIT has a clearer alignment to state teaching standards than the ACT, even though, like TUSD, student motivation remains a challenge.
Vail pulls principals and lead teachers together to go through AzMERIT results carefully, and uses the data to see how their schools compare to others across the state. Penn said the ACT and AzMERIT serve different roles, and both are valuable.
"We're really looking for some sort of middle ground between the two," Penn said. "There is complete agreement that amount of testing we ask of our high school students is excessive. We would like to have a nice test that provides consistency, equality, quality, that doesn't take days to administer. That middle ground is really what we're hoping for in the future."
---
Expect More Arizona is statewide advocacy organization with the stated goal of bringing communities together to make positive change for education, largely in the area of funding. Along with many state partners, they've created the Arizona Education Progress Meter to evaluate how counties across the state are performing in various educational metrics, including performance in math and reading levels in certain grades. The Buzz talked with CEO Christine Thompson about the role of AzMERIT and other standardized tests in schools.

The Buzz
airs Fridays at 8:30 a.m. and 6 p.m. and Saturdays at 3:30 p.m. on NPR 89.1. You can subscribe to our podcast on
iTunes
and NPR One. See more from
The Buzz
.