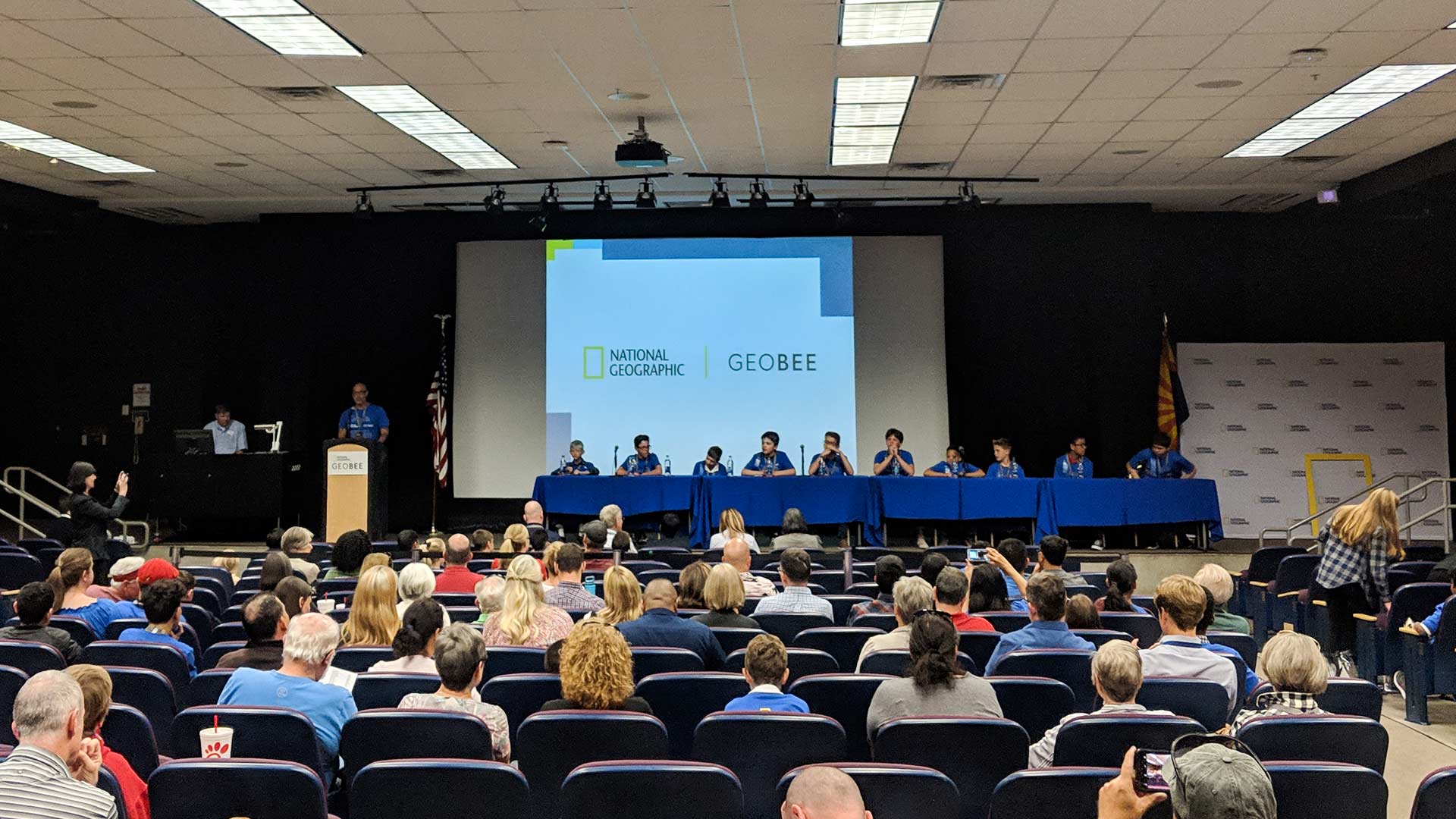 Ten finalists in the 2019 Arizona National Geographic GeoBee prepare for the final round.
Nick O'Gara/AZPM
Around 100 students and their families traveled to the University of Arizona campus from all over the state Friday to see if their geographical knowledge could earn them a trip to Washington, D.C., to compete against their peers nationally.
As in other states, the Arizona National Geographic GeoBee starts at the school level, where approximately 200 fourth- to eighth-grade students competed, according to coordinator Rebecca Seybert. She says it typically draws students with broad knowledge.
"They have interests in music and history and math and geography. ... They just have a good knowledge of probably a lot of things," Seybert said.
Stefano Bloch, an assistant professor in the UA School of Geography and Development, moderated the finals, and says the energy and enthusiasm in the room is heartwarming to geographers like him.
"I so wish they would all contact me in 10 years, or five years, and tell me where they're going to school and what they're majoring in. And even if it's not geography, they're still geographers. They'll always be geographers," Bloch said.
Christian Aquino of Kingman knew the name of the body of water separating the Australian states of Tasmania and Victoria (the Bass Strait), winning him $1,000 and a spot in the national competition in May.
Tucson sent one of its own to the national competition the previous year. Gayatri Kaimal was one of only four girls in the 2018 national competition, and finished in the top 10.
Seybert says coordinating the event is a "labor of love," but added this would be her last year. She's a retired teacher of 40 years who has been part of the event for 23, and says she would like to hand off the duties and get some younger people involved.