Strong winds and a forest leached by drought drove wildfires into areas of Arizona this week populated with many homes and ranches. Some animals panicked and were injured by the flames near the U.S.-Mexico border.
One horse rescue operation, called Horse'n Around, on the border is now in trouble.
Steve Boice shakes his head when he describes the first day of the fire.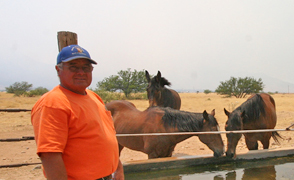 Steve Boice heads the horse rescue operation called Horse'n Around. (PHOTO: Michel Marizco)
"When that fire came down through there, it torched," Boice said. "It's terrible the amount of stuff it torched."
Ever since the fire started, he's been rescuing animals from up in the mountains near Coronado National Memorial in the Huachuca Mountains south of Sierra Vista. A donkey who caught on fire. An old Rottweiler who tried to hide from the flames in his doghouse.
Then there's Charlie. Charlie Horse. He panicked and ran off. He nearly died in the flames.
Boice slams the door of his pickup.
"You want to see Charlie?" he said. "Let's go see Charlie."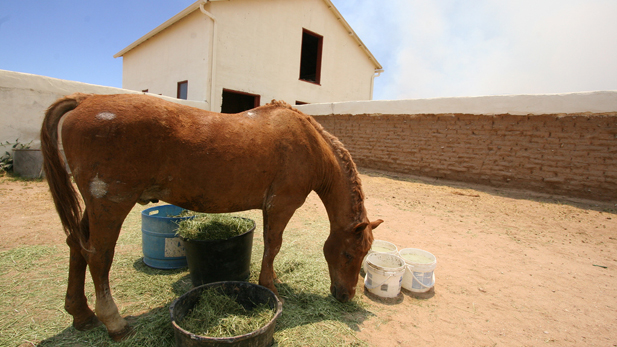 Charlie Horse grazes in his corral on a horse rescue ranch. He was badly burned in the Monument Fire in Southern Arizona's Huachuca Mountains when he panicked and ran into the flames. (PHOTO: Michel Marizco)
Boice rattles loose the chain on the corral gate and there's Charlie.
"Charlie is very happy right now," Boice said. "He's eating."
The horse looks up, snorts and goes right back to his rich, green alfalfa.
The adopted horse is oblivious to the massive column of smoke rising west of here. The air is hot and thick with the taste of ash. It falls like a light dusting of snow from the Monument Fire.
When the fire started, it spread quickly through trees that had already died from the killer winter freeze. It quickly destroyed 40 homes and a church. By late Friday, it had leaped Arizona 92, moving north towards Sierra Vista. Evacuations were ordered south of the city and Gov. Jan Brewer declared a state of emergency.
Boice runs Horse'n Around with his girlfriend. They kept 24 adopted horses on 300 acres of pasture and had to scramble get them out.
"Charlie was one of them that did not want to come, did not want to go. We were trying to pull them away from their food that they had on top of the mountain," Boice said. "One guy got his hand rope-burned pretty bad trying to get Charlie out of there. Charlie ran back into the fire and all of a sudden Charlie came back out of the fire and he was on fire."
The tall brown horse was singed across two-thirds of his body. His curly hair burned down to the skin, and half his long tail was gone.
"He's taken a lot of gruff," Boice said.
Dusti Prince is a veterinarian from Sierra Vista. She's been coming by to check on Charlie, giving him medication and rubbing ointments into his burned skin.
She's worried about his lungs and his hooves where the skin burned away, leaving him vulnerable to laminitis.
"(Smoke inhalation) basically restricts the amount of air in the lungs and scars them permanently, sometimes to the point where they can't breathe and have little exercise and tolerance," Prince said. "And then laminitis, of course, because heat injury to the feet is so important. The old adage, 'no hoof, no horse' is very real. If they can't stand on their feet then they can't have a life."
One of the biggest ongoing problems is their pastureland. All of it burned away and the horses are now stuck in a corral.
"For them, losing their pasture, it's more than losing food; it's losing quality of life for the animals," Prince said. "If we can find pasture, be it dry lot or irrigated pasture, that would certainly be appreciated by both Care for the Horses and the Horsing Around program."
Rescuing animals has become an important aspect to any fire. Dixie Dees is with the U.S. Forest Service. She counts them off on her fingers:
"Chickens, pigs, and goats and llamas, especially livestock," she said.
As for Charlie, the doctor says he's probably going to be okay.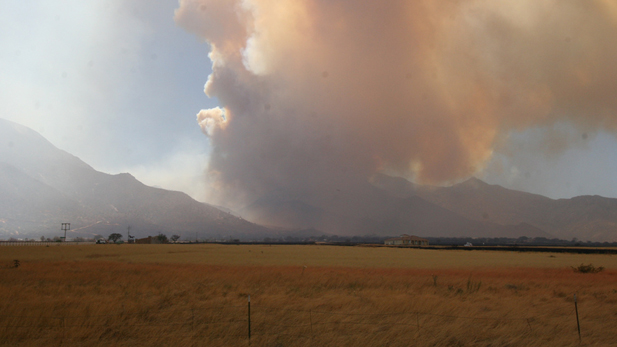 A billowing wall of smoke rises from the flames over Ash Canyon in Southern Arizona's Monument Fire. The fire burned more than 30,000 acres in more than a month and destroyed more than five dozen homes. (PHOTO: Michel Marizco)

To donate to Horse'n Around, visit their website.
Read more about Arizona's ongoing battle with wildfire at the AZPM Fire Hub.