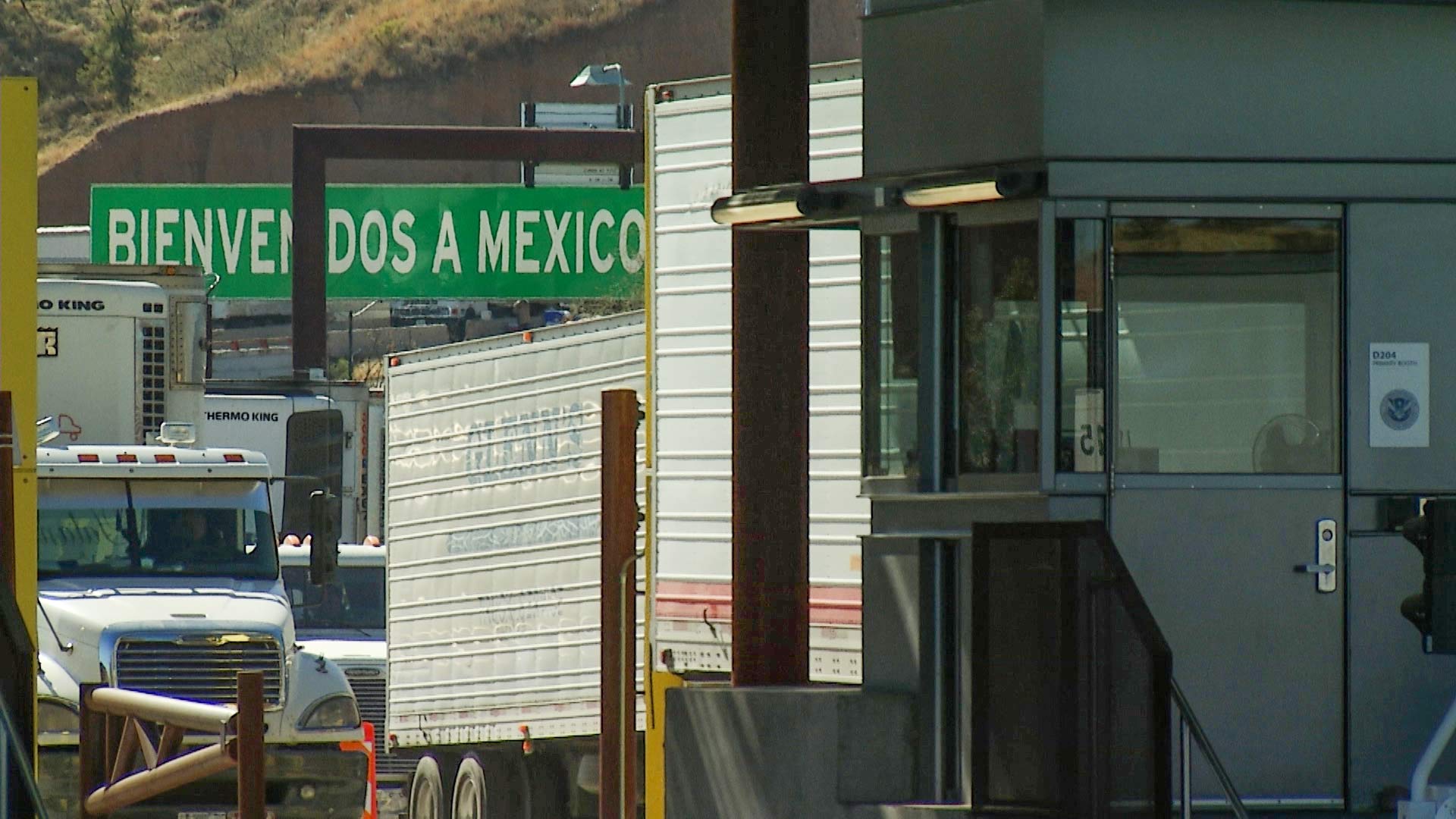 Trucks wait in line to cross into the United States via Nogales, while a sign reading "Bienvenidos a México" welcomes those crossing into Mexico.
AZPM
One of the reasons President Trump listed for declaring a national emergency to build his wall has to do with the number of hard drugs flowing into the U.S. from Mexico.
The president said those drugs come through areas where there are no walls, barriers or fencing. He insists they do not come through the ports of entry. But Customs and Border Protection published facts don't support the president's claims.
According to U.S. Customs and Border Protection statistics, 90 percent of heroin seized along the border, 88 percent of cocaine, 87 percent of methamphetamine, and 80 percent of fentanyl in the first 11 months of the 2018 fiscal year was caught trying to be smuggled in at legal crossing points.
While those numbers deal only with drugs that were discovered, border experts say the data accurately indicate the way drug cartels successfully smuggle narcotics into the U.S. over the border.

Customs and Border Protection displays the largest fentanyl seizure in agency history, at the Nogales Port of Entry, Jan. 31, 2019.
Nancy Montoya/AZPM
As an example, earlier this month, the largest seizure of fentanyl ever in Customs and Border Protection history came through the Mariposa Port of Entry in Nogales.
Michael Humphries, the area port director for the Nogales Port of Entry said that major drug seizures like this one, almost always are found on tractor trailers at the ports of entry.
The president today said his own Customs and Border Protection agents are wrong.
"The majority of the drugs — the big drugs don't go through the ports of entry. It's all a big lie. It's a big con came."

At the news conference Port Director Michael Humphries said just the opposite is true.
"The FACTS are reversed." said Humphries. "Most hard narcotics seized with CBP are at the ports of entry."
And still the president today contradicted his own experts.
Trump said: "They say it all comes through the port of entry — it's wrong — it's just a lie, it's all a lie."
Today, Humphries says he stands by his earlier statement, based on facts published by Customs and Border Protection.