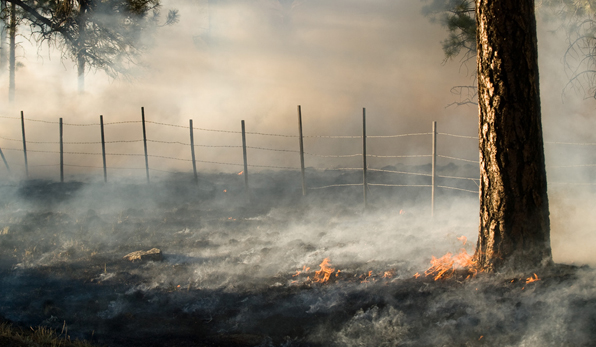 Low-intensity flames from a preventive "burnout" operation meant to stop the Wallow Fire. (PHOTO: Kari Greer for the U.S. Forest Service)
Over 3,000 firefighters remain on the frontlines of the Wallow Fire, and more are soon to join them.
Despite a lull in the high winds that helped spread the 408,887-acre blaze so quickly, the Wallow Fire remains a threat to countless acres of timberland and over 5,000 homes. It is expected to enter New Mexico within days, fire teams spokesman Jim Whittington told reporters Friday morning.
Nearly 10,000 residents have been evacuated from Springerville, Eagar and other White Mountain towns the fire has surrounded.
See a slideshow of the Wallow Fire:
Along the fire's perimeter, communities are watching and waiting.
"We're concerned about Mt. Baldy, because it's our sacred mountain," says Ericka Hinton, a member of the White Mountain Apache tribe and the first female Apache Hotshot firefighter. She is with her Helitack crew in Whiteriver, waiting to be called into firefighting duty should the fire spread into the Fort Apache Reservation.
Reservation residents are concerned, but hopeful, she says.
"There is still smoke," she says, "but it is much better today."
As of Friday afternoon, the fire is only 5 percent contained. Firefighters will continue nighttime "burnout" operations--controlled burns meant to clear the fire's path of fuel--in hopes of stemming its spread.
Find more details on wildfire news and safety at AZPM's Fire Hub.