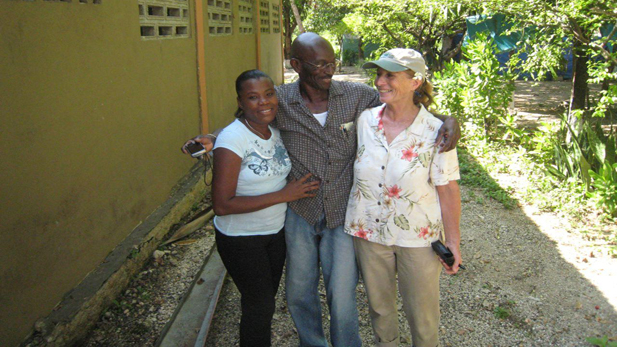 While Kate Tirion visited Haiti in May she met with a local engineer and his wife who are overseeing projects in the Gressier region. When the building is repaired, it will serve as a half-way house for women and girls who survived rape and other violence.

Listen:
Kate Tirion loves to talk about soil. She grew up on a secluded, 11th-century farm in west Wales that didn't have electricity until she was 7. Although she says her farm-girl roots never left her, she did study art at the London School of Fashion and spent two decades selling high-end real estate in Orange County, California.
In her forties, when her daughter was grown, Tirion turned back to her love of the land, studying at UC Santa Cruz's Center for Agroecology and Sustainable Food Systems. She traveled throughout the southwest and Mexico studying permaculture design and techniques including green building and regenerative land development.
Permaculture is a term that combines Permanent Agriculture and Permanent Culture. "It's a way of creating an environment that contributes to resources that we need rather than taking them from the outside," Tirion explains.
Last year, a colleague named Beverly Beach invited Tirion to join in a collaborative planning process to design a new future for earthquake-damaged Haiti. With more than a million people left homeless after the January 2010 disaster, the government and aid organizations were soliciting proposals for redevelopment.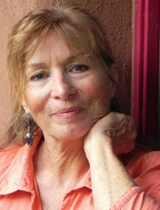 Kate Tirion is a Patagonia resident who hopes to rebuild villages in Haiti using green building and regenerative land techniques.

Katherine Minott
Tirion had never been to Haiti, but she was immediately excited by the possibilities. If Haiti can restore its badly degrade ecosystems---only 2 percent of the nation's forests remain---then the poorest country in the western hemisphere might have a chance to turn is economy and society around.
Beach, Tirion and 44 other collaborators created a plan called To Build a Village. It starts with Haiti's forests, soil and watershed, which Tirion says go hand-in-hand. The team will use permaculture techniques to slow, divert and collect rainwater as it flows down the hillsides to prevent erosion. They will nourish the soil with compost and plant trees whose roots will hold the soil in place. The building blocks of the villages---the actual bricks---will be made on site using a cement slurry and plastic garbage as mass. Solar energy, composting toilets, and water catchment systems will be installed in each of the 250 villages they propose to build.
The physical structures are only one part of the holistic plan To Build a Village developed. Along with fruit trees, livestock, poultry and organic gardens, each village will have tools for cottage industries, including sewing machines, food dehydrators, freezers and more. "Solar lighting, micro-enterprises, schools, art in the community. We're looking at layers," says Tirion.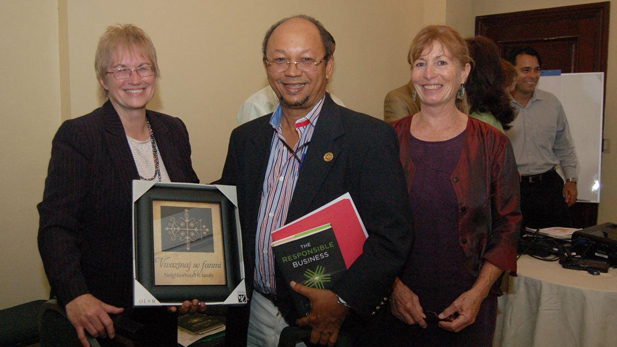 Beverly Beach (left) and Kate Tirion (right) presented the To Build a Village proposal to UN Special Representative to Haiti Leslie Voltaire (center).
She and Beach traveled to Haiti in March 2011 to present the plan at an expo of more than a hundred developers, architects and others who hope to be part of Haiti's rebuilding effort. Tirion and Beach were one of two groups invited back to Haiti to present their vision to the UN's special representative to Haiti, Leslie Voltaire, and other decision-makers.
"The room ignited with excitement," Tirion said after the presentation in May. "What we're proposing isn't just sustainability, but regenerativity. They loved the concept."
Regenerativity is a step beyond sustainable. It means the land, the local Industries and the resources are not just sustained and maintained; they flourish.
Tirion won't know for another few months whether To Build a Village will actually secure funding to start building villages for 100,000 of the 1.5 million homeless in Haiti. But her hopes remain high. And not just for Haiti, but for the United States as well.
"Haiti is a stage facing west. If we can watch Haiti turn itself around, it will inspire us to know we have possibilities here, too."