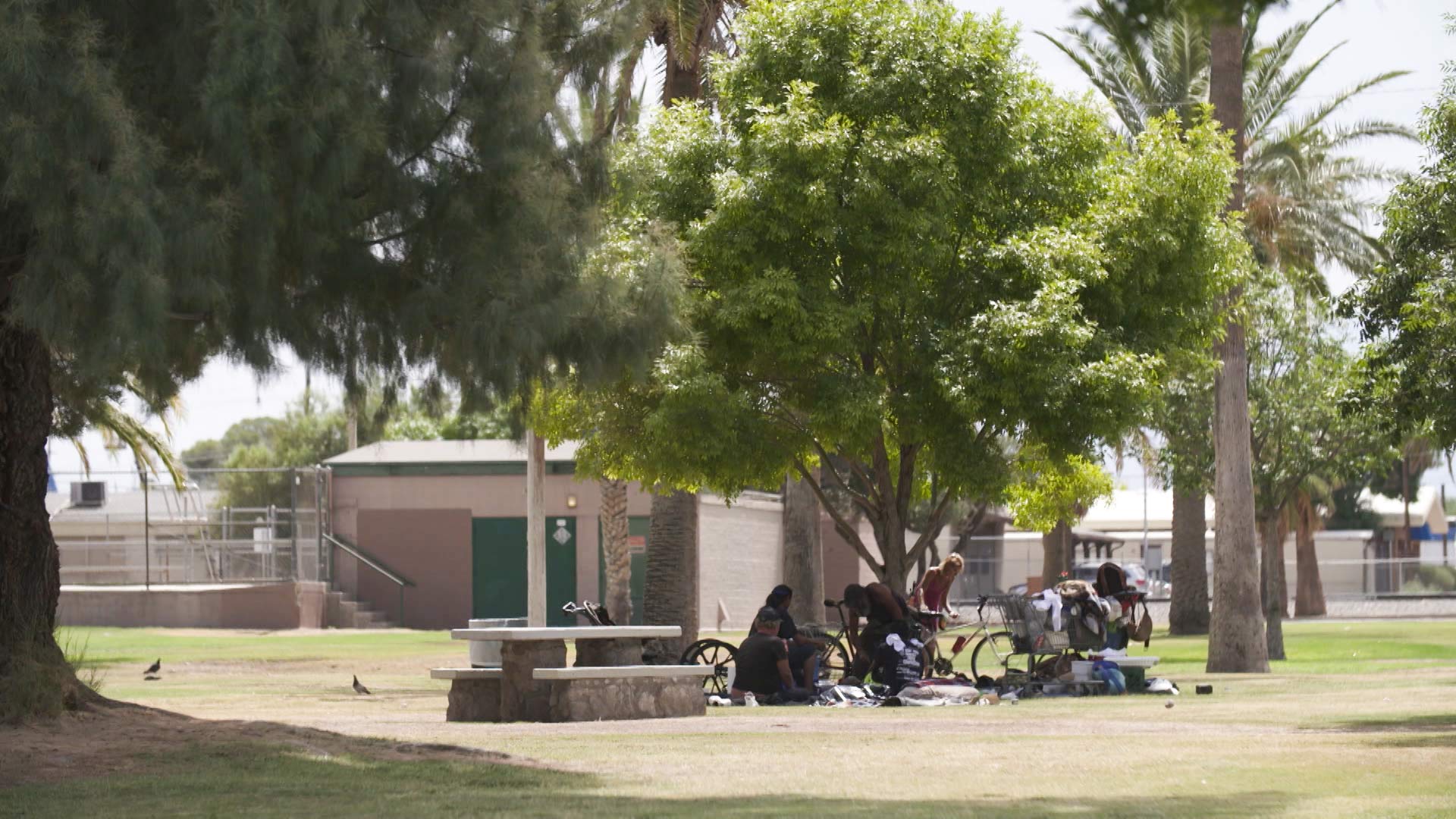 A group hangs out in the shade in Santa Rita Park in Tucson.
AZPM Staff
Around 200 volunteers took to the streets in the early morning hours Wednesday the help gain a better understanding of people experiencing homelessness in Tucson and Pima County, some of whom might otherwise go uncounted if they don't enter a shelter.
The Tucson Pima Collaboration to end Homelessness (TPCH) runs the count, which attempts to get a one-day snapshot of Tucson's sheltered and unsheltered homeless population.
For the latter, "it's really specific to people who've slept outside or a place that's not meant for human habitation, the night before. So we're really looking at people who slept outside last night," said Claudia Powell, who chairs the working group for the effort.
That involves an interview in which an individual is asked if they'd like to participate. Surveyors ask basic demographic information and details that might create a better understanding of the circumstances that led to them sleeping outside.
"Every year we work really hard to improve the count, we want to get a good representation of what homelessness looks like in our community."
Powell says the group is particularly interested in those who aren't engaged in community services, adding that in some situations interviewees can start the process of getting connected to those services.
The count targets places one might seek out when experiencing homelessness, including parks, washes and bus stops, and Powell says that it gives volunteers a sense of what it's like to sleep on the street. While Tucson is a warm-weather place, she said, "I think the people who were interviewing [Wednesday] morning, it really helped them have empathy for people who slept on the street because it was so cold."
Powell, who is also an associate director of the University of Arizona's Southwest Institute for Research on Women, said the count is also another way for people to check their understanding of the issues of homelessness, in particular assumptions about why people might be homeless.
"We can't make the assumption that everyone who's homeless has a mental health problem, or a substance abuse problem," she said. "We often have youth who identify as LGBTQ, who have been kicked out of their homes because of their gender identity or sexual orientation. We have women who are fleeing abusive relationships and other people who have just come upon hard times."
Powell says the "point in time" counts for Tucson, and communities around the country, are tied to funding from the Department of Housing and Urban Development. Tucson is required to conduct the count to qualify for roughly $7.5 million to $9 million, she said. Results of the count are expected to be released some time in June.