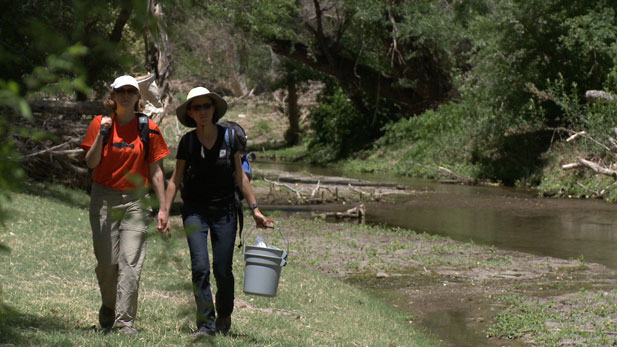 The Santa Cruz River south of Tucson

AZPM
Experts say that less than two percent of the landscape in the western U.S. is made up of rivers, and the region's booming population is stretching its scant waters even further. But with help from unlikely sources, scientists are hoping to protect these delicate areas.
In southern Arizona, members of the the Sonoran Institute and other organizations are analyzing the water and creatures of the Santa Cruz River, which still flows near Tumacacori and Tubac. The Sonoran Institute is a non-profit organization that deals with environmental issues and human communities by encouraging science, discussion and cooperation.
Emily Brott and Claire Zugmeyer are taking part in the river study near Tumacacori and Tubac, where the river's underground flow is supplemented by treated effluent from the Nogales International Wastewater Treatment Plant.

That may not sound very pristine and healthy, but the women say improvements at the plant a few years ago have contributed to a much better environment in and around the river.
"In 2009, the treatment plant was upgraded and there was a significant change in the water quality. We see there's less odor, we can actually see into the river, it's clearer," Zugmeyer says.
And now there's even a growing population of a native fish known as the longfin dace. Its population has grown from zero in 2007 to 500 currently.
The goal is to continue to monitor and improve the water quality so the river can be enjoyed by human visitors as well as new animal settlers. The Gila top minnow lives in some tributaries so scientists hope it can be washed down with floods and repopulate its former range.
"Fresh water is the underpinning of all human society," Brott says, "and besides the obvious like drinking water and wildlife habitat like you can see here, it's beautiful."
The women say their work is made possible by many different agencies and volunteers, such as the Friends of the Santa Cruz River and the U.S. Fish and Wildlife Service. Cooperation, they say, will be key for long-term survival of the animals--and the people--of this region.
Tony Paniagua visits two scientists from the Sonoran Institute who are studying part of the Santa Cruz River south of Tucson that gets its water from a treatment facility north of Nogales.
AZPM