A pond at Reid Park.
Nick O'Gara, AZPM
Tucson city leadership is aiming to strike the right balance with a bond package going before voters in November that primarily aims to fund upgrades and repairs to parks, some of which were targeted by a previous bond plan that failed.
Proposition 407 is a $225 million borrowing plan known as "Parks + Connections." In addition to capital improvements at parks, it also identifies bicycle and pedestrian mobility projects.
Tucson Parks and Recreation Director Brent Dennis, who joined the city earlier this year, says the department suffered some significant funding hits since the Recession.
"It's not a big surprise to see that the overall condition and the level of maintenance has declined," Dennis said.

In 2015, Pima County asked voters to approve a bond plan worth more than $800 million, targeting projects like roadways, parks, tourism and neighborhood development. It failed, and reports at the time suggested it was too expansive to pass.
"But when you looked at who voted in favor of it, in the city of Tucson, it was a majority of Tucsonans supported it. So most of those elements that were in those county bond packages rolled forward and helped shape kind of the nucleus or the basis for Prop. 407," Dennis said.
The proposition would put $133 million toward parks, $67 million toward connectivity projects and $25 million toward linear parks called greenways, implemented over three, three-year phases, starting in 2020.
Prop. 407 projects for Menlo Park include sports courts, fields, irrigation system upgrades and a new splash pad, the city says.

Nick O'Gara, AZPM
"If you look at the charter for the city of Tucson there are three primary responsibilities. Those include public safety, streets and roadways, and the third is parks."
Dennis says the city has moved on improving roadways and public safety with recent voter-approved bonds, and now it is searching for a way to pay for parks.
The way the proposition pays for the improvements may impact the success of 407. Dennis says the proposal takes advantage of bond capacity voters already agreed to. Taxpayers would essentially trade old bonds for new ones as the old ones are paid off, meaning the property tax rate would stay the same.
As a city employee, Dennis isn't taking a position on the bond, but it would be his job to manage the parks improvements if voters say yes. Mayor Jonathan Rothschild, on the other hand, is urging people to vote yes.
"[The mayor] likes to always remind voters that it's not going to be any increase to your property taxes."
Prop. 407 identifies hundreds of improvements touching most but not all of Tucson's parks, including new sports fields, playgrounds, splash pads and upgrades to existing facilities, among other things.
The city has also considered the cost of maintenance for the improvements in Prop. 407, Dennis said, as state Highway User Revenue Funds (HURF) will be available to maintain connections projects, and further costs can be covered by expanded opportunities for rental fees at facilities and captured savings from efficiency upgrades, like LED lighting and irrigation.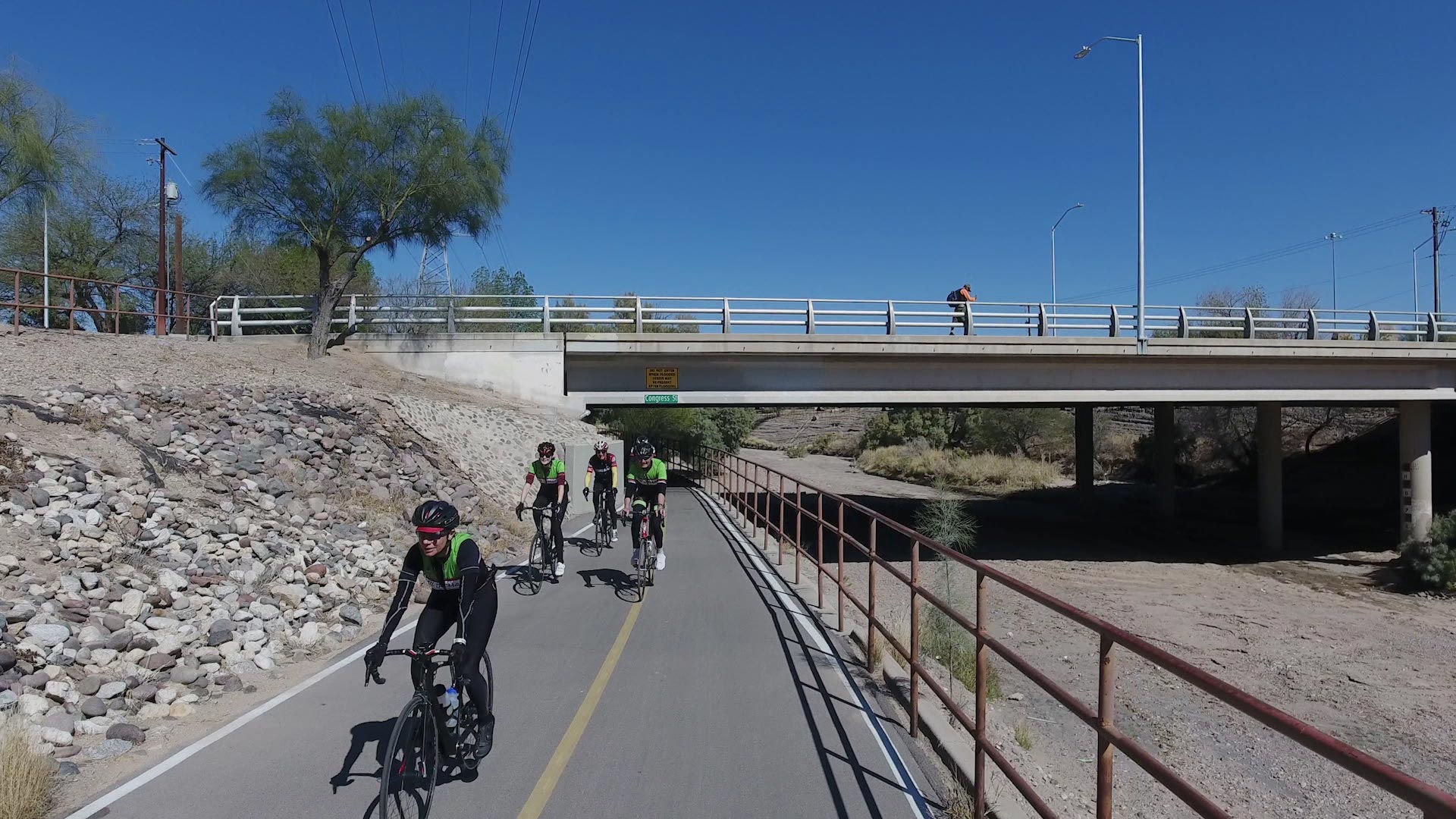 Some of the "connections" projects in Prop. 407 would establish pathways that lead to the Loop, the city's extensive multi-use path.

AZPM
The connections element of Prop. 407 helped gain support from the nonprofit Living Streets Alliance. Program managers Evren Sonmez and Colby Henley say Prop. 407 overlaps with advocacy they do for a model of streets that are safe and accessible by all members of the community.
"We're encouraging folks to vote yes, so that we can get these improvements to our parks but then also over 130 miles of walking and biking connections to everyday destinations like schools and parks and grocery stores and community centers," said Sonmez.
"And in my mind, these are things that directly relate to just quality of life within our community," Henley said.
"Health, safety ... just the number of traffic injuries and fatalities, pedestrian fatalities, so there's a safety element to it. There's an economic vitality element to it, I think. As we do a lot of work in the community to attract good-paying jobs, this is a key part of that, that if you're going to attract these companies and they're going to be able to recruit talent here to Tucson, we're going to need to have a vibrant parks system and a transportation system that works for everybody. So I think all of those pieces fit together," Henley said.
Henley says surveys LSA has conducted show support and receptivity for the measure, which also has the thumbs up from several other community groups. The one concern he's seen revolves around a sense of distrust toward local government to follow through.
That tracks with the sole letter of opposition in the voter materials, which asks whether the city can be trusted to keep its promises.
The mayor and others say a citizen oversight commission established by the proposition will ensure accountability in the implementation.
The city will get to measure voter trust on Nov. 6.
You can explore the proposed projects in an interactive map created by the city: