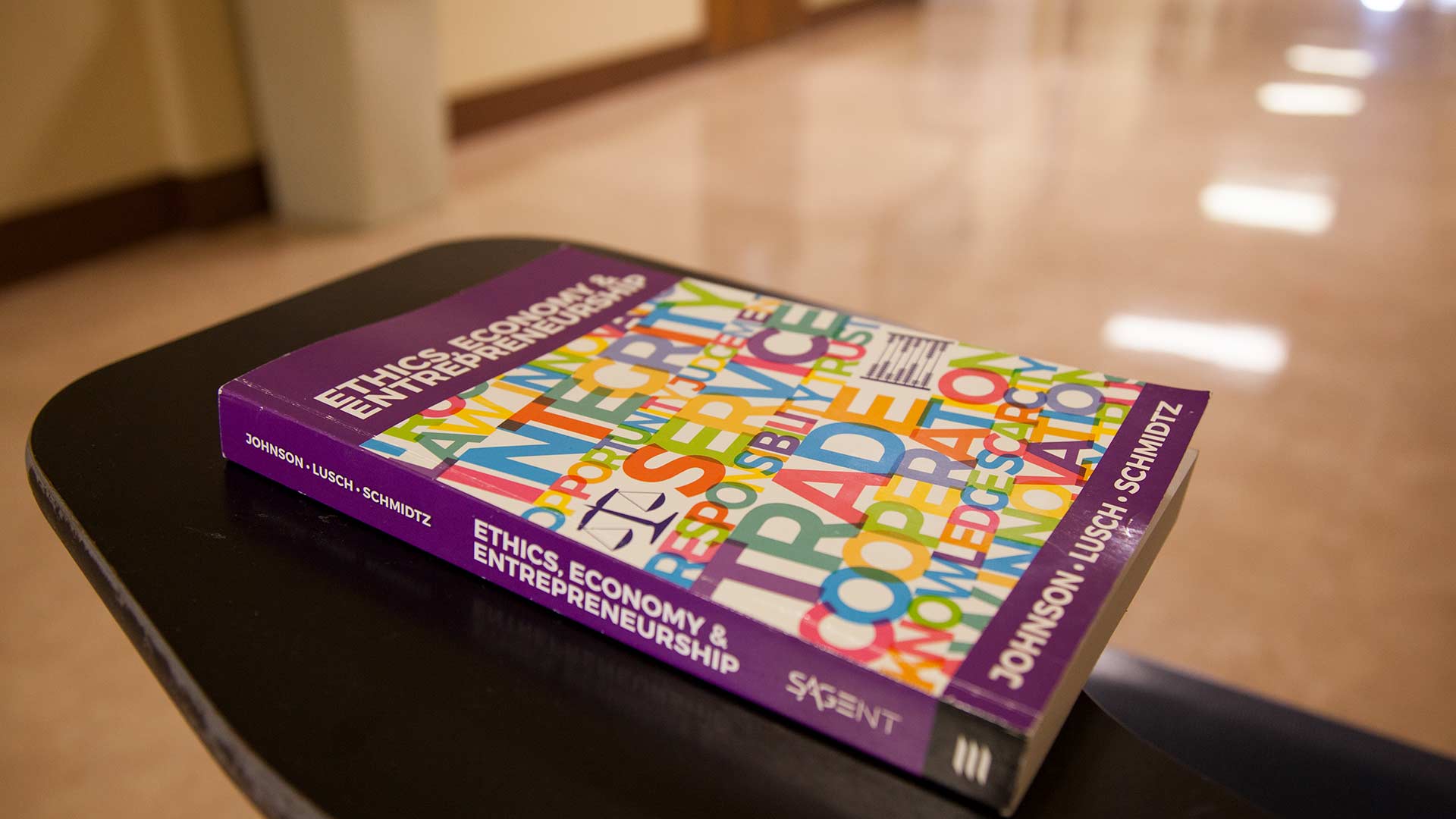 The textbook for Philosophy 101, "Ethics, Economy and Entrepreneurship."
Nick O'Gara/AZPM
Philosophy 101, a course centered on ethics, economy and entrepreneurship, was removed from Tucson Unified School District's curriculum this year. Now, teachers of the course are exercising their right according to board policy to initiate a review that could end up bringing the course back.
The first step is sending the core textbook through a public review process.
"[Teachers] would like to trigger the 60-day review process," said district Superintendent Gabriel Trujillo.
The dual-enrollment course was taught last year. It gives high school students an opportunity to gain college credit in a high school classroom. It was removed from the curriculum after the school board found the textbook wasn't properly vetted.
"The first time it was offered it didn't go back through the board at all," said governing board member Mark Stegeman.
However, the course was still taught at four TUSD schools during the 2017-18 school year: Rincon High School, Tucson High Magnet School, Cholla High school and Pueblo High School.
Patrick Peatrowsky is one of the teachers who taught the course last year and would like to see it return. He says the course goes beyond what the book covers.
"It's my job as a teacher to provide some balance to my classroom. I mean, when you take an English class you don't only read one book," he said.
While last year's course was a year long, the proposal coming back to the board is a one-semester course.
Trujillo said the 60-day review process could be wrapped up in time for a school board vote in November, meaning the course could be back in TUSD in January.
The textbook for the course is called "Ethics, Economy and Entrepreneurship," and one of the authors is David Schmidtz, the director of the University of Arizona's Center for Philosophy of Freedom, or otherwise called the Freedom Center. The course sparked public controversy because the Freedom Center was partially funded by Charles Koch.
The Koch family has funded a number of conservative political campaigns and is considered influential in shaping conservative messaging.
Kochs Off Campus, a local activist group that fights to keep Koch brothers funding away from public education, claims the funding from Koch advocates for a right-wing political agenda.
TUSD will have a link on its website so anyone can view the textbook during the 60-day review. The link will also offer a box for commentary as well. The start date for the review had not been announced as of Wednesday afternoon.