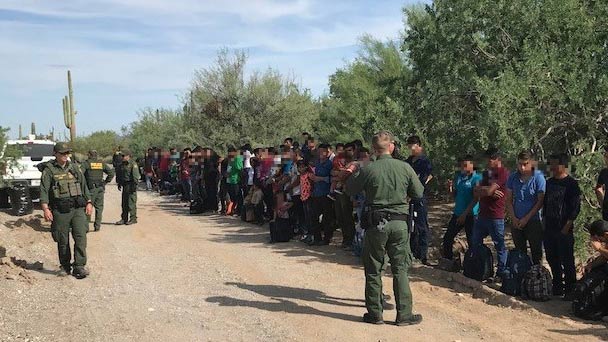 A Customs and Border Protection image accompanying a press release about a group of 128 migrants detained at the U.S.-Mexico border.
A group of 128 immigrants found in a remote part of the U.S.-Mexico border Friday are facing deportation.
A Border Patrol statement said the migrants were "abandoned" and "presumably brought to the border by human smugglers who remained in Mexico."
Agents at the Ajo Station patrolling near a border fence say the group included children — some as young as 4 — from Guatemala, Honduras, El Salvador and Mexico.
Authorities say all the immigrants were medically evaluated and determined to be in good health before they were processed and turned over to the enforcement removal operations within Immigration and Customs Enforcement.
Agents identified several adults in the group who had been previously charged with immigration violations.