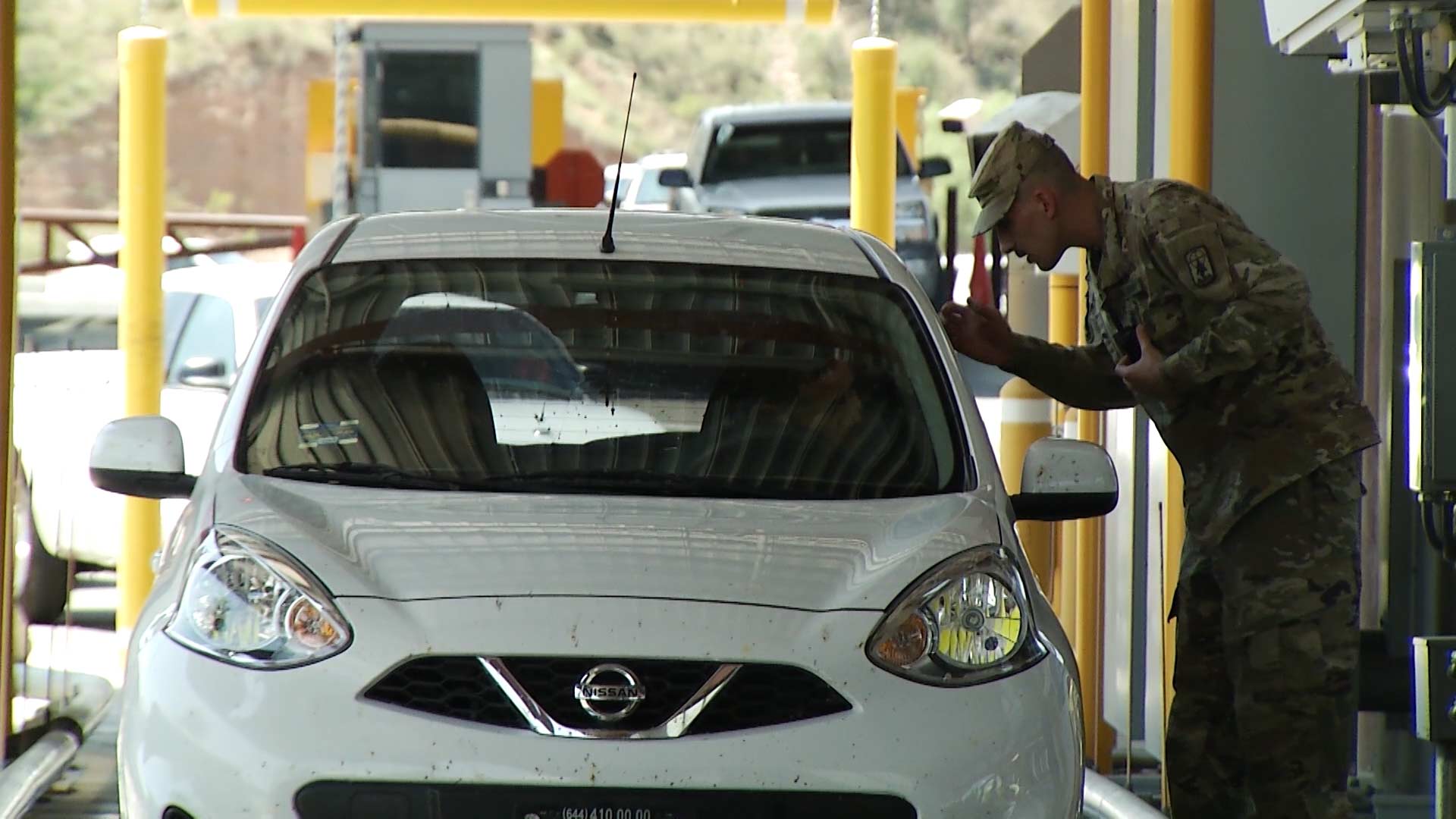 An Arizona National Guard member inspects a car crossing the border into the U.S. from Mexico in Nogales at the Mariposa Port of Entry on August 1, 2018.
AZPM
PHOENIX — In an attempt to stem a recent rise in drug trafficking at Arizona's borders, National Guard troops are assisting U.S. Customs and Border Protection officers with increased inspections.
More than 40 Guard members have been helping U.S. Customs and Border Protection officers at the Nogales ports of entry south of Tucson for several weeks, The Arizona Republic reported earlier this month. Other smaller teams are stationed at Douglas and San Luis as part of Operation Guardian Support.
Guard members are assisting by processing and inspecting passenger vehicles.
Illegal drugs have been found during some of those inspections, Guard officials said.
"If you interdict, like they did last night, a large amount of fentanyl, that's a success. That's not in our schools, not in our communities," said Col. Hoyt Slocum, commander of the operation in Arizona.
The Guard members' presence comes as the federal agency is facing a staff shortage throughout the state's six crossings, U.S. Customs and Border Protection officials said.
There are 250 officer vacancies at the state's six crossings, including 140 in the Nogales area, officials said.
The National Guard's help has given customs officers time to tackle pressing drug trafficking work, among other tasks, said Michael Humphries, port director for the three border crossings in the Nogales area.
"The opioids, the heroin, the fentanyl, methamphetamine, cocaine, all those are up. Marijuana is down," Humphries said. "But the hard, dangerous narcotics, we're seeing more and more significantly over last year."
Custom officials in Nogales have successfully seized more than 5,000 pounds of methamphetamine so far this fiscal year, an increase from the previous fiscal year, he said.
The National Guard is planning on sending additional teams to Naco, Sasabe and Lukeville to help customs officers there at the end of the month.