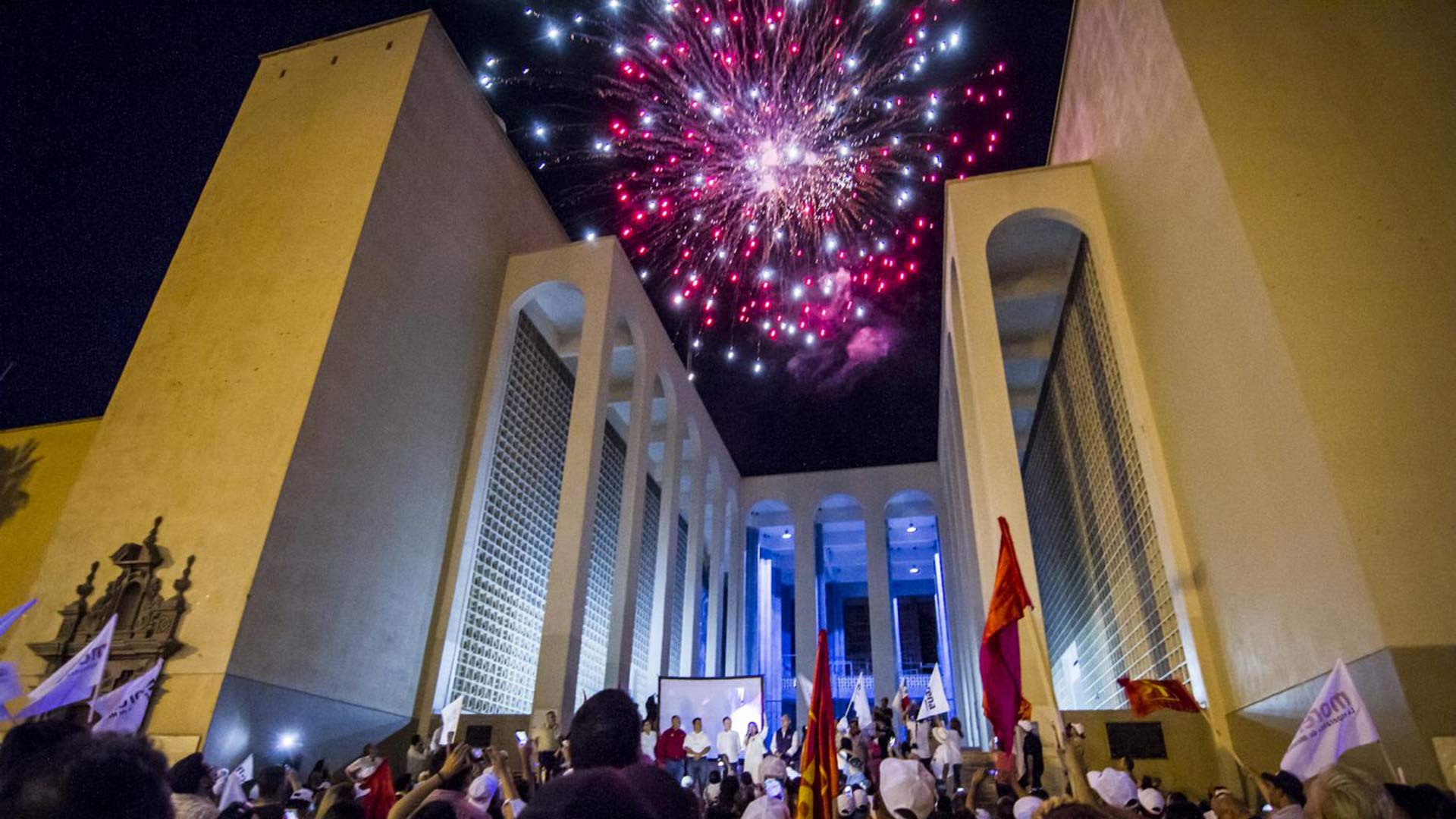 People watch fireworks on Sunday, July 1, 2018, at a rally for Mexico's presidential election in Hermosillo, Sonora.
Murphy Woodhouse, Fronteras Desk
MEXICO CITY — Mexican voters made a decisive choice for a new president on Sunday. In an election with a historic turnout, left-of-center candidate Andres Manuel López Obrador — commonly known as "AMLO" — won a landslide victory.
Thousands marched late Sunday night to Zócalo square, the heart of Mexico City. They were singing, waving flags and celebrating that their candidate had finally won.
"I come here to thank you," said López Obrador, 64, a former mayor of Mexico City and a perennial presidential candidate, to those filling up the city's main square. He finally got his new job after two failed bids for the presidency. And he got it with an election result that none of his rivals could refute: an astounding 53 percent of the vote, according to preliminary results. That's more than what his three opponents received, combined.
"I will not fail you," López Obrador promised, saying he'll eradicate government corruption and champion ordinary people. The poor must come first for the good of all, he said, adding his administration will make a point to help long-marginalized indigenous communities.
"The country's pension for the elderly will double," AMLO said.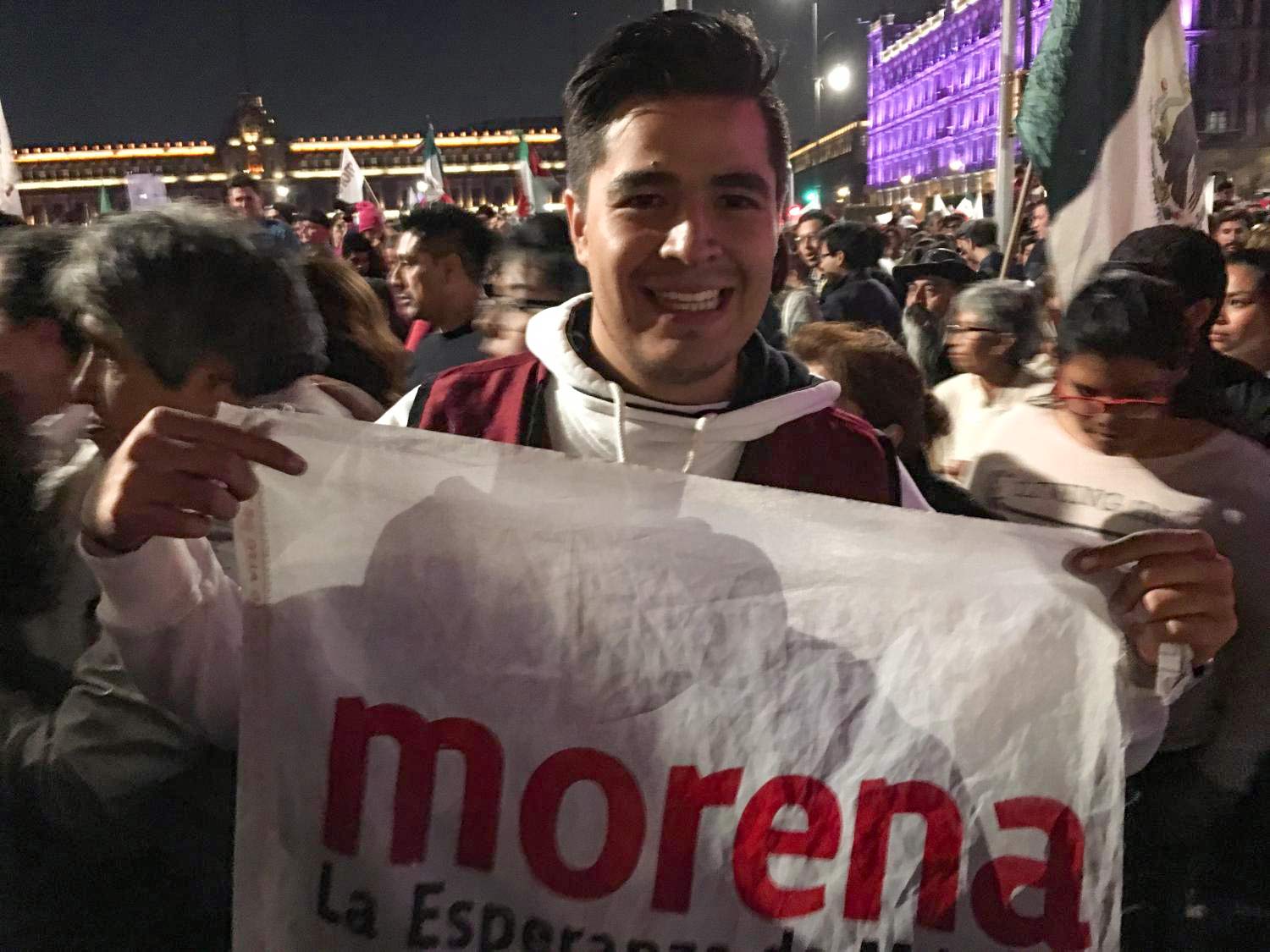 VIEW LARGER Alejandro Vásquez

Jorge Valencia, Fronteras Desk
In the crowd, Alejandro Vásquez was among the many cheering and waving a flag for López Obrador's political party, Morena.
"We're gonna work a lot. We're gonna work really hard to make this the best Mexico possible," Vásquez said.
Vásquez is 25 years old and said he's been supporting AMLO since before he was even old enough to vote. One thing Vásquez hopes the new president will improve is Mexico's immigration policy. Mexico has toughened its stance toward Central American migrants, partially at the urging of the American government.
"We have to be as good with them as we want Americans to be good as our immigrants. It has to change. It has to change," Vásquez said.
López Obrador received more than twice as many votes as the second-place candidate, Ricardo Anaya. In a hotel across town, Anaya conceded his defeat with a light and somber smile.
"For the good of Mexico, I wish López Obrador success," Anaya said, while promising to support him for common causes — or strongly oppose, when needed.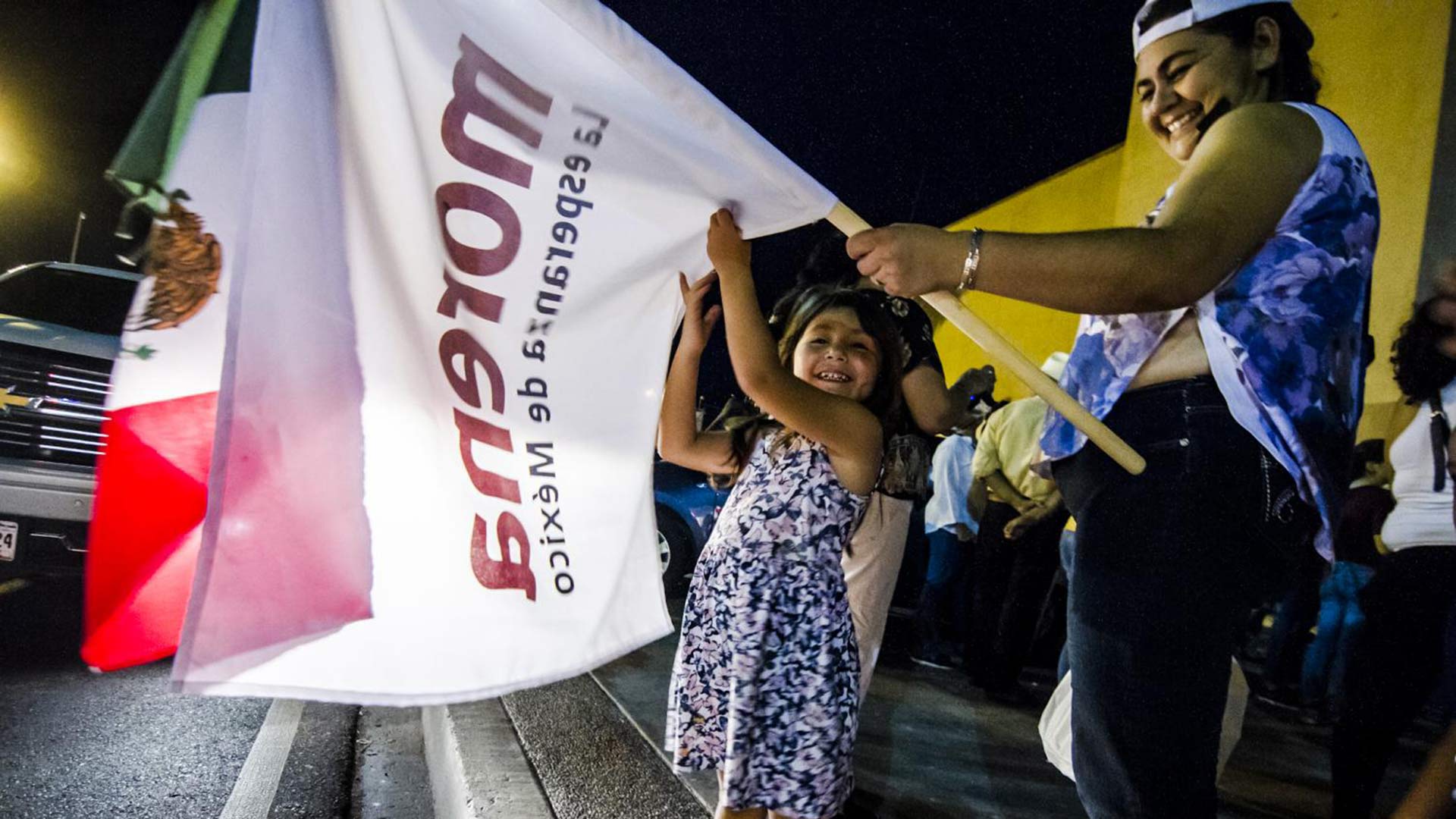 Waving a flag of the Morena party of Andrés Manuel López Obrador in Hermosillo, Sonora, July 1, 2018.

Murphy Woodhouse, Fronteras Desk
Patricio de la Fuente is spokesperson for Movimiento Ciudadano, one of the parties supporting Anaya.
"It's a bittersweet thing, but in the end we're happy. Life goes on and democracy is a beautiful thing," De la Fuente said.
The spokesman is optimistic on the future of the U.S.-Mexico relations. He said he trusts the diplomats that keep things running, even regarding the presidents.
"We have many issues together and we have to resolve them," he said.
Alonso Mejía waited with many others outside the campaign headquarters. A small-business owner who voted for Anaya, he said he hopes that the polarization brought by the elections is finally over.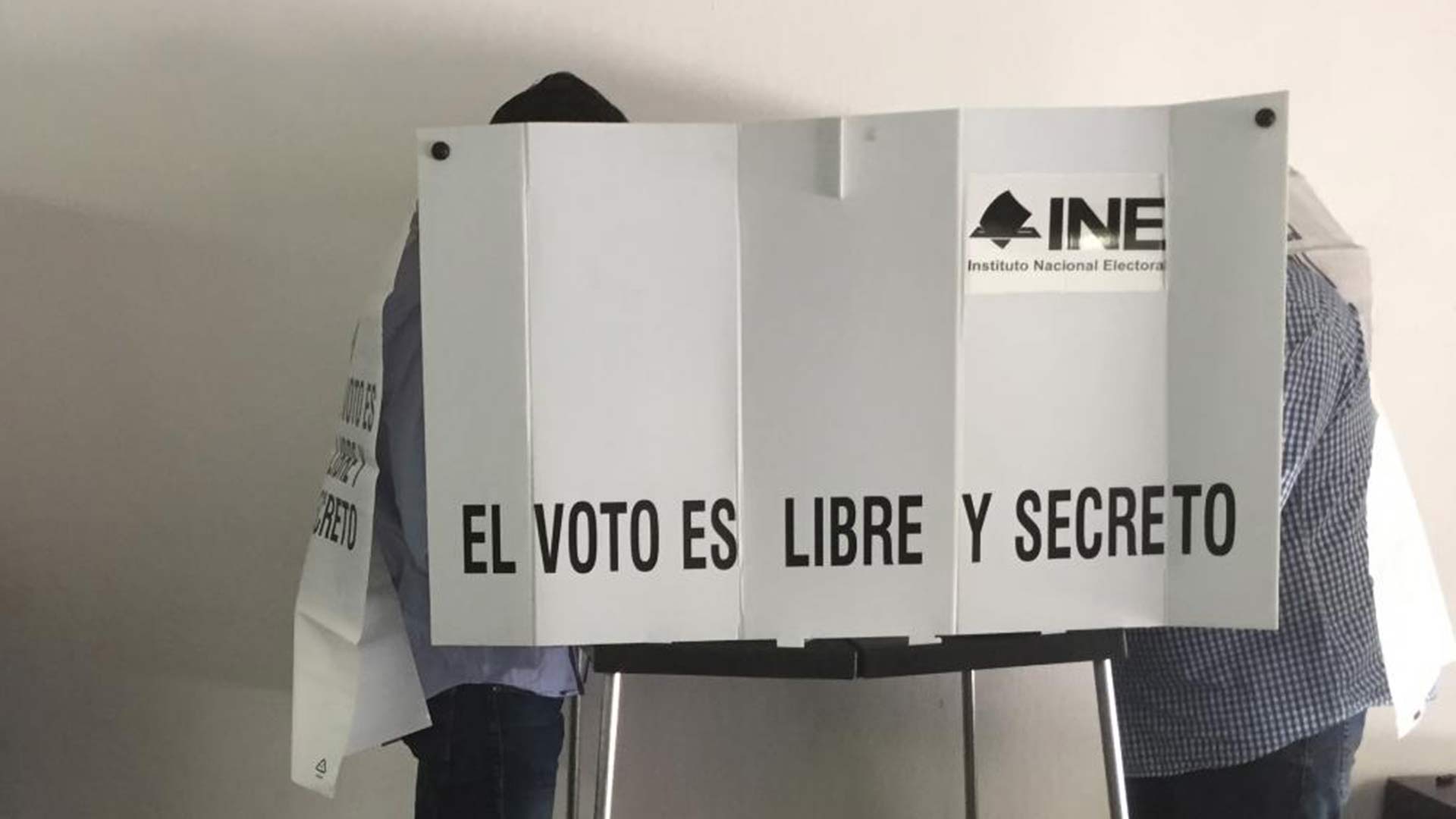 Voters at a booth in Mexico City during the country's 2018 presidential elections.

Rodrigo Cervantes, Fronteras Desk
"It's definitely a relief. It's been a very long campaign," said Mejía.
The entrepreneur thinks López Obrador has old-fashioned solutions that won't work, like trying to end poverty with handouts. He said the elected Mexican president is unpredictable, in a way U.S. President Donald Trump is.
"I mean, Obrador is a bit of a maverick. So is Trump," said Mejía.
But Mejía says that, regardless of the leaders, Mexico and the U.S. will be able keep close ties. And he also hopes AMLO's victory can bring better times for Mexico.
"I don't think [AMLO] is not gonna be terrible, I just don't believe in what he believes, but I think he can be positive for the country in a way," said Mejía.
And while López Obrador's followers celebrate their candidate's victory, most observers are honoring something else: in a country where elections are often questioned or marred by political violence, this was a peaceful triumph for democracy.