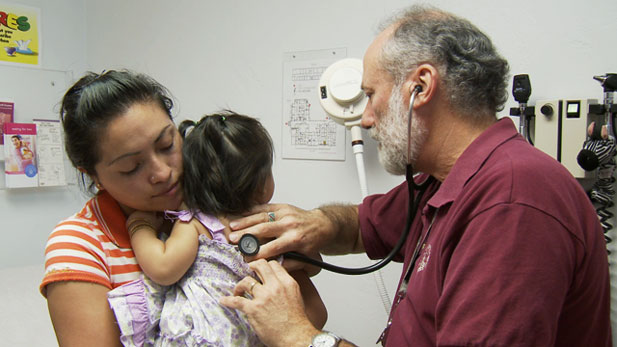 Arizona needs 700 more primary-care physicians just to get to the national average. (PHOTO: AZPM)
State efforts to balance the budget have made Arizona's Medicaid system the target of lawmakers, and Senate Bill 1519 is the most drastic attempt to bridge the gap. The bill, sponsored by state senator Andy Biggs (R-Gilbert), has passed the first chamber, and it seeks to pull the plug on AHCCCS entirely.

Dr. Joe Gerald, section chair for public health policy and management at the College of Public Health at the University of Arizona, is an expert in cost analysis and health economics. He says that peculiarities in the way health care is funded in Arizona mean that elimination or reduction in Medicaid coverage will result in significant losses.

"Only about 1 in every 4 dollars spent in Arizona comes from Arizonans," Gerald says. "The rest comes from the federal government. So if we were to drastically scale back our healthcare options for the poor, and try to do it all ourselves, we lose all of that matching money--approximately $5 billion a year."
Kathy Byrne, executive director of El Rio Community Health Center, says El Rio employs more than 65 doctors and dentists, and they have a staff of more than 700, but it's become increasingly difficult to attract and retain qualified personnel because of the current debate over AHCCCS.
The perception is that "Arizona is not a welcoming state," Byrne says, and this issue has "brought a lot of attention to Arizona."
The state is getting a lot of attention at the moment for its proposal to eliminate Medicaid, but Governor Jan Brewer has gone on record with her opposition to total elimination of the program.

But her more moderate proposal to eliminate between 250,000 and 300,000 people from the AHCCCS rolls still has many patients wondering what will happen to their Medicaid benefits in the months to come.
As Arizona lawmakers struggle to balance the state budget, an obvious pot of money exists in health aid for the poor. The proposed plan would eliminate at least 250,000 from state health care rolls. Luis Carrion reports on the implications. (VIDEO: AZPM)