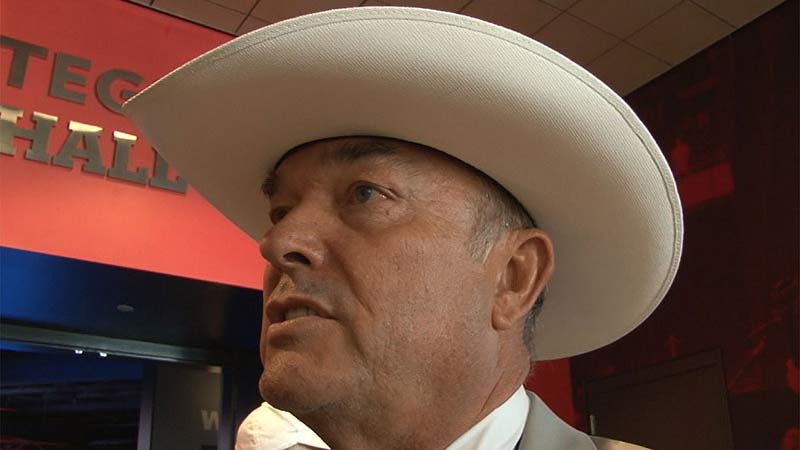 Former Arizona Rep. Don Shooter.

Krandall Brantley, Cronkite News
PHOENIX — A judge says she'll decide Friday whether a former Arizona lawmaker expelled over sexual misconduct can run for state Senate.
Don Shooter was the first state lawmaker in the United States to be ousted following the rise of the #MeToo movement. In February, the Arizona House voted 56-3 to expel Shooter after investigators concluded he sexually harassed at least seven women over many years, including fellow lawmakers.
Now, the Republican is fighting for his name to appear on the Arizona primary ballot in August. Shooter filed more than 800 signatures to qualify him to run for state Senate in Legislative District 13, which stretches southwest from Buckeye and Glendale to Yuma. It's the same district he represented while in the state House.
Another Republican primary candidate, Brent Backus, filed a lawsuit saying Shooter couldn't run for the seat because he doesn't live in the district.
Shooter spent an hour on the stand during Thursday's two-and-a-half-hour hearing on the challenge. He said he still lives at a condo in Yuma and his wife lives at the house in Phoenix, where he would stay during legislative sessions and now for meetings with his attorneys.
"Yuma's been good to me, it's my home," Shooter said. "I have spent a lot of time, effort and money to continue to be part of the Yuma community."
Backus' attorney Tim La Sota put forward evidence showing Shooter's voter registration was switched to the Phoenix address for two weeks. But Shooter denied that he made that change.
La Sota also said the power had been shut off in Shooter's Yuma's condo, and that he has spent most of his time in Phoenix since the expulsion.
"We've got way too many coincidences adding up that Mr. Shooter does not live in Yuma," La Sota said. "It doesn't mean he doesn't care about the people who live there. I know he cares about them but that doesn't mean he lives there."
Maricopa County Superior Court Judge Rosa Mroz said she planned to release a decision Friday.
The outcome will determine whether voters of Legislative District 13 can cast a ballot for Shooter, a controversial figure in Arizona politics who has been widely criticized for inappropriate behavior while in office yet remains popular with some voters.
Shooter's attorney Tim Nelson argued that even if the court found Shooter lived in Maricopa County for two weeks when the voter registration was changed, he lived in Yuma when he filed to run.
"The voters of LD13 should decide whether Mr. Shooter's qualified to represent them," he said.
Other candidates seeking the Senate seat in the district are Republican incumbent Sen. Sine Kerr, a dairy farmer who was appointed to fill the seat, Republican Royce Jenkins, and Democrat Michelle Harris.