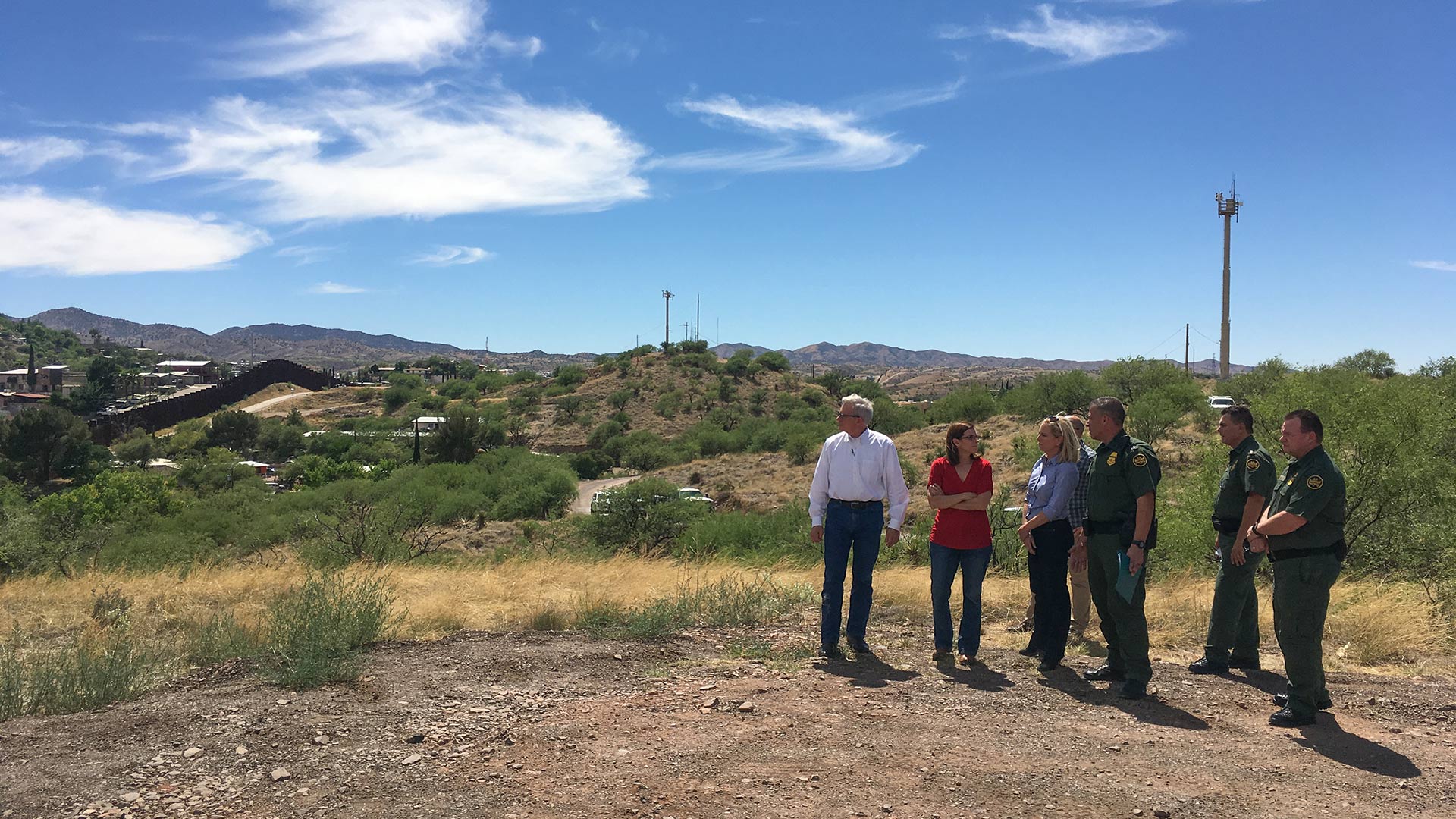 U.S. Reps. David Schweikert and Martha McSally and Homeland Security Secretary Kirstjen Nielsen are joined by Border Patrol agents at the border fence in Nogales.
Christopher Conover, AZPM
U.S. Rep. Martha McSally and Department of Homeland Security Secretary Kirstjen Nielsen began their border tour Thursday at the Douglas Port of Entry.
The aging facility is under study for an upgrade, something McSally has pushed for.
The two then flew to Nogales, where they were joined by U.S. Rep. David Schweikert, R-Phoenix.
The secretary and the members of Congress held a closed-door roundtable meeting at the DeConcini Port of Entry in Nogales.
Participants in that meeting included border ranchers, businessmen, representatives of the Border Patrol and National Guard officials.
They also toured a section of border fence just east of downtown Nogales.
Congressman Schweikert said border and immigration issues are complicated.
"Every time you do this visit, you learn things — you understand it is more complicated than sometimes we allow ourselves to process," he said.
The visit was Nielsen's second to the Arizona-Mexico border in as many months.
At a news conference in front of the border fence, she reiterated the Trump administration's promise to secure the border.
"If you smuggle illegal aliens across our border, we will prosecute you. If you cross the border illegally, we will prosecute you. If you make a false immigration claim, we will prosecute you," she said.
Congresswoman McSally is pushing the more conservative of two immigration and border bills that could come up for a vote in the U.S. House sometime in June.