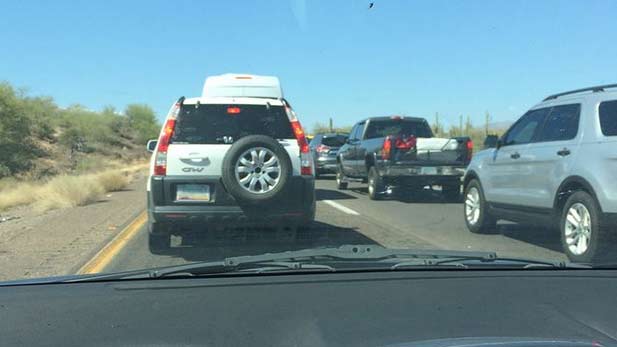 Interstate 17 traffic, as seen from the driver's vantage.

Courtesy Kathleen Mirza
PHOENIX — The Arizona Department of Transportation has planned two new "flex" lanes to ease congestion on Interstate 17.
The lanes will carry people north Fridays and Saturdays and south on Sundays, the Arizona Republic reported.
But construction won't begin until 2021 and will take about two years to complete.
The new lanes will run between Black Canyon City and the Sunset Point rest stop in an effort to reduce delays north of Phoenix that sometimes last several hours on the weekends.
"The biggest hassle is having people sit on that hill," said Steve Boschen, director of ADOT's infrastructure delivery and operations division. "When it is 110 degrees out, we want to get them relief as fast as we can."
Crashes, even minor, clog the roadway as people head north to campsites and cabins on Fridays and Saturdays, and as they head back to the city on Sundays.
The drive between Phoenix and Flagstaff is usually about two hours, but accidents can extend that to four or more.
Holiday weekends are even worse, Boschen said.
"We see about a 50 percent daily spike in traffic on the weekend, and also about a 50 percent spike in crashes, unfortunately, on the weekend," Boschen said.
The Arizona Department of Transportation began a $24.4 million project last month to repave about 28 miles (45 kilometers) of northbound I-17 south of Flagstaff. That project is expected to add to travel times getting to Flagstaff from Phoenix through the summer.
The area of focus is the approximately 45-mile (72-kilometer) stretch between the community of Anthem and Cordes Junction, Boschen said.
The two new lanes will be next to the southbound I-17 lanes, but separated by a concrete barrier. They will be blocked off to allow traffic in one direction or the other depending on the need.
A third lane also will be added southbound from Black Canyon City to Anthem. Eventually, a northbound third lane in that area will also be added, transportation officials said.
Boschen said the cost of the project is about $180 million, with $120 million coming from federal funds, $50 million from the Maricopa Association of Governments, and $10 million from the state.