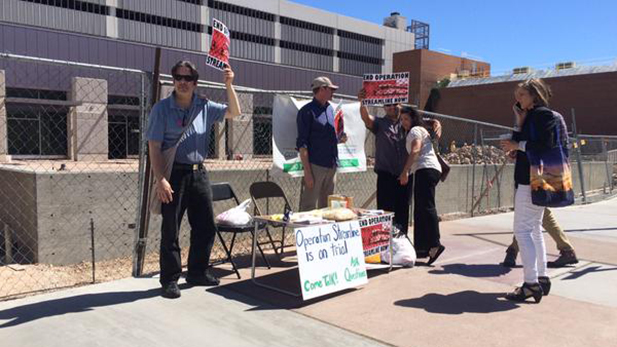 Fernanda Echavarri, AZPM
A controversial system for prosecuting immigrants has seen an almost 70 percent increase compared to last year. Operation Streamline went into effect more than a dozen years ago. Today, the Tucson operation is seeing its highest numbers since the program was launched.

Several days a week, in Tucson, up to 75 immigrants shackled together come before one judge. Many human rights activists and immigrant organizations call the procedure dehumanizing. Efforts have been made to shutdown "Operation Streamline."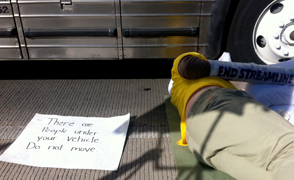 Fernanda Echavarri, AZPM
Some attorneys do show up to represent immigrants, but most do so pro bono and, most of the time, attorneys advise their clients to plead guilty. That is, unless they have the money to hire an outside lawyer. Very few do.

The intent of the program, started under the Obama administration, was to process dangerous criminal immigrants faster, individuals who had committed serious crimes in the United States or who had been deported multiple times.
In the past, immigrants arrested by Border Patrol who had no criminal record or had never been arrested for crossing without the proper documentation were released and given a court date to plea their case. Many have referred to it as "catch and release."  
But in April, Attorney General Jeff Sessions ordered that even first-time arrested border crossers with no other criminal record be prosecuted to the fullest extent possible. That means jail time for almost everyone found guilty by an immigration judge. Our requests for interviews with the Justice Department have gone unanswered.
President Donald Trump told the Washington Post recently that "catch and release" is illegal and a loophole in the U.S. immigration system and that he wanted every immigrant captured without the proper papers on them to be in the U.S. legally to be jailed immediately and for as long as possible.
Isabel Garcia, a Tucson Immigration attorney, says Streamline has morphed into a major money maker for private prisons.
"98.2 to 98.7 percent of the time we give these, quote, "Criminals" prison. Guess where they serve their prison time? Correction Corporation of America (CCA) sites," said Garcia.
CCA was renamed Core Civics but still houses almost 1,500 immigrant detainees in Eloy, the third-largest detention center in the country. The cost is around $80 per inmate per day. That comes to around $44 million a year.