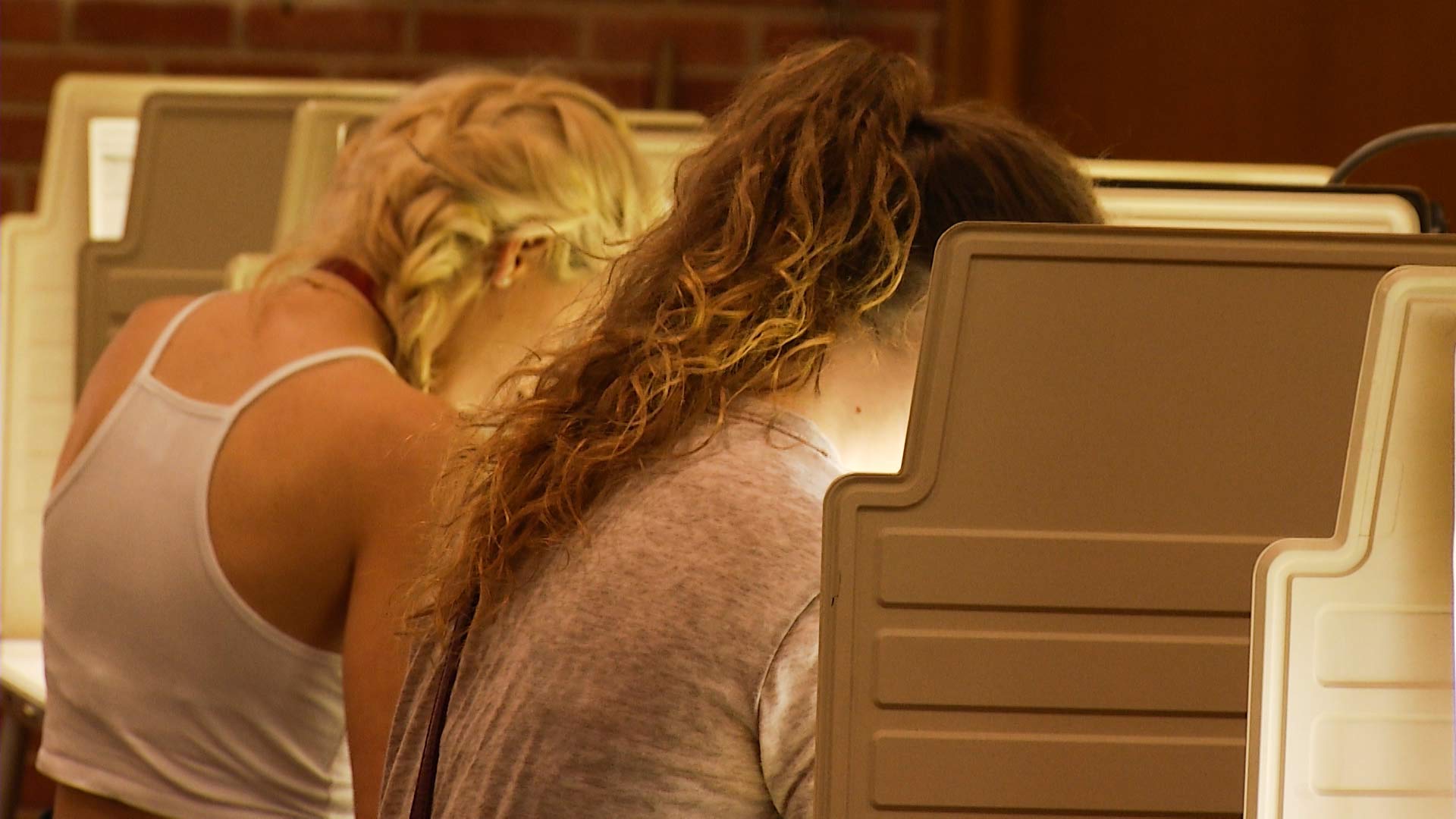 Voters cast their ballots at voting booths.
AZPM Staff
SUN LAKES — Shortly before the raffle for a handgun, top Arizona Republicans gave a warning to the crowd gathered at a conservative group's meeting in a retirement community at the edge of Phoenix's sprawl: The Democrats are coming.
"To say they're energized is a gross understatement," House Speaker J.D. Mesnard told the Sun Lakes Republican Club, citing last month's special election for a congressional seat in a suburban district that the GOP only won by 5 percentage points. Donald Trump carried the district by 21 percentage points in 2016. "They want us gone."
The following evening, members of the Legislative District 27 Democrats marveled at a dozen Domino's pizza boxes stacked up for the standing-room only crowd. In previous years, only one pizza was needed to feed the few people who showed up for meetings. This year, organizers joked about attendees needing to make reservations for the few tables at a recreation center in a blue-collar Phoenix neighborhood.
"They want us gone" — Arizona House Speaker J.D. Mesnard, at a Republican club meeting.
Maritza Saenz, the group's vice chair and director of operations for the state's Democratic party, kicked things off by referencing the April 24 special election and extrapolating what those numbers would mean in November. "The numbers show it - we could have a Democratic governor, all the way down to a superintendent" of public instruction, she told the crowd.
For a decade, Democrats have said they were close to turning Arizona blue. They insisted that the state's growing Latino electorate would change its political orientation, that its residents weren't as conservative as its elected officials. And they lost every single statewide election since 2008.
But this year could be different.
Democrats hope that a primary between three Republicans helps them get a shot at an open U.S. Senate seat that could determine which party controls the chamber. Tens of thousands of Arizona teachers are newly mobilized after recent walkouts that won them a 20 percent pay increase over three years and drew attention to the $1.5 billion in cuts the GOP-controlled state government has made to K-12 education since the Great Recession. And the party is flooded with new volunteers, energized by Trump.
Felecia Rotellini, the chair of the state Democratic party, chuckled as she recalled prior years where Democrats hoped to come back — she ran for attorney general in 2010 and 2014 and lost both times. "I know better than most about the predictions of turning Arizona blue," she said. But this time, the energy and the national environment powering Democrats are different.
"You can see how frightening the Republican party is to average Arizonans who want stability, not chaos," Rotellini said.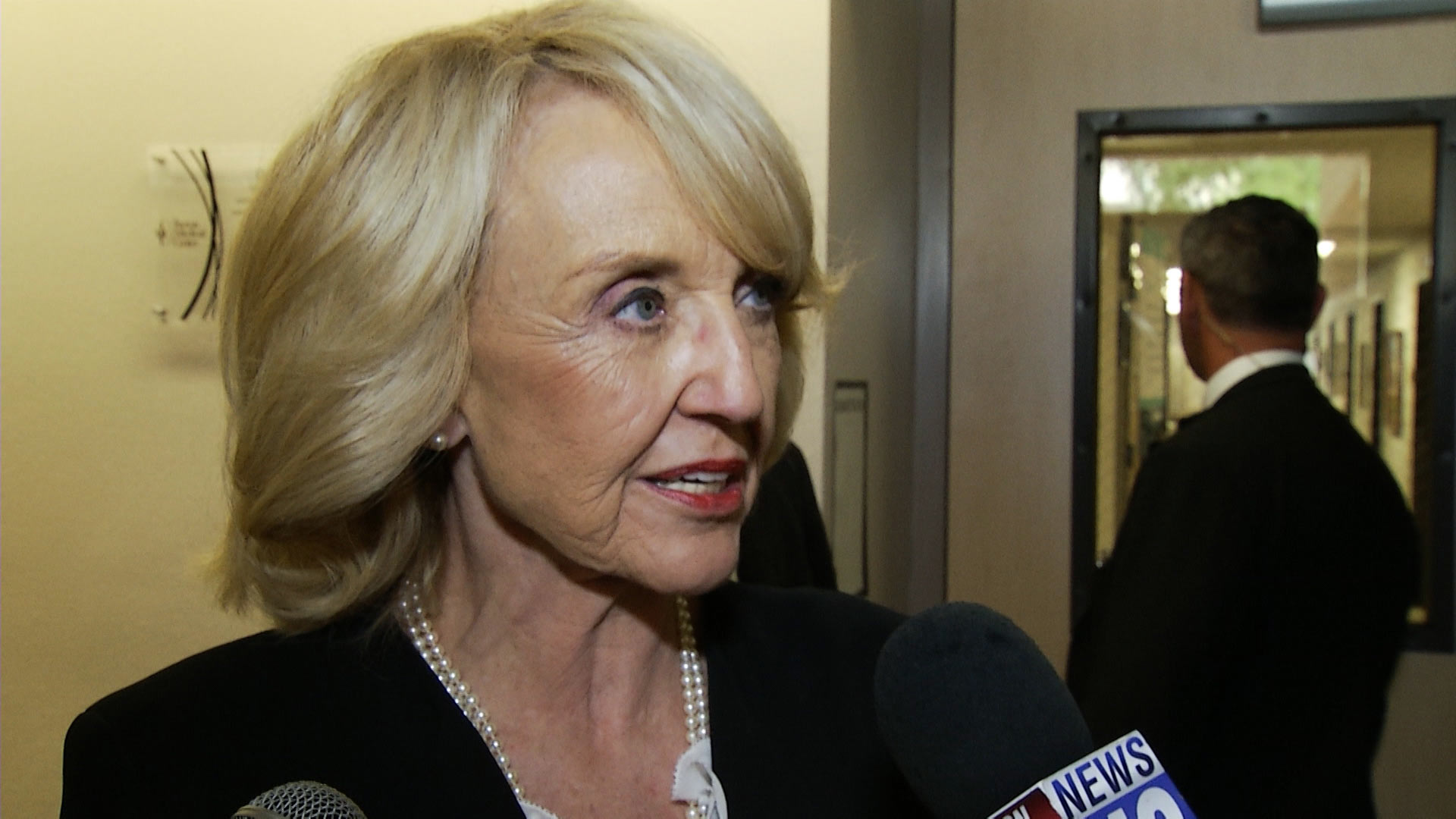 Former Arizona Gov. Jan Brewer.

AZPM
Republicans know they have their work cut out for them. "I think it's going to be a force that we're going to have to reckon with, for sure," said former Gov. Jan Brewer, who campaigned for GOP state Rep. Debbie Lesko, whose narrow special election win shocked her party. "A sleeping giant was awoke, they're awake and alive and they're out there and they want change," she said of energized teachers.
Brewer said she thinks Republicans can rally voters back to their side. Chuck Coughlin, a veteran GOP consultant in Phoenix, said the party's greatest challenge will be in the Senate race. The Democrat running for the seat being relinquished by Sen. Jeff Flake, Rep. Kirsten Sinema, faces no major primary opposition and has been running ads for weeks introducing herself to voters as a common-sense centrist.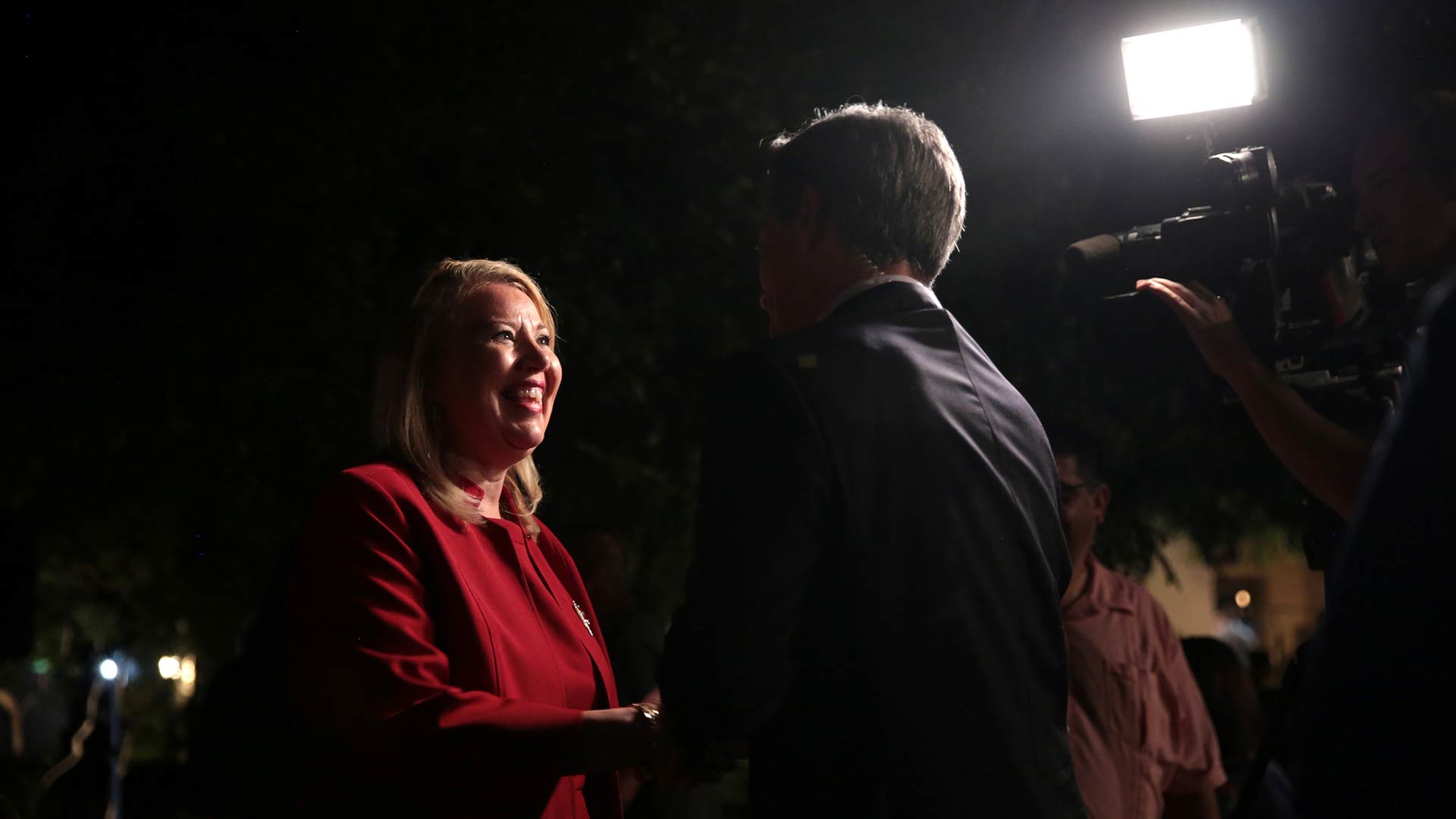 Debbie Lesko, April 24, 2018.

Gage Skidmore via Flickr
In contrast, her opponents are fighting to win over Republican base voters. Rep. Martha McSally represents a swing district in the Tucson area, but she has been touting her support for Trump. She faces former State Sen. Kelli Ward, a staunch conservative, and former Maricopa County Sheriff Joe Arpaio, whom Trump pardoned after he was convicted of contempt of court for continuing to racially profile Hispanics.
"Clearly that race leans blue," Coughlin said of the Senate contest. But, he added, gubernatorial candidates for governor and other statewide office seekers are fighting over their liberal credentials in primaries. "If blue's going to win in Arizona, it's got to look more purple."
Democrats are optimistic that they can pick up McSally's House seat, and Lesko faces a rematch in November from Hiral Tipirneni, the Democratic physician who came surprising close to beating her in the special election. Democrats also hope to pick up at least one more of Arizona's nine congressional seats and insist they have a shot at unseating Gov. Doug Ducey, who engineered the pay increase for teachers.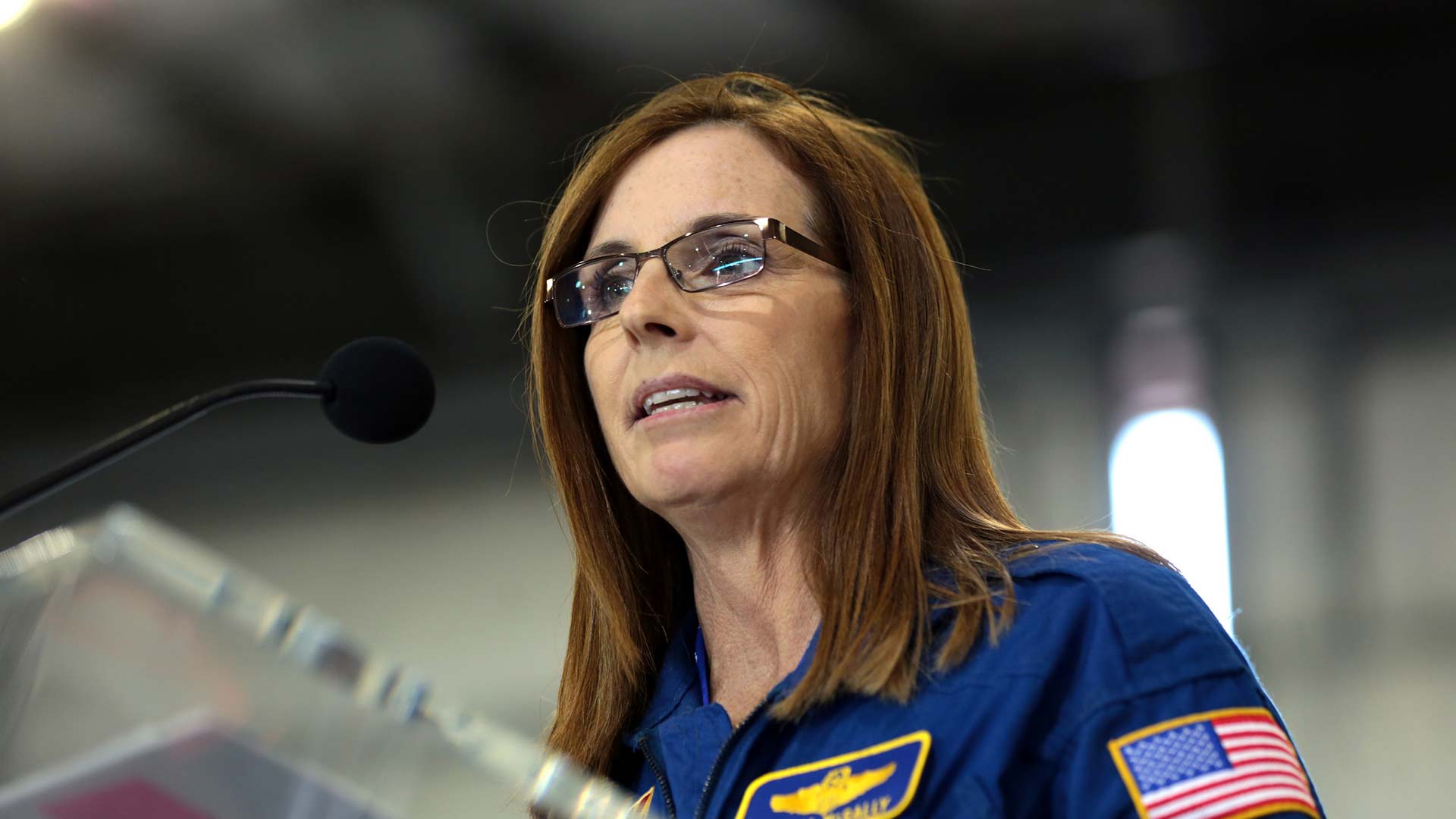 Martha McSally in Phoenix for the announcement of her candidacy for U.S. Senate, Jan. 12, 2018.

Gage Skidmore via Flickr
Republicans grouse that some leaders of the so-called "Red for Ed" movement haven't given Ducey credit for the bump. Democrats contend that the governor is responsible for the education mess in the first place.
Joe Thomas, president of the Arizona Education Association, said his members were pivoting from the walkouts to the elections. "They will never turn away from this fight now," he said, "They understand that there are people down here who do not care as much about students as they care."
That was certainly true of Erin Freriks, a 24-year-old elementary school teacher who was at the LD 27 Democratic meeting for the first time last week. "We've won a small victory, but there's so much more to come from it."
The mood at the meeting was ebullient, with one candidate after another marveling at the size of the crowd. But Democrats tried to temper their optimism.
"After the 2016 election," said William Nelson, a 34-year-old systems analyst, "I don't trust that anything is in the bag."
---
Bob Christie reported from Phoenix.