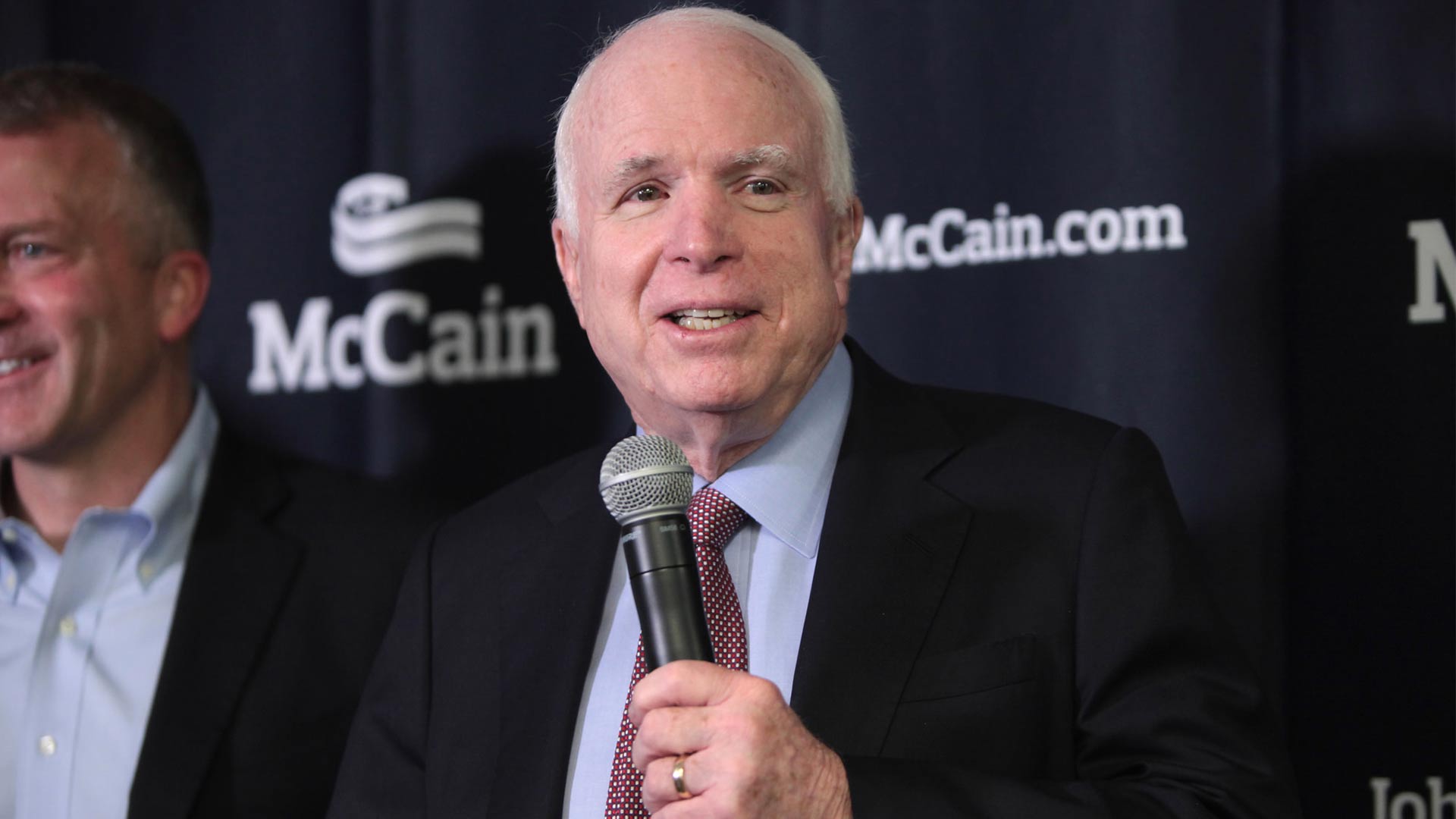 Gage Skidmore
In 2004, U.S. Senator John McCain, R-Ariz., told a congressional subcommittee there was an urgent need for immigration reform.
Video by C-SPAN shows McCain reading out loud from a newspaper story about the conditions inside a Phoenix home, where police found more than 150 undocumented immigrants forced to live in filth by armed smugglers. These kinds of situations, he said, were why Congress had to act.
"You know what the conventional wisdom is? We're going to talk about it. We're going to debate it. We're going to discuss it and nothing is going to happen this year because the issue it too hot politically," McCain told the subcommittee.
Sen. McCain testifies at a 2004 Congressional subcommittee hearing on the Bush administration's temporary guest worker proposal. (VIDEO: C-SPAN)
Fast forward 14 years, and McCain still tries to convince fellow lawmakers to pass comprehensive immigration reform. Now he's in his sixth term in the U.S. Senate, despite attacks by fellow Republicans for having supported what they view as amnesty.
Immigration has always been a riddle for the United States of America. The issue has repeatedly vexed lawmakers over the years as waves of diverse groups arrived on the country's shores.
McCain has made multiple runs at immigration reform, even though his ideas weren't always popular in the state he represents, or within his own party.
As McCain battled brain cancer, he co-introduced a bill in 2018 that would have, among other things, given people in the Deferred Action for Childhood Arrivals program a path to citizenship.
"It is not conscionable to tell young people, who came here as children, that they have to go back to a country that they don't know," McCain told CNN in 2017, around when the Trump administration announced plans to end the Obama-era program.
In a new book scheduled for release this month, McCain reportedly said that even if he beats cancer, this will be his last term. Regardless of how or when McCain leaves the Senate, his long record will always be highlighted by repeated efforts to pass comprehensive immigration reform.
"I think it's going to be a significant component of his legacy because he represented a border state. And he understood the economics and the humanity of the issue. And he never quit," said Paul Hickman, who worked for McCain for almost 20 years. "When something is worth doing, you've got to stay at it. And McCain taught me that."
In the years after 9-11, McCain tried to pass immigration reform with former Sen. Ted Kennedy, D-Mass. But then fellow Republicans attacked McCain during his second presidential run, arguing the party's eventual 2008 nominee was in favor of amnesty. In 2010, when Arizona took a hard right turn on the issue, McCain reportedly waited to the last minute to back S.B. 1070.
"I think the legislation is clearly a reaction to the federal government's failure to carry out its responsibilities and secure our borders," McCain told the conservative channel, Newsmax TV.
A 2010 television ad run by the McCain campaign, "Complete The Danged Fence." (VIDEO: johnmccain.com via YouTube)
There was also a campaign ad that showed McCain walking along the border in Nogales, Arizona with former Pinal County Sheriff Paul Babeu, who said the plan by McCain and former Sen. Jon Kyl, R-Ariz., to secure the border was "perfect."
"And complete the danged fence," McCain said to Babeu in the ad.
The ad helped McCain win a primary challenge by former Rep. J.D. Hayworth, (R., Ariz.) and then his fifth term in the senate. In the 2016 election, McCain survived a similar test from former state Republican lawmaker, Dr. Kelli Ward.
McCain was able to walk the tightrope between supporting comprehensive immigration reform, and Arizonans opposed to so-called amnesty, by focusing on border security in election years, Hickman said.
"He would emphasize during campaigns that immigration is a component of national sovereignty," Hickman said.
McCain was not swayed when advisers would say that backing a pathway to citizenship for undocumented immigrants already living in the U.S. was a dangerous political move.
"He would say, 'We've got to fix the system,'" Hickman said.
McCain tried to fix it again in 2013 as a member of the bipartisan Gang of 8. He argued to fellow lawmakers that most Americans wanted Congress to act on immigration reform.
"I hope (lawmakers) understand that the status quo is totally unacceptable," McCain said in a video posted on YouTube. "The status quo is de facto amnesty. The status quo is 11 million people living in the shadows. And they aren't going home."
The Senate approved the Gang of 8 bill. But the U.S. House of Representatives let it die on the vine.
Sen. Michael Bennet, D-Col., a Gang of 8 member, released a written statement saying McCain was key in helping craft a bill rooted in compromise. Bennet's statement ended with: "We all missed Senator McCain during the DACA negotiations this year."