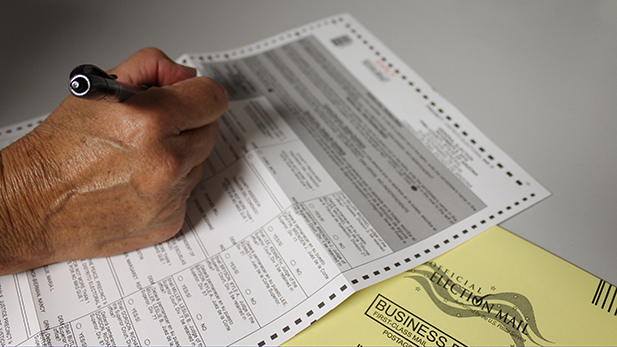 AZPM Staff
PHOENIX — A federal judge has rejected a Democratic effort to overturn a 2016 Arizona law barring groups from collecting early ballots from voters as part of their get-out-the-vote efforts.
The ruling issued by U.S. District Court Judge Douglas Rayes Tuesday evening comes in a lawsuit filed shortly after the law was passed by the Republican-controlled Arizona Legislature. Rayes also rejected challenges by national and state Democratic groups that alleged the state's policy of rejecting ballots cast in the wrong precinct was illegal.
Democratic groups argue the law banning the collection of early ballots disproportionately affects minority voters. Gov. Doug Ducey has called it a common-sense law to protect election integrity. Violators of the law that bans anyone but caregivers or family members from delivering a completed early ballot to a polling place can face a felony charge.
Early Democratic efforts to block the ballot collection law failed and the case went to a full trial before Rayes last year. They alleged the ballot collection law and precinct voting rules violate the voting Rights Act and the Constitution because they adversely impact minority voters. They also allege the ballot collection law was enacted to suppress the minority vote.
Rayes rejected all of those arguments after hearing testimony and reviewing court filings, writing that the Democrats hadn't met their burden in proving that the election practices "severely and unjustifiably" burden voting, unfairly impact minority voters or were enacted to suppress minority turnout by passing the law, known as H.B. 2023.
"Plaintiffs have raised fair concerns about the wisdom of H.B. 2023 and Arizona's treatment of (out of precinct) ballots as matters of public policy," Rayes wrote. "The court, however, is not charged with second-guessing the prudence of Arizona's laws. The Court's authority extends only to determining whether, in exercising its constitutional authority to regulate the times, places, and manner of elections, Arizona has acted within permissible constitutional and statutory bounds."
Secretary of State Michele Reagan, a Republican, said she expects the case to be appealed and she hopes upper courts come to the same conclusion.
"I think most people agree that Arizona should make it easy to vote and hard to cheat," Reagan said in a statement. "These commonsense policies and procedures ensure people are voting for the candidates who represent them at the state, federal and local level as well as prevent political activists from collecting voted ballots."
The state Democratic Party referred requests for comment to the Democratic National Committee, and a spokesman said the party will continue to "fight tooth and nail against any infringement on the sacred right to vote."
"Voter suppression efforts like this are a Republican staple," DNC spokesman Michael Tyler said in a statement. "The DNC will appeal this ruling immediately so that Arizona voters can have protections in place for the upcoming 2018 elections."
The 2016 law was one of the more contentious of the session, with Democrats arguing that activists going door to door and offering to deliver early and sealed ballots to polls was the modern equivalent of get-out-the-vote efforts. Republicans said the practice was an opening for voting fraud.