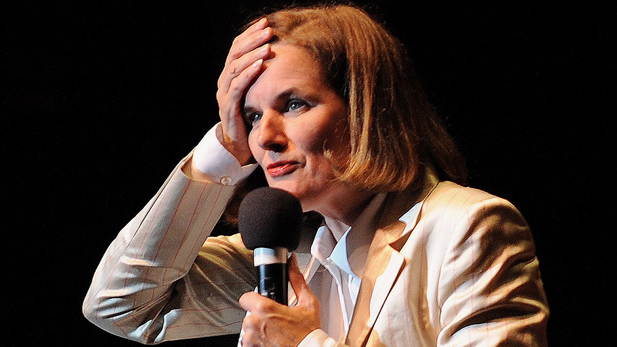 Paula Poundstone, performing in Westwood, California on July 11, 2008.

Courtesy of Paula Poundstone
Right up front, Paula Poundstone would like to make something perfectly clear about her long-running involvement with NPR's weekend quiz show Wait Wait...Don't Tell Me!:
"Yes -- I am trying to win. I can't tell you how many people have come up to me and suggested that I'm not trying to win. Of course I am -- what the hell else would I be doing? I'm highly competitive, I'm just not that good at it."
After 10 years of monthly appearances on the show, Paula says she can actually count on one hand the number of times that she's tasted victory, but the experience is so much fun, the good vibes carry her through the rest of the month.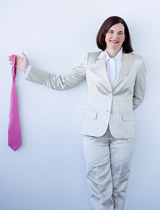 Comedian Paula Poundstone. (PHOTO: Courtesy of Paula Poundstone)
"One time, we had a 10 year anniversary party for the show, and about 15 of the regular panelists were there -- the first time so many of us were under one roof," she recalls.

"The producers of Wait Wait had prepared a list of trivia questions about the show itself, including this one: 'How many times has someone gotten ZERO answers right during the lightning round?' So, I'm looking around my table, wondering what poor schlub that might have been. And, of course, it turned out that it was me. But not only that, it was about two weeks before that dinner when it happened, and I had no memory of it at all. Which means -- if I been asked that question in my lightning round -- I would have gotten that wrong, too. It's very sad."
Paula's proficiency with trivial knowledge aside, her career in comedy has been quite a successful one. She handles the stresses of the road by looking forward to the unique energy that each new audience brings to the show, and she says she is never disappointed.
Listen:
UAPresents welcomes Paula Poundstone to the Centennial Hall stage this Saturday, February 19th, at 8pm.
UAPresents is an underwriter of Arizona Public Media.