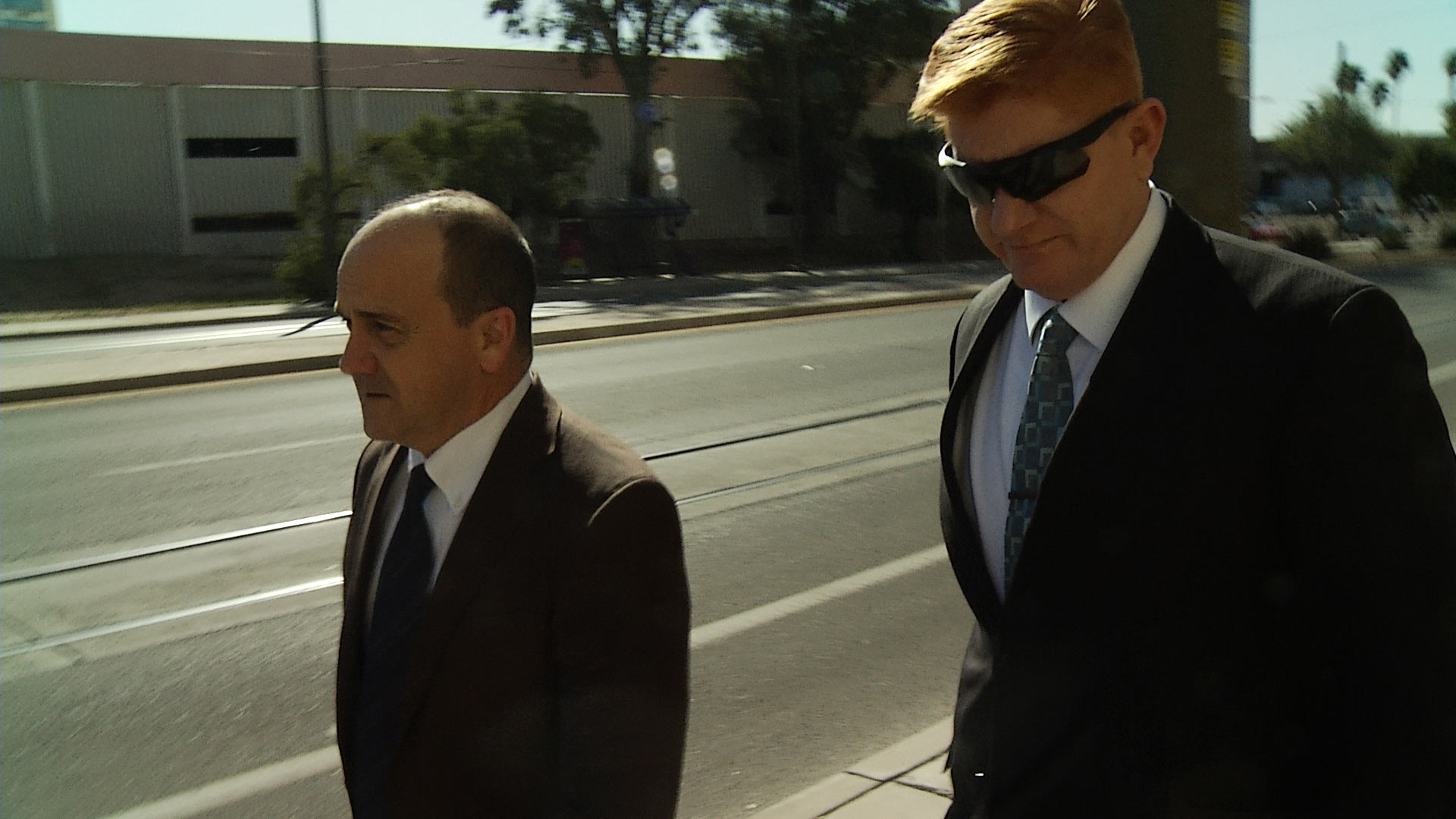 Border Patrol agent Lonnie Swartz, right, walks into federal courthouse with his attorney, April 2018.
AZPM
A federal jury is deliberating after weeks of testimony in the case of a Border Patrol agent accused of second-degree murder in the death of a Mexican teenager.
The prosecution and defense agree that on Oct. 10, 2012, agent Lonnie Swartz fired 16 times through the international fence into Mexico, hitting 16-year-old Jose Elena Rodriguez 10 times in the back and neck. The question is, why?
In his closing arguments, Assistant U.S. Attorney Wallace Kleindienst told the jury that Swartz is not God, "He can't decide who lives or dies."
Kleindienst told the jury Elena Rodriguez was part of an attempt to smuggle two backpacks of marijuana from Mexico into the U.S. His job that night was to throw rocks at Border Patrol agents to distract them as two other men tried to climb the fence to get back into Mexico, Kleindienst said.

By the time Swartz arrived on the scene, the danger had subsided. "Swartz could have done what the other agents did," said Kleindienst, "take cover and assess the situation."

Instead, Kleindienst said, the agent, an expert marksman, took aim and fired on the teen as he was attempting to run away. Swartz fired 16 shots in 34 seconds, hitting Elena Rodríguez 10 times in the back and head. The prosecution says it shows "malice aforethought," or reckless disregard for human life.
Defense attorney Sean Chapman said Swartz was justified in his use of force. He called the prosecution's version of that night "a gross distortion of reality."

He said Swartz did what he was trained to do: use deadly force when necessary. He said the 16-year-old was part of a drug-smuggling operation that night and presented a danger.
Border Patrol Union President Art Del Cueto said the testimony highlights the agency's difficult job.

"It's a dangerous job that we are involved with, and it is a dangerous job the smugglers are involved with. Agents must react to danger, making a split-second decision," Del Cueto said.

Federal District Court Judge Raner Collins told the jurors they could find Swartz guilty of the lesser charges of either voluntary or involuntary manslaughter.
The jury begins its deliberations Tuesday.