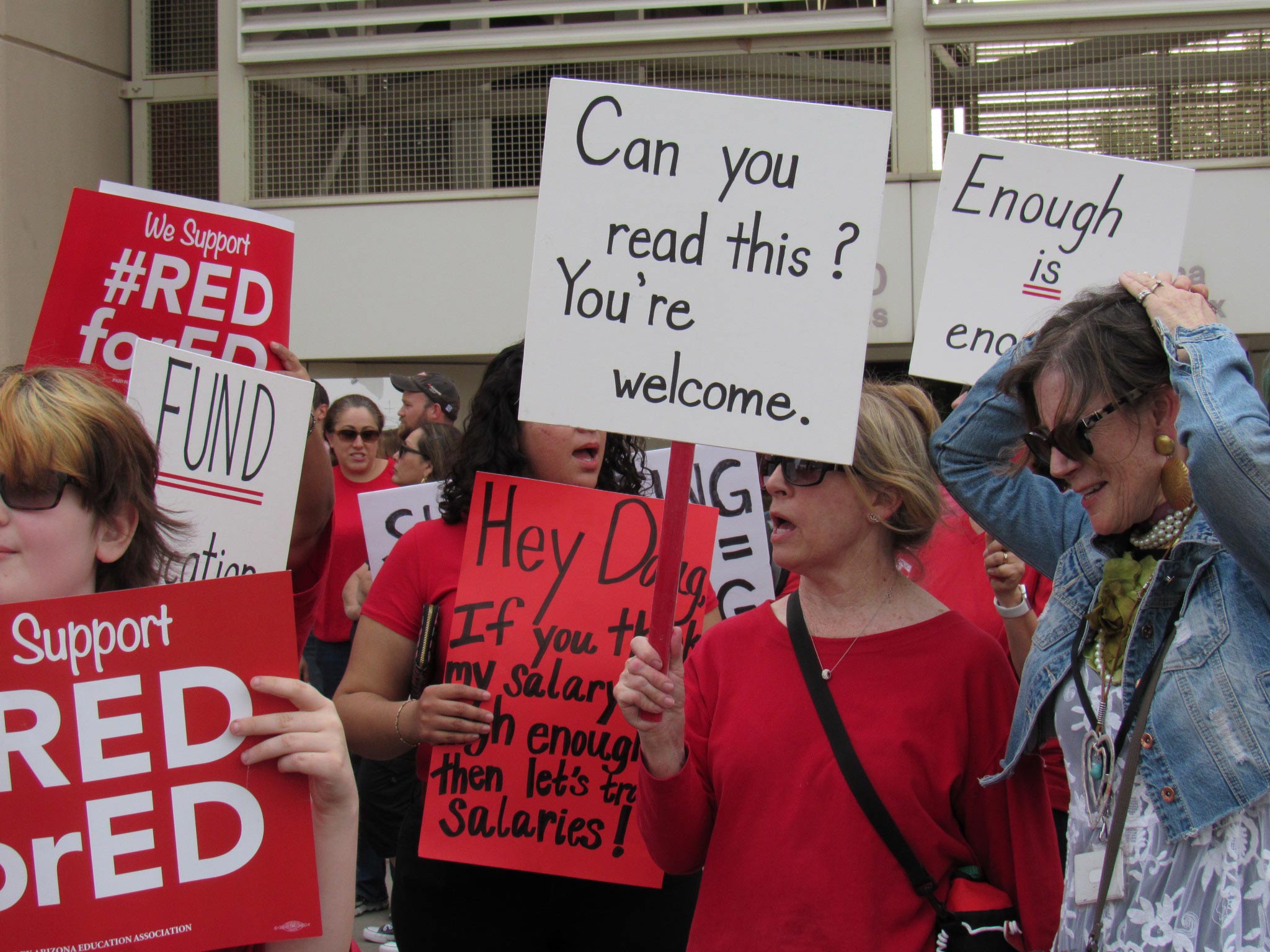 Tucson teachers rally for better pay and education funding outside the State of Arizona building in downtown Tucson on April 9, 2018.
Brandon Mejia, AZPM
Some advocates for education funding have called Gov. Doug Ducey's proposal to increase teacher pay positive, but not enough, and now the groups behind recent protests are testing the waters to see if teachers are ready to walk out.
The governor's proposal, revealed last Thursday, would increase teacher pay by 20 percent. That was just one of the demands of the #RedForEd movement, said Jason Freed, president of the Tucson Education Association, a branch of one of the groups coalescing around the campaign.
"It's a step, but we are not where we need to be. When we talk exclusively about raises, and then we talk about only certain individuals getting those raises, that shows that the governor hasn't quite figured out all of the pieces to this issue," he said.
The grassroots Arizona Educators United group and the Arizona Education Association say the governor's plan leaves out certified and classified staff and overlooks demands for raising per-pupil funding and money to update curriculum and classroom resources, among other things.
"Many of our colleagues, like cafeteria workers, janitors and bus drivers – people who take care of students and keep them safe – are left out of this proposal. We need an inclusive budget that recognizes everyone's hard work at the school," said Arizona Educators United organizer Noah Karvelis in a press release.
Advocates also said they doubt the proposal's budgetary viability. Freed said they have concerns that the plan has few details and doesn't identify a long-term source of cash for the raises.
There seems to be a "struggle to identify exactly those funding sources, and if those funding sources are sustainable, as well as doing some damage to other social programs that we know are vital to our community."
That has led the groups to call for a vote among educators to gauge support for a walkout or strike, Freed said. According to the Arizona Educators United Facebook page, educators will be holding a vote between Tuesday and Thursday this week the test the waters.
Any teachers and non-administrative school staff can take part in the vote, Freed said.
There isn't a specific threshold of votes to determine a walkout, according to Freed.
"This is really an opportunity for us to see where people are at, because something like this hasn't happened in Arizona in a statewide manner, and so this gives us a sense of where educators are at at this very moment."