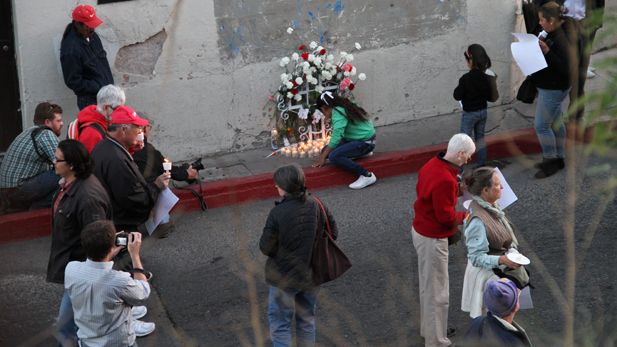 Memorial for Jose Antonio Elena Rodriguez in Nogales, Sonora

Mariana Dale, AZPM
The trial of Border Patrol agent Lonnie Swartz continued Wednesday with opening arguments. Swartz is charged with second-degree murder in the shooting death of a 16-year-old Mexican national through the international fence.
The basic facts if the case are not in dispute by either side. Rocks were being thrown at Border Patrol and Nogales police to distract agents from catching two men scaling the border fence to get back to Mexico. The two had dropped off backpacks of marijuana on the U.S. side.

The prosecution conceded that 16-year-old Jose Elena Rodriguez was part of the team and did throw rocks, but said agent Swartz acted as judge, jury and executioner. He shot across the border fence into Mexico three times, dropping Rodriguez – then moving locations, firing eight more times, reloading and firing three more times.

The prosecution went on to tell jurors that Swartz kept shooting at Rodriguez as the teen laid face down and that he was dropped with the first round of shots.
The defense did not argue that it was Swartz who did the shooting but claimed he was in fear for his life and the lives of other officers. The defense told jurors that rock are deadly weapons. And that agents are trained to use deadly force when they area assailed by rock throwers.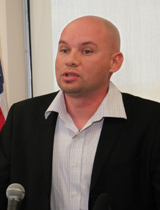 Art Del Cueto, Border Patrol union official.
Art Del Cueto, president of the local chapter of the Border Patrol Union, agrees.
"If you just Google 'Border Patrol agents getting rocked' you will find many pictures of agents that have been severely hurt and maimed."
The courtroom was standing room only with off-duty agents on one side and Rodriguez family members and supporters on the other. The trial is expected to last up to six weeks.
A previous version of this story incorrectly characterized Swartz' employment status. He is still employed by Border Patrol.