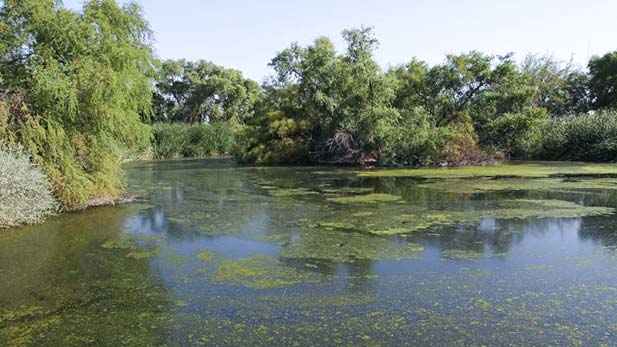 Sweetwater wetlands.

Courtesy city of Tucson
Smoke will rise over Tucson's west side Thursday morning, but there's no emergency.
Tucson Fire will torch some of the native plants that grow in the city's Sweetwater Wetlands, near the Prince Road-Interstate 10 interchange, in a cooperative exercise with Tucson Water. The firefighters get experience with wildland fire, and the water utility gets rid of vegetation that provides a breeding ground for mosquitoes.
But the fire also disrupts life for the waterfowl reptiles, and other animals that make their home in the wetlands. Wildlife specialists will be standing by to aid any distressed animals.
"This year one of the things that we're doing is we're having a group a local group there at the burn, to assist in case there's any of the wildlife, any of those critters that are maybe might be injured or displaced, so that we can do a better job of managing that," Tucson Water spokesman Fernando Molina said.
He said the city created the wetlands to recharge treated wastewater into the aquifer, and provide a home for wildlife. But when the native plants grow too thick, mosquitoes can become a problem, so the water utility calls in Tucson Fire to burn off some of the excess growth.
"Over the course of a year it gets very thick and it gets very matted and that really prevents the granular application of this larvicide to be really effective. It doesn't even make it to the water," Molina said.
Molina says about a third of the wetlands' vegetation will be burned, but the roots remain viable and the bulrushes and cattails will grow back in a few months. The burn should be finished by mid-day.
Migratory water fowl in the wetland typically lift off at the first sign of fire, and return later in the day when the exercise is over. The burn is also scheduled before the start of the black bird nesting season, which begins in April, according to Tucson Water.