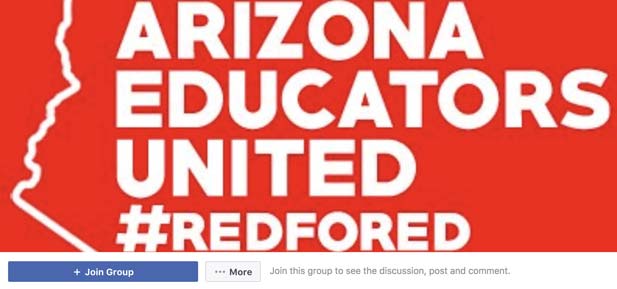 VIEW LARGER Screenshot of the Arizona Educators United closed Facebook page, which came together in March, 2018 to demand higher teacher pay.

AZPM Staff
Arizona teachers staged a protest for higher pay Wednesday. The demonstration followed the end of a nine-day West Virginia teachers' strike.
Teachers across Arizona, coalescing under the hashtag #RedForEd, wore red in protest of low salaries for educators. They said they were inspired by their counterparts in West Virginia.
Public school teachers there walked off the job to convince state lawmakers to approve a 5 percent raise. Tucson Education Association president Jason Freed said he can't predict if Arizona teachers might use the same tactic.
"We're not sure what's going to happen here," Freed said. "I can tell you that educators are frustrated, when you look at every mechanism when it comes to funding public education, Arizona is near or at the bottom in all of those calculations."
Research from the National Education Association ranked West Virginia 48th of the 50 states for average teacher salaries. A study from last year by Arizona State University's Morrison Institute for Public Policy found that Arizona ranks 49th for high school teacher pay, and last for elementary school teacher pay.