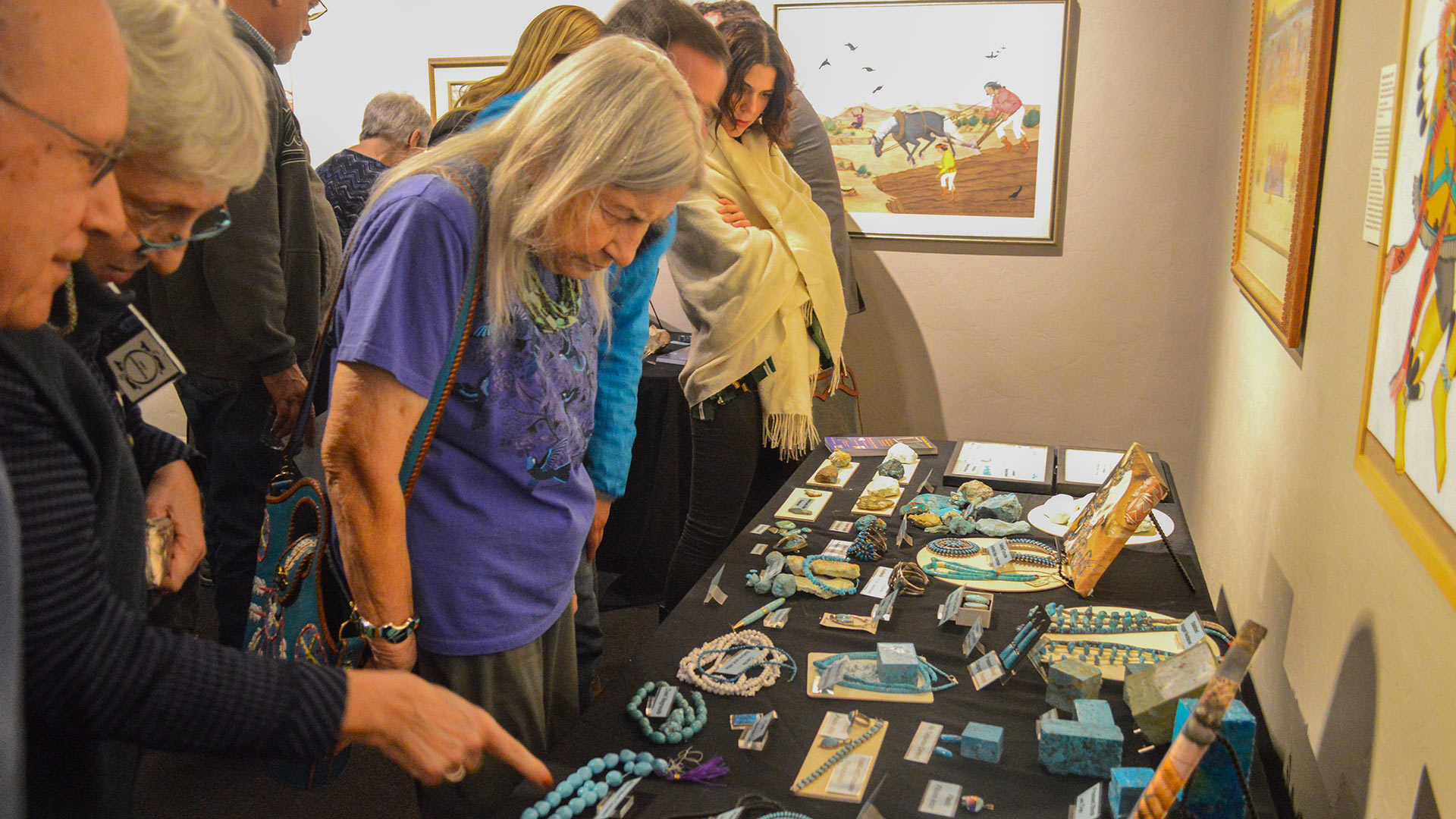 Examining turquoise objects at an lecture by Joe Dan Lowry.
Emily Ellis, AZPM
Next time you slip on your favorite turquoise bracelet, or find yourself lingering over a tray of blue stones at your local gem shop, you may want to ask: What does turquoise mean to me?
The significance of turquoise to people in Arizona and beyond is driving the work of two Southwestern researchers.
Joe Dan Lowry collects stories from the people he encounters as the owner and curator of the family-run Turquoise Museum in Albuquerque, New Mexico. University of Arizona anthropology professor David Killick takes his research farther back in time, using a combination of geochemistry and archaeology research techniques to find out what turquoise can tell him about the lives of ancient people in Arizona.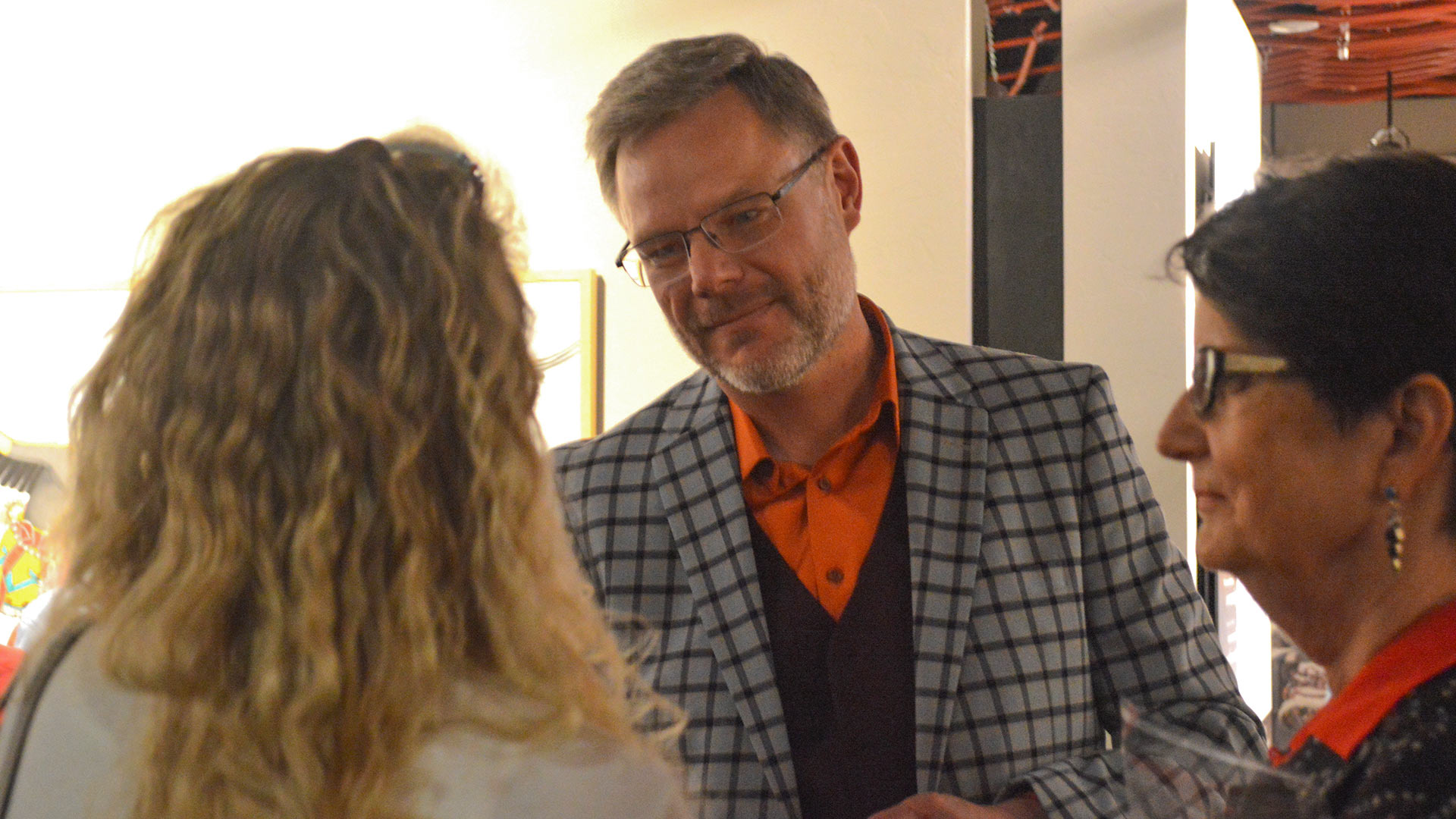 Joe Dan Lowry

Emily Ellis, AZPM
Lowry recently visited Tucson to give a lecture at the Arizona State Museum and to visit the annual Gem and Mineral Show. Although considered a leading world expert on the stone, Lowry said he is principally interested in turquoise as it relates to people.
"The only thing more colorful than turquoise itself is the color of the characters that buy and sell it," he said.
Many of these characters make appearances in his lectures and in the books he co-wrote with his father, Joe P. Lowry.
Lowry doesn't care to wear turquoise himself, which has the effect of making him to stand out in an audience that is decked out in chunky blue necklaces and bolo ties. He said that his grandfather's approach to working with turquoise provided the inspiration for his current work.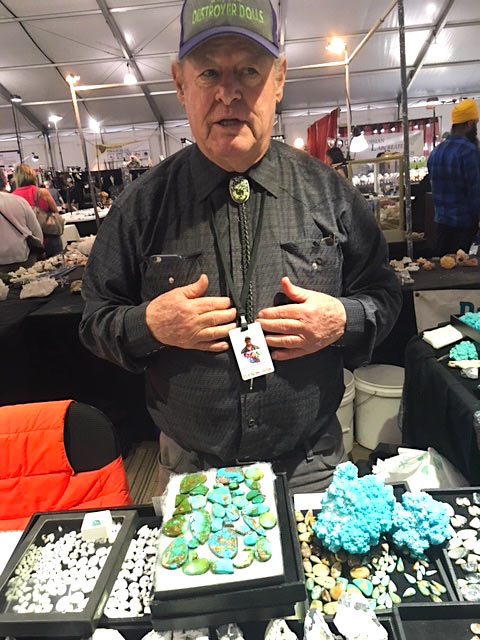 David Otteson, vendor at the 22nd Street Gem and Mineral Show, 2018.

Emily Ellis, AZPM
"My grandfather had one of the largest collections of turquoise in the United States, and his passion was collecting it, traveling the world and talking to people," Lowry said. "He never saw a stranger coming. He always saw a story coming."
Anthropology professor David Killick also wants to know what turquoise can tell him about people, and his work in Arizona has earned his team accolades from researchers across the United States.
Killick recently participated in the investigation of a pre-colonial turquoise mine in Canyon Creek, Arizona, on the White Mountain Apache Reservation. While the mine was originally believed be small and exhausted of stones, Killick, along with geoscience graduate students Alyson Thibodeau and Saul Hedquist, discovered that it was much larger than previously thought. By examining the isotopic fingerprints in traces of the ancient turquoise they found there — a geoscience technique that looks at the stone's chemical elements — they found that the mine contained a unique form of turquoise.
"The only thing more colorful than turquoise itself is the color of the characters that buy and sell it"
"The isotopic ratios of the turquoise in this particular mine are extraordinarily high, much higher than we have seen in any other turquoise form the Southwest," said Killick, who published an article on the Canyon Creek turquoise, co-authored by Thibodeau, Hedquist and UA alumnus John Welch, in the Journal of Archaeological Science in November 2017.
The discovery could offer new information on the trading patterns of ancient people in Arizona, Killick said.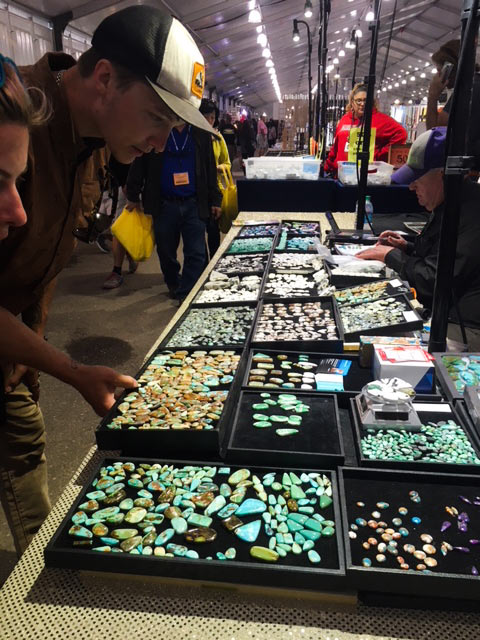 People examine turquoise objects at the 2018 Tucson Gem Show.

Emily Ellis, AZPM
"Hopi and Zuni elders came down to view the mine, and they were very excited to actually see it and to learn that it was probably a source of turquoise for their ancestors," he said. "All of the Native American groups have been very supportive of this work and quite excited."
For Joe Dan Lowry, the value of turquoise is simply that it makes people happy, something he says is true across decades and cultures.
"Turquoise is the people's gemstone," he said during his lecture at the Arizona State Museum. "There's a value to turquoise that goes all the way back to when some guy probably picked up a pretty blue rock when he should have been on a hunt."
Emily Ellis is an AZPM intern and student in the University of Arizona School of Journalism.