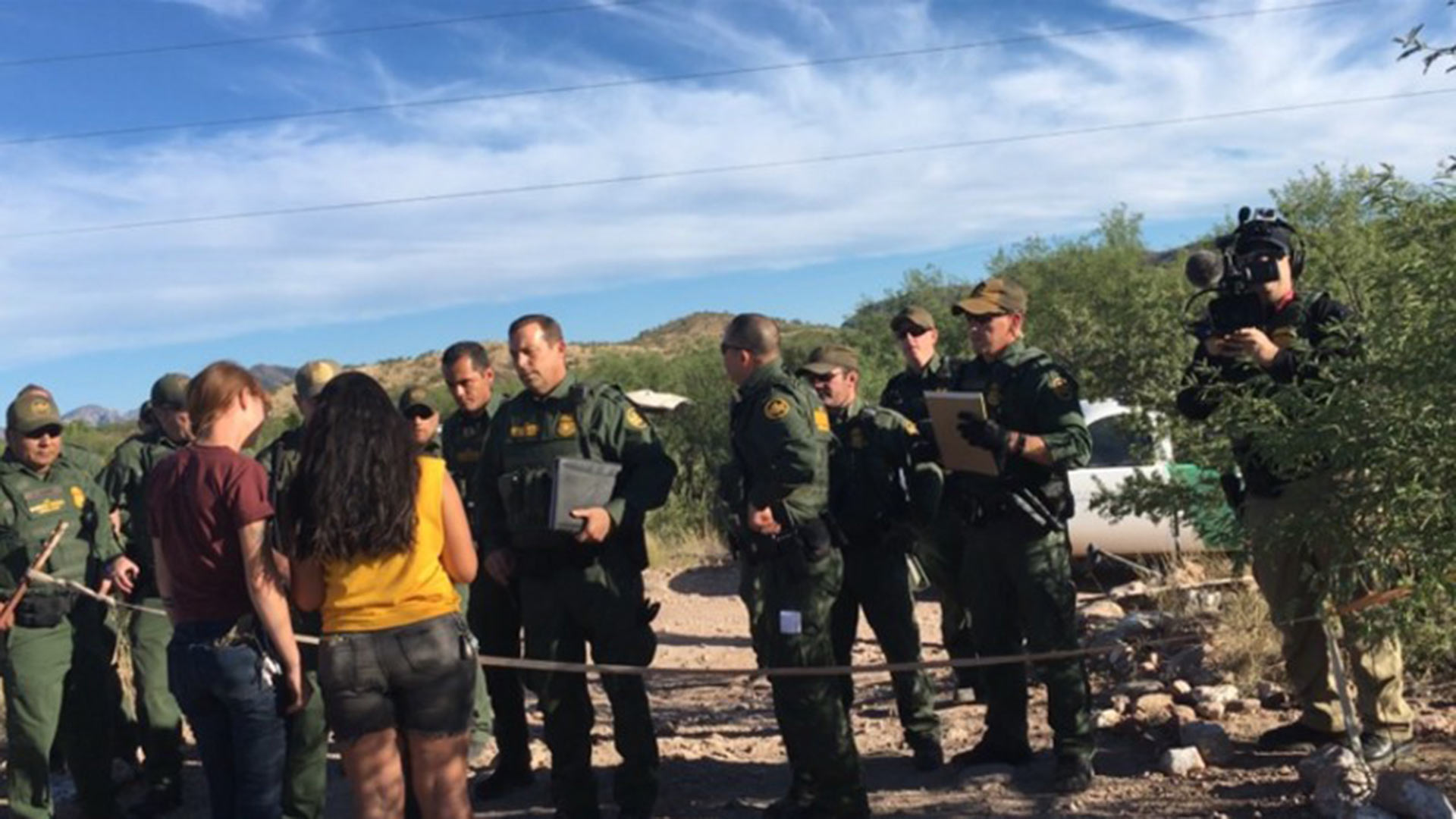 More than 30 Border Patrol agents entered a camp of the No More Deaths migrant aid group on Tuesday, June 13, 2017.
Courtesy of No More Deaths
Tucson humanitarian groups say they worry that their long-standing amicable relationship with the Tucson Sector Border Patrol is coming to an end.

No More Deaths is an immigrant aid group that for the past four years has left food and water for distressed migrants trying to cross the Arizona desert without being detected by border officials. But the group says that since July of last year, they have been having increased confrontations with border patrol agents.
That escalation has most recently involved nine members of No More Deaths who are facing federal prosecution for their activities at the water and first aid camps.  Eight of the volunteers face misdemeanor charges for operating a vehicle in a wilderness area, not having a permit, and leaving property behind.
And just this week, a grand jury added charges against a 9th volunteer, Scott Warren. He faces a possible 20-year sentence for harboring an undocumented immigrant.
Margo Cowan is the attorney for several of the No More Death volunteers who were charged with those federal misdemeanors. They are charges, Cowen says, for the work they have always done.

"We don't know why the United States waited six months to go forward," Cowan said. "We are doing what we do every day, which is to put out water in the area that accounts for, like, 45 percent of the deaths along the whole border."
Warren's arrest, and the charges against the other volunteers, were filed a week after No More Deaths released a detailed, negative report and a video of Border Patrol agents slashing water bottles left in the desert for immigrants and intimidating volunteers.

A Border Patrol spokesman, agent Steve Passement, said those actions are not condoned, and that nobody has given directives to intentionally harass aid workers. He said if anyone in the community sees an agent doing those things, they should report them to the Border Patrol Tucson Sector.   According to No More Deaths' Alicia Dinsmore, the permitting process for being on federal land changed starting in July 2017.
"The language on the permitting process changed, saying that if you sign this permit, you won't be leaving things like food, water and blankets behind."   Without the ability to leave water and food for migrants, the federal government has made No More Deaths humanitarian efforts a federal crime, Dinsmore said.
Border Patrol Tucson Sector Chief Rodolfo Karisch, who took over leadership in August 2017, told nonprofit organizations at a meeting earlier this month that he will work to find a solution that allows agents to do their jobs and humanitarian groups to do theirs.

Tucson Sector Border Patrol Chief Rodolfo Karisch.

Nancy Montoya, AZPM