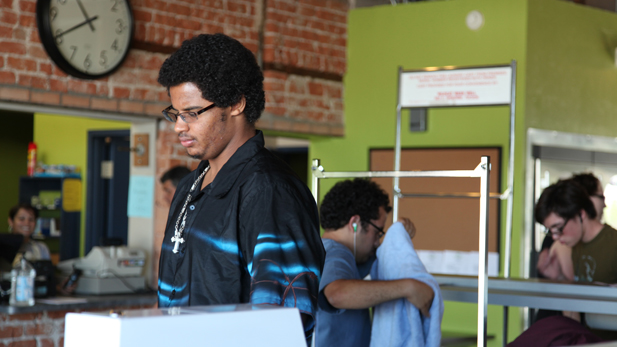 Students at Tucson's Chapel Haven West learn independent living skills, including laundry. (AZPM)
A nonprofit agency that was established in Connecticut in the 1970s opened a facility in Tucson in 2008, with the goal of helping its students learn to live independently. Chapel Haven works with young adults who have been diagnosed with autism spectrum disorders and other conditions, and Chapel Haven West is the group's campus in Tucson.
Among other essential skills, Chapel Haven students learn to live in an apartment with a roommate, ride the bus, attend classes and go to work as volunteesr at a local agency. The school works closely with the University of Arizona's Department of Speech Language and Hearing Sciences, where experts can provide additional instruction and training.
Karen Guilmette is the director of Speech Language Programs at Chapel Haven West. Her work with young adults from all over the country who have a social cognitive deficit involves exposing them to a variety of people, experiences and ideas.
"They have difficulty interacting with other people, reading nonverbal clues, understanding nonverbal communication in general and being able to understand their own emotions and present that information to others," she explains, "so we really focus on helping them to understand all of those things and increasing their ability to take the perspective of another person. "
Chris Brown is from Colorado but decided to attend the campus after going to schools in his state. "I heard about it from the Internet and I did some research and I looked it up and I found that it was a really interesting program because they teach independent living skills, they'll teach me like to manage from banking and budgeting to manage a check book," he says.

But students say one of the benefits they enjoy most is the ability to meet new people and make new friends.
We visit a school in Tucson that works with adults who have autism spectrum and mild disabilities in order to try to get them to live independently, where they learn skills like living in an apartment, doing the laundry, taking public transportation and attending classes. (VIDEO: AZPM)