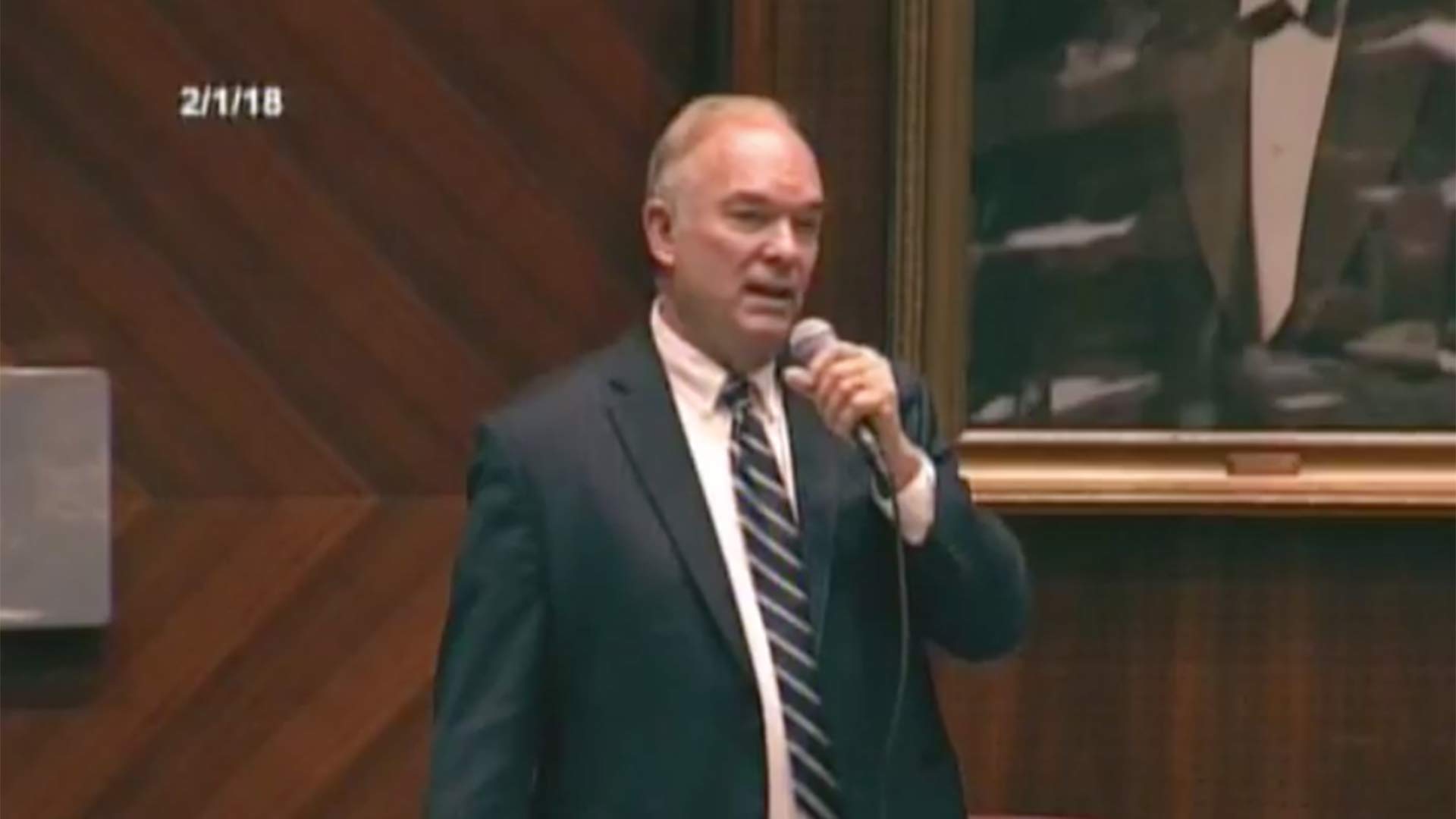 Don Shooter speaks prior to a vote on the Arizona House floor that led to his expulsion from the Legislature, Feb. 1, 2018
ACTV
The Arizona House of Representatives on Thursday voted 56-3 to expel Rep. Don Shooter.

A censure vote had been scheduled for that day by Speaker J.D. Mesnard, who later scheduled a vote on expulsion following a letter issued by Shooter on Thursday morning addressing allegations of sexual harassment against him.
For more than an hour, members of the House explained their reasons for voting Shooter out of office.
Rep. Darin Mitchell, Shooter's seatmate, said the blame falls only on one person.
"And that is Don Shooter. We are not here because of political vendetta or because it is a hack job. I've heard all kinds of things about this report," he said.
On Tuesday, the House released a report confirming a number of claims that the Yuma Republican violated House sexual harassment rules. Shooter denied the charges but admitted he made "insensitive and demeaning" remarks.
Earlier in January, Shooter apologized to the full House and said he did not mean to hurt anyone. As the vote began, he spoke again.
"I've said stupid things, I've done stupid things. I've stood on the carpet. I took it like a man, I apologized. I can't go back to the past, I can't change it," Shooter said before leaving the chamber.
Representative Becky Nutt admonished the House as her voice broke.
"You guys need to knock it off. What we are doing here is important. We have kids down here on this floor and in these desks. We're supposed to be an example to them. This is not ok," Nutt said.
Gov. Doug Ducey released a statement after the vote.

"I support the decision of the House of Representatives. They did the right thing today. This should send a strong message: Everyone should be treated with respect, and there is no room for this behavior anywhere."
On Wednesday, Rep. Kelly Townsend called on Shooter to resign before the scheduled censure vote.
"Should Mr. Shooter not resign I will support and move forward with tomorrow with the most severe action to be taken as there should and will be zero tolerance for undignified behavior here," Townsend said on the floor of the Arizona House.
The last member of the Arizona Legislature to be expelled was Sen. Carolyn Walker in 1991. She was caught up in AZ-Scam.
According to The Associated Press, Shooter is believed to be the first state lawmaker in the country to be removed from office since the #MeToo movement against sexual harassment began in the fall.
Watch a replay of the vote here.