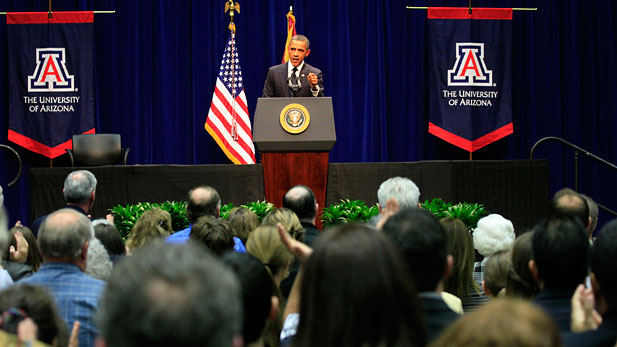 President Barack Obama pays tribute to the victims of Saturday's shooting at a memorial service Wednesday night.

Cooper Christensen
By early morning, the crowd spilled off the University of Arizona Campus and into the surrounding streets. More than 26,000 people turned out Wednesday to hear President Barack Obama pay tribute to the victims of Saturday's shooting, and they found themselves witnesses to a call for reflection--and the first to hear some unexpected good news.
During "Together We Thrive: Tucson and America," a public memorial for the victims of gunman Jared Lee Loughner, whose assassination attempt on U.S. Representative Gabrielle Giffords left 6 dead and 14 injured, Obama revealed that the Congresswoman had opened her eyes for the first time since the shooting.
"Gabby opened her eyes, so I can tell you know she knows we are here, she knows that we love her and she knows that we are rooting for her through what will undoubtedly be a difficult journey," Obama said.

The revelation was a high point in an emotionally charged ceremony. Daniel Hernandez, the intern and University of Arizona junior who tended Giffords' wound and helped save her life, said he would "humbly reject" the title of hero and drew attention to the "glimmers of hope" that emerged from the tragedy.
"On Saturday, we all became Tucsonans, we all became Arizonans and above all, we all became Americans," Hernandez said. "We all have to come to realize that what binds us is not the differences, but that we are all together and we are all family. We are all Americans."
Governor Jan Brewer followed, speaking briefly about each of the six deceased victims and of a crime that "pierced our sense of well-being ... raised questions of which we can make no sense, questions begging for answers that will not come anytime soon."

"Bound by faith," the state would recover and move forward with hope, the governor said.
Faith figured prominently in the memorial, as several speakers quoted Scripture. Brewer's predecessor, Secretary of Homeland Security Janet Napolitano read from the book of Isaiah, while Attorney General Eric Holder quoted the Second Letter of Paul to the Corinthians.

Obama took time to eulogize each of the victims and recognized those who acted to wrestle away Loughner's ammunition and subdue him. Their heroism "poses a challenge for each of us," the President said. "How can we honor the fallen?"
Obama called for a paradigm shift, cautioning the American people to turn away from blame.
"At a time when we are all too eager to lay the blame for all that ails the world at the feet of those who happen to think differently than we do," he said, "it's important for us to pause for a moment to make sure that we're talking to each other in a way that heals, not in a way that wounds."
"What we cannot do is use this tragedy as one more occasion to turn on each other," he said. "The loss of these wonderful people should make every one of us strive to be better."
Watch the video:

President Barack Obama along with other invited guests began the healing process with the people of Tucson, the nation, and the world to honor Congresswoman Gabrielle Giffords and the many others  who were injured or lost in Saturday's tragic shooting at the University of Arizona's "Together We Thrive: Tucson and America" event on wednesday night.
AZPM