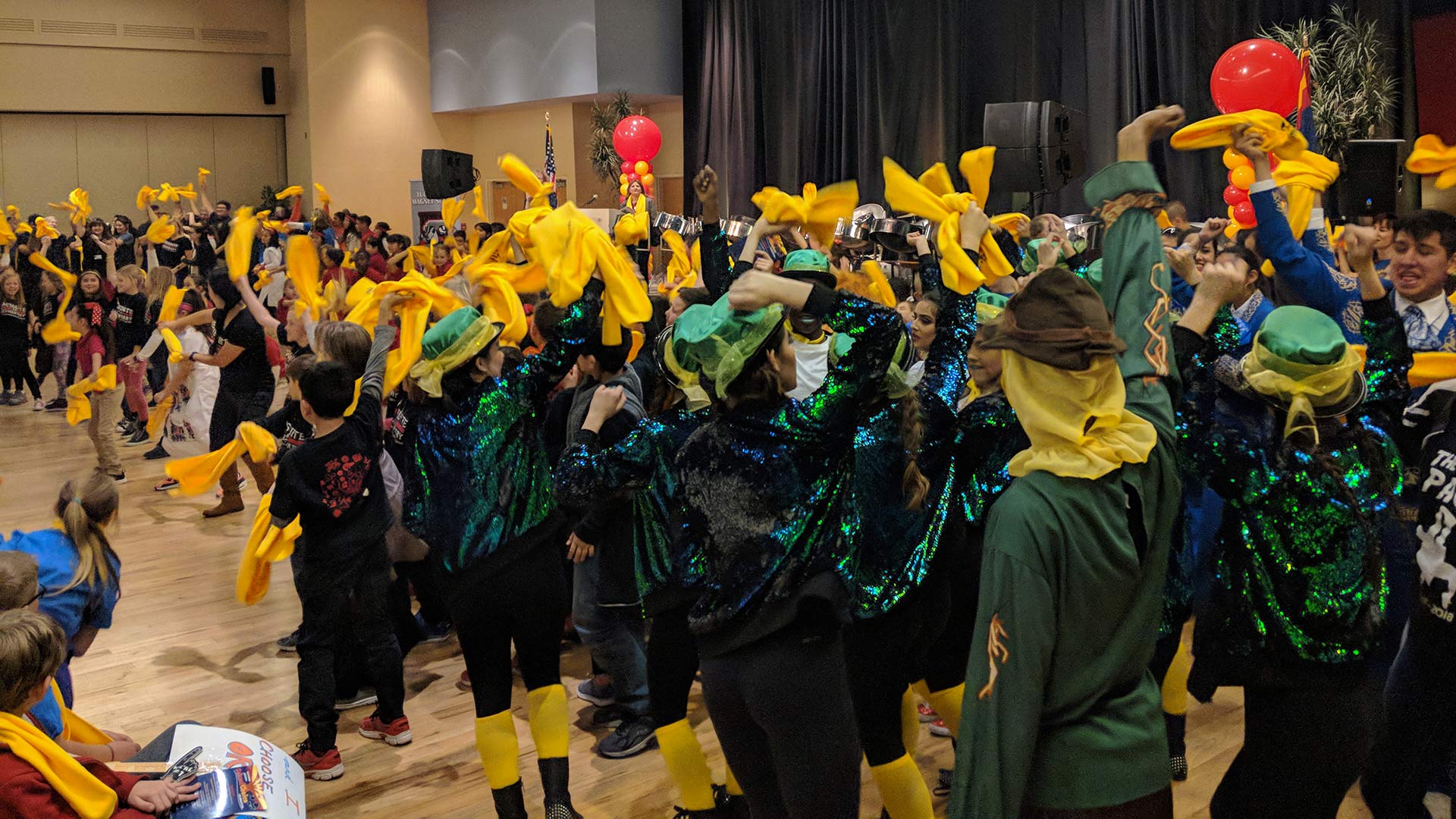 Students dance to wrap up a Jan. 23 event in Tucson celebrating National School Choice Week 2018.
Nick O'Gara, AZPM
Groups around Arizona are putting on events to mark National School Choice Week, and in Tucson, a public district and a charter school hosted their own edition.
About 30 charters and schools from traditional public districts were represented at the University of Arizona campus Tuesday, an official said. Student groups got up on stage to showcase what they've been up to, whether it be robotics, music or dance.
Most were donning yellow scarves commonly handed out at such events. The idea, according to organizers, was to showcase what's unique about each school and emphasize the importance of education options for students and families in the state.
One aspect of school choice in Arizona is the state's open enrollment policy, which gives students the option to apply to attend any public school. Vail School District spokesperson Darcy Mentone said that's important for students in Vail, who have a choice between five high schools, all with different strengths.
"School districts giving the opportunity for students and parents to choose what is right for them, their specific fit, is very important. It's as important as having multiple styles of jeans."
Maribel Escalera is a drop-out prevention specialist at Alta Vista High School, where her son is also a sophomore. She said charter schools sometimes get a bad rap, but that they found Alta Vista was the right fit in their search for a school environment where students get more attention.
"At other schools my kids weren't getting what I felt they should be getting," Escalera said. "I believe that any parent who chooses their school, it's because they're seeing something in that school that they are getting from it that they didn't get from anywhere else."
Vail's Mentone emphasized that events like this have nothing to do with school vouchers, but are instead about celebrating the individual strengths of each school.
Arizona is sometimes touted as a top school-choice state because of its open enrollment policy, charter-school laws, magnet schools and empowerment scholarship accounts (ESA), or school voucher program.
A measure to expand ESAs is set to go before voters in November. Dawn Penich-Thacker — a spokesperson for Save Our Schools, a group fighting that measure — said understanding school choice changes depending on the state, and that the concept in Arizona is very broad.
"When we talk about School Choice Week nationally, in Arizona that means slightly different things, because our charter schools are, by law, free, just like public schools, and they do not accept vouchers," Penich-Thacker said. "In Arizona, vouchers are exclusively for private schools, religious, parochial schools or homeschooling."
Ninety-five percent of Arizona families have chosen public schools and charters — like Vail schools and Alta Vista High School — Penich-Thacker said, adding that expanding ESAs would spread limited funding for public schools even thinner.
National School Choice Week started in 2011 and runs Jan. 21-27.