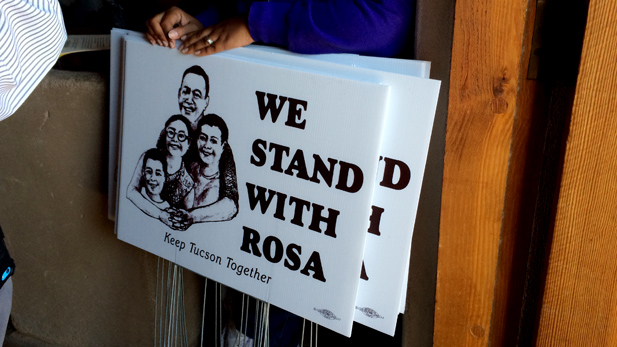 Organizers of "We Stand With Rosa" hope to flood Tucson with signs of support

Fernanda Echavarri, AZPM
You may have spotted yard signs reading "We stand with Rosa," which started showing up all over Southern Arizona in 2015.
Mexican immigrant Rosa Robles Loreto spent 15 months under the protection of Tucson's Southside Presbyterian Church. Finally, in 2016, immigration officials reached an undisclosed agreement that allowed her to stay in the U.S.
"We stand with Rosa" became the battle cry of those pushing for more liberal immigration policies and for those wanting to see a path to citizenship for the hundreds of thousands of undocumented immigrants living in the shadows in the U.S.
Now, a book called "Why the Undocumented Belong to America," written by a Southern Arizona author about Rosa's story, may have a big impact on the immigration debate going on in Washington.
Denise Holley said her book is aimed at those whose families came from Europe generations ago.

"If our current immigration laws had been in place back then, many of our ancestors who were working people would not have been allowed to immigrate."

The small, 100-page book may never become a bestseller, but Holley said she'll consider it a success if all those voting on the future of the undocumented population in the U.S. read at least the first 10 pages.