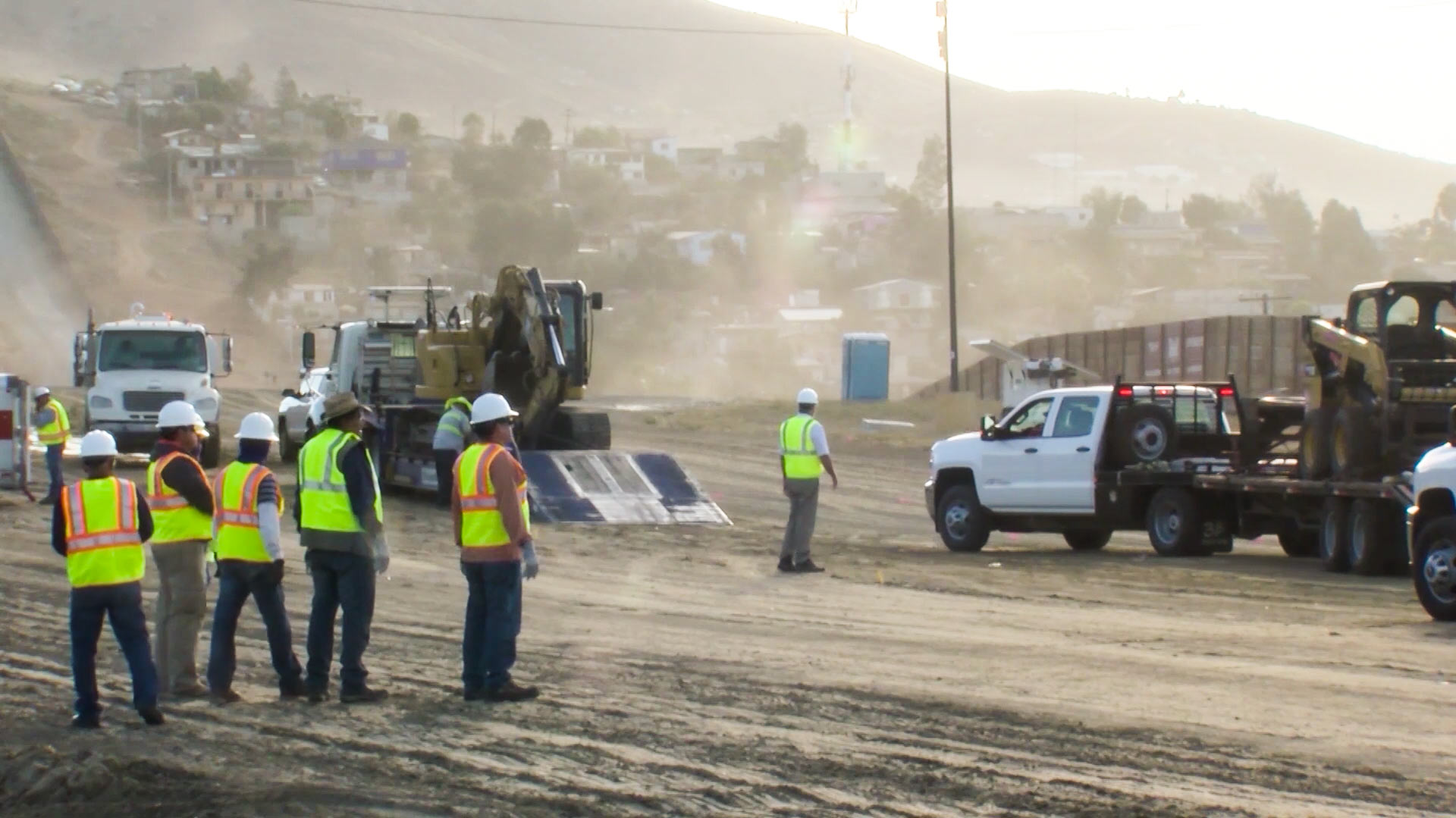 Still image from a video released by the public relations department of Customs and Border Protection showing the start to construction of border wall prototypes.
Customs and Border Protection via dvidshub.net
Border apprehensions drop
By the end of the fiscal year for 2017, Customs and Border Protection data show the apprehension of more than 75,000 family members and 41,435 children. That number is the lowest it has been in 17 years.
ICE apprehensions increase
In fiscal year 2017, Immigration and Customs Enforcement arrested 143,470 people on immigration violations, the highest number of these types of arrests in the past three years. There were 30 percent more ICE arrests than at this time last year.
The difference between these two categories is where the arrests are being made. At the border, the apprehensions are down because crossings are down. Away from the border, which accounts for 90 percent of ICE apprehensions, arrests are up because ICE officials say they have ramped up their efforts to track down people who have criminal records and those who have been in the U.S. for long periods of time, even if their only crime was to cross illegally.
The border wall
"Build that wall" was the mantra shouted by then-candidate Trump at his presidential campaign rallies. Now the president, Trump continues his push to build a physical wall, which could cost up to $25 billion, according to the U.S. Office of the Inspector General. No congressional funding has been appropriated. While eight construction companies have built "prototypes" near San Diego, national polls indicate that up to 75 percent of Americans feel it is a waste of taxpayer money.
Deferred Action for Childhood Arrivals
President Trump rescinded DACA, an Obama administration executive order, that gave 800,000 immigrants brought to the U.S. as children certain rights. DACA awarded so-called "dreamers" the ability to work legally, to get a driver's license and to live without fear of being deported as long as their record stayed clear of serious crimes.
The Trump administration kicked the DACA issue to Congress and said it had six months to come up with a solution, or he would consider deporting all "dreamers."
Congress has said it would bring a plan up for a vote in January 2018, before the president's March 5 deadline.
North American Free Trade Agreement
While negotiations have started between Canada, the U.S. and Mexico to renew the 20-year trade agreement, nothing has been finalized. The Trump administration has threatened to leave Mexico out of a separate agreement with Canada. Canadian officials say, "Not so fast," and have rejected the notion. Mexico has said publicly that if the U.S. backs out, Mexico will go it alone and has already signed more than 40 separate trade agreements with other countries.
Arizona's political and business leadership says pulling out of NAFTA could cost the state 200,000 trade-related jobs and more than $5 billion every year.