Looking east from Cocoraque Butte, Ironwood Forest National Monument. (PHOTO: AC Swedbergh, AZPM)
(PHOTO: Arizona Department of Transportation)
The Arizona Department of Transportation's latest report on possible Interstate 11 corridors includes three options through Pima County, two of which run through Avra Valley.
An ADOT spokesperson said the I-11 Alternatives Selection Report was shaped by public comments received at public meetings and via other means.
The three corridors listed for further study include one that uses portions of interstates 10 and 19. One involves a new route west of Tucson through all of Pima County and the last splits off of I-19 near Sahuarita and joins I-10 near the Pinal County line.
"This is the time where the study team really takes all of that input, and we continue to listen to the public," said Laura Douglas. "What their concerns are — pros, cons, comments, questions — and that's part of our meetings summary report that we've published. And we'll continue to have those conversations moving forward."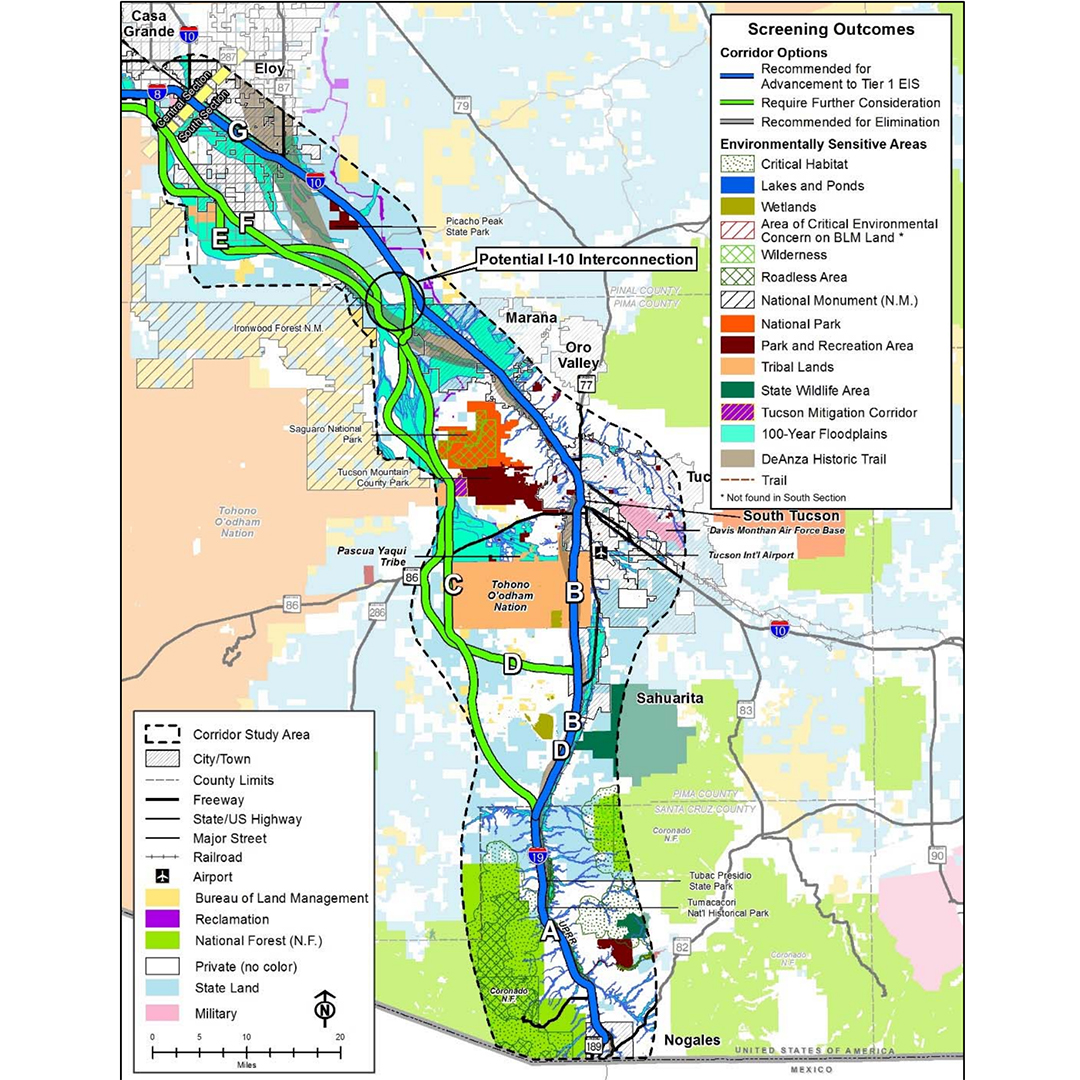 VIEW LARGER A Southern Arizona map from ADOT's Alternatives Selection Report 11 report, dated December 4, 2017. (PHOTO: Arizona Department of Transportation)
Two Tucson-area meetings featured strong opposition to plans to build a new interstate through Avra Valley.
"We heard a lot of input during our May public meetings," said Douglas. "We heard a lot of conversations during that time about what Interstate 11 should or should not look like, and that has allowed us to forward to prepare for the next step, which is the draft environmental impact statement."
The draft environmental impact statement is due for release in the summer of 2018, with public input meetings to follow in fall of 2018.