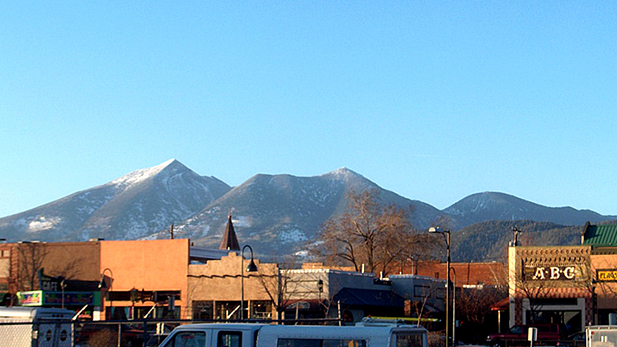 A view from downtown Flagstaff, Arizona.

Derek Cashman, via Wikimedia Commons
The Flagstaff City Council passed a resolution against the transportation of uranium ore through the city and neighboring communities this week.
The resolution is symbolic and will have no control over the route the trucks will take. Only the federal government has that authority.
Flagstaff Mayor Coral Evans quoted Martin Luther King when she told the council they have seen several laws change because the people have determined them to be "out of harmony with moral law."
"I think the legacy of uranium mining in Northern Arizona is unjust," Evans said. "I believe that this is clearly shown through the route that this ore takes. I believe that it's shown through the levels of cancer and cancer-related deaths experienced by the indigenous people in our region."
The council voted 6-1 to make Flagstaff a "nuclear free zone." Scott Overton voted against the resolution.
Community members asked the council to take the resolution to the next level and pass a legally binding ordinance to stop the transportation of uranium ore through Flagstaff.