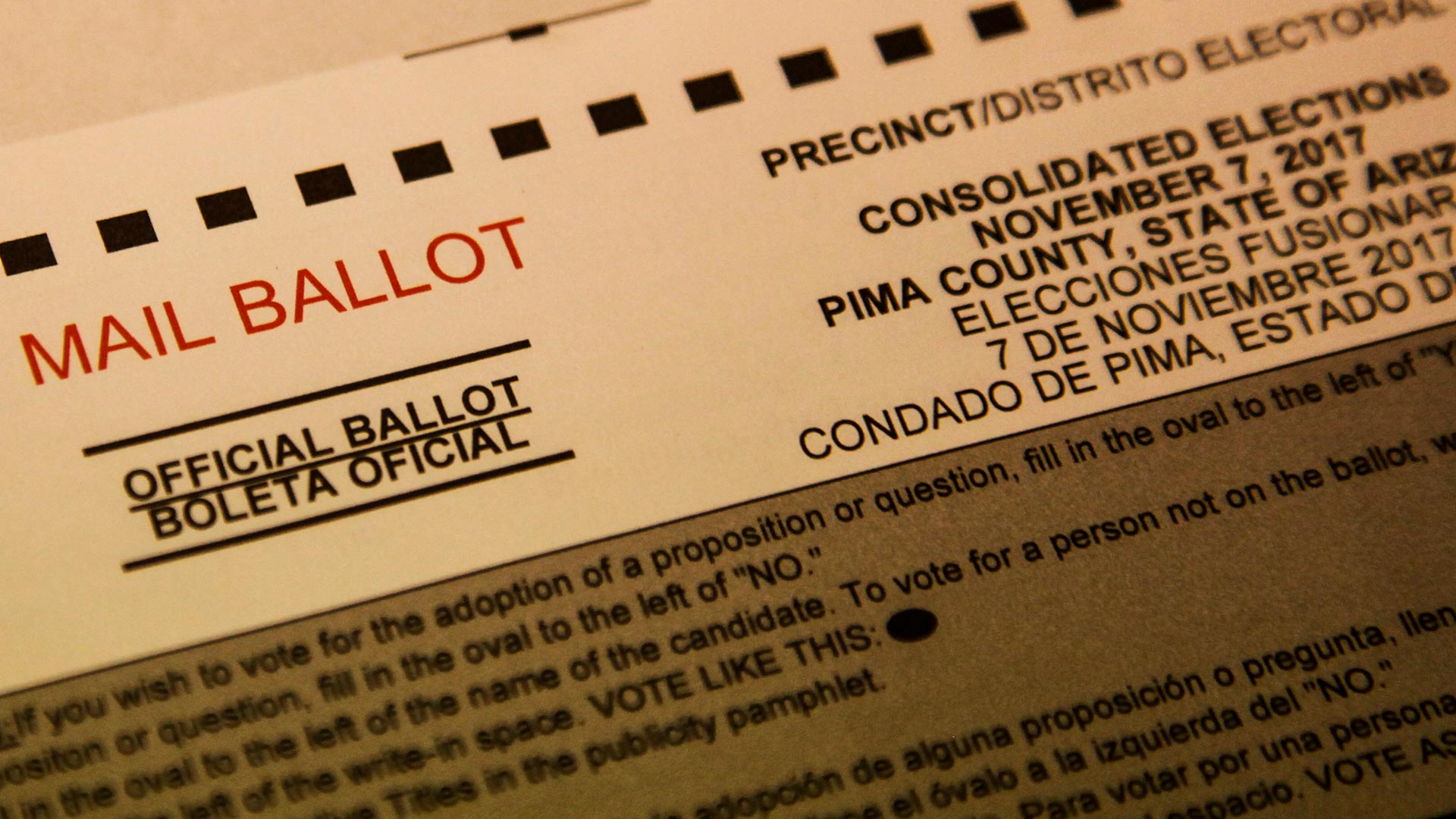 The ballot for a Nov. 7, 2017 Tucson election.
AZPM Staff
Voters in Tucson have elected Paul Durham to the City Council in Ward 3, and kept Steve Kozachik in Ward 6, retaining a council of all Democrats.
Democrat Steve Kozachik won his third term against challengers Mike Cease, a Green Party candidate, and Republican Mariano Rodriguez, based on preliminary results.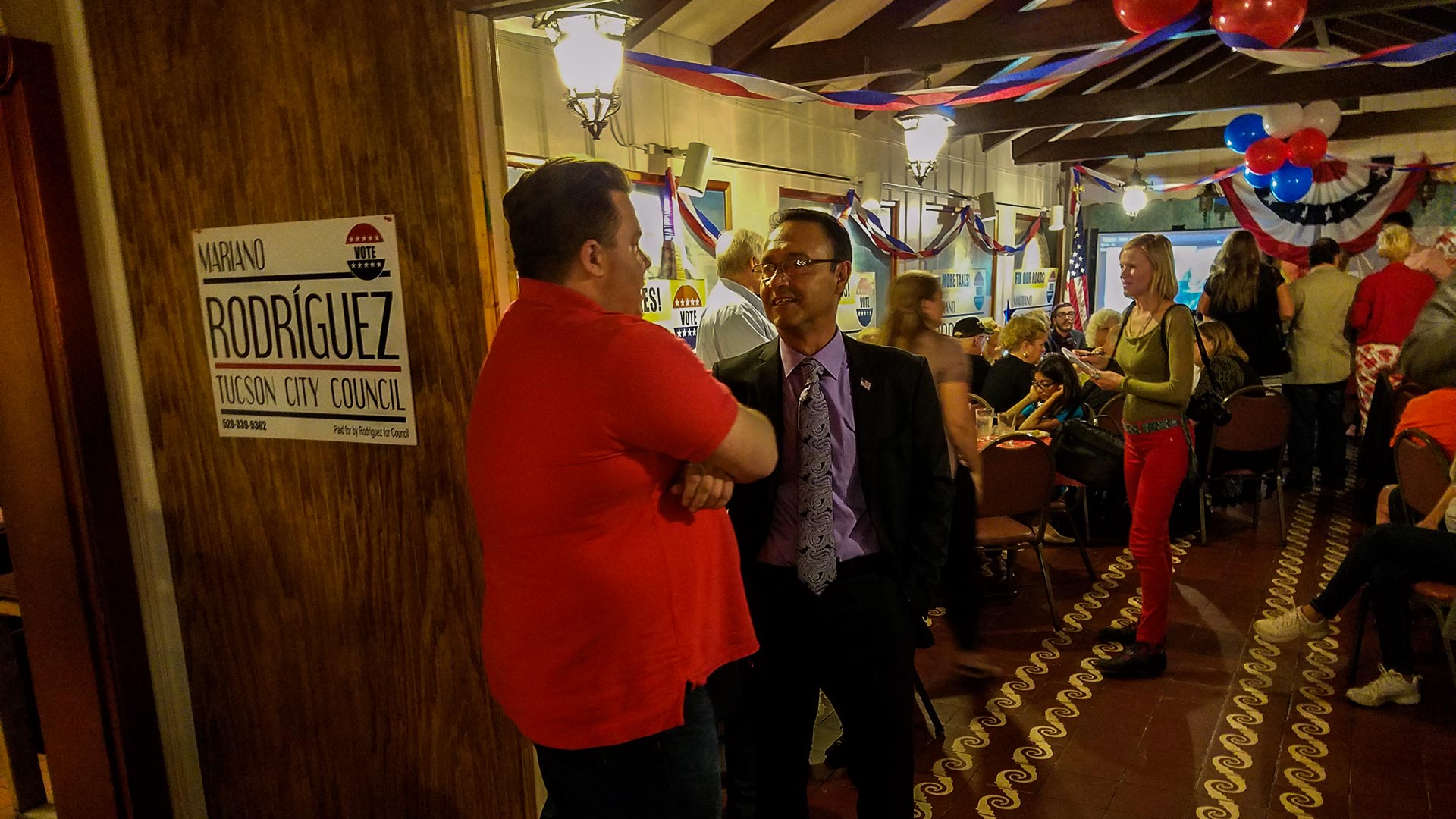 VIEW LARGER Republican City Council candidate Mariano Rodriguez awaits results of the Nov. 7 Tucson election at Pima County Republican Party headquarters.

Zac Ziegler, AZPM
Democrat Paul Durham and Independent Gary Watson were competing for an open seat. Incumbent Democrat Karin Uhlich decided not to seek re-election in Ward 3. Tucson's primary election is limited to voters within the ward, but the general election for all council seats is open to all registered voters in the city.
Durham said he plans to get started on one of his campaign promises as soon as he takes office.
"I'm going to push for early adoption of the 100 percent renewable energy by 2025. I believe that the council should declare that as a goal," Durham said.
Kozachik won while spending almost no money on his campaign, and said voters reinforced the city's direction.
"We're all operating on the same page and so we have a good story to tell and I think the voters, just as they did with Prop. 101 back in May, sent a strong vote of confidence saying that we believe in what you guys are doing, and let's not rock the ship right now," Kozachik said.
Voters turned down a raise for the City Council, as well as a sales tax increase to pay for preschool education.
A sales tax to pay for improvements at the Reid Park Zoo is uncertain. To pass, it would need voters to approve two measures. One of those is passing, while the other is too close to call, with a margin of 350 votes.
Pima County Republican Party Chairman David Eppihimer said he thinks the double-question issue may be why voters have so far left the results with a less-clear outcome.
With two votes, one "enabling legislation, and one being the tax itself, that's kind of unusual. So there could have been some voter confusion to account for this," he said. The local Republican Party opposed the sales tax measures.
The city election was conducted entirely by mail-in ballots, though some polling places were open Tuesday for people who needed to vote in person. Preliminary results showed a 32 percent voter turnout.
Here are the preliminary results for Tuesday's races in Pima County:
---
Tucson City Council
Ward 3
Ward 6
Mariano Rodriguez (R) 33%
Ward 5
Richard Fimbres (D), unopposed 94%
---
Tucson Propositions
Proposition 202 asked voters to authorize a one-tenth-of-a-cent sales tax increase to fund improvements at the Reid Park Zoo. Proposition 203 would allow the city to implement the tax. Both must pass for the sales tax to go to the zoo improvements.
Proposition 204 asked voters to approve a half-cent sales tax to fund early childhood education programs.
Proposition 406 asked voters to give the mayor and the city council members a raise.
Prop. 202
Prop. 203
Prop. 204
Prop. 406
---
Oro Valley Proposition
Proposition 454 asked voters for a $17 million bond, paid for by increased property taxes, to fund improvements at Naranja Park.
---
School District Bonds
Tucson Unified School District asked for a $180 million bond for school-building improvements.
Flowing Wells Unified School District asked for a $23.9 million bond for school building improvements.
Marana Unified School District asked for a 13 percent budget override (permission to spend above the state-imposed spending limit).
Sunnyside Unified School District asked for a 12 percent budget override (permission to spend above the state-imposed spending limit.