Approx. 8 tons of donated earthquake relief supplies from Barrio Hollywood arrived at a University in the Mexican State of Puebla. (VIDEO: courtesy Vera Gallego, office of Tucson Councilwoman Regina Romero)
A Tucson neighborhood effort to collect items for earthquake survivors in Mexico turned into a mission the size of a semi truck.

The corner of Speedway and Grande is the heart of Barrio Hollywood, That's where this weekend, dozens of residents were gathering items and loading them into a tractor trailer. Daisy Talavera was carefully accounting for every item. She described it as an all-volunteer effort.
"No one is getting famous, no one is selling anything, we are just people who want to help," Talavera said in Spanish.
The truck, a driver's time and the fuel were donated by Transportes Riasa Logist from Nogales, Sonora. In 24 hours volunteers filled the trailer with tons of canned food, diapers, flashlights, batteries and other needed items.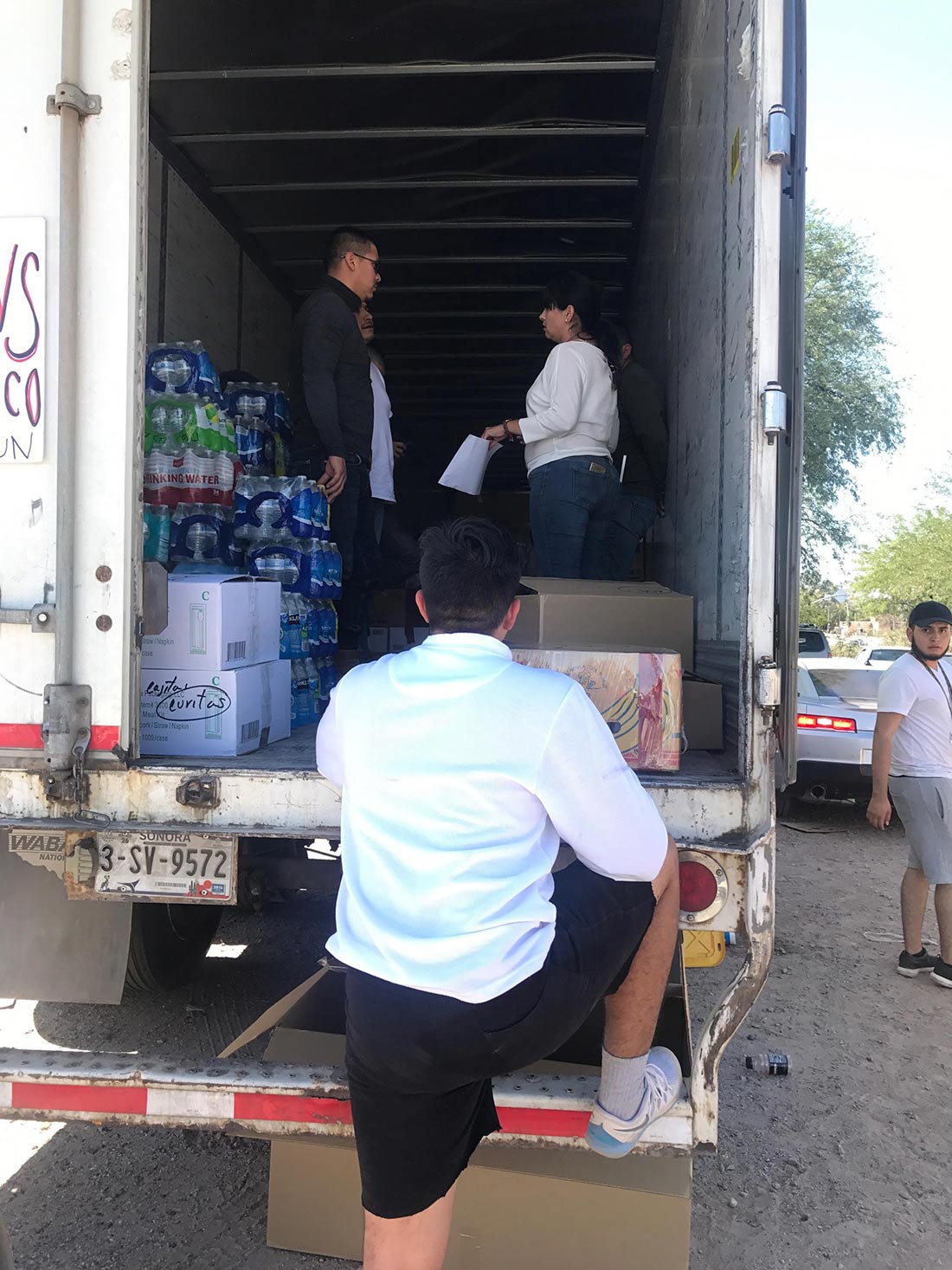 VIEW LARGER Volunteers load a truck with goods and supplies for Mexico earthquake survivors.

Nancy Montoya, AZPM
The owner of Mariscos Chihuahua on the southwest corner of Grande and Speedway gave permission for the volunteers to use it as a collection site.
Letters of support from Congressman Raul Grijalva, Mayor Jonathan Rothschild and Tucson Councilwoman Regina Romero helped to make sure the truck could get through Mexican customs enforcement.
The truck is now heading to a university in the Mexican state of Puebla where students are ready to distribute items directly to the people who need it.
UPDATE:
"The truck arrived yesterday in Puebla. The supplies are being unloaded, they have a long line where they're passing bags to the University. Tomorrow or later on today, they will deliver to those that were affected by the earthquake. It was about 8 tons of supplies that were sent from Barrio Hollywood." - Vera Gallego, executive assistant to Tucson councilwoman Regina Romero
The community-driven effort to send supplies from the Barrio Hollywood neighborhood in Tucson to a Mexican state hit by last week's 7.1 magnitude earthquake has been a success.
Vera Gallego, executive assistant to Tucson Councilwoman Regina Romero, received a video from Puebla early Thursday. It showed the volunteer-driven truck and its 8-ton cargo including bottled water, diapers, and batteries, had arrived safely at a Puebla University, where a volunteer student crew was waiting.
"Due to effect of the earthquake, classes were withheld for a while, but the students from the University – many thousands, I can see here, (are) unloading that truck from Barrio Hollywood."
Gallego said crossing the border without delay was made possible through cooperation between the Border Patrol and Tucson city government.
"They received a letter from (the) vice-mayor, and also they received a letter from Mayor Rothschild and from Congressman Grijalva."
She added this shipment was an example of the spirit of the community…
"To me, there's no better place than Tucson. The people are very united, very giving to help one another."
Neighbors in Barrio Hollywood at Speedway and Grande collect semi-truck full of supplies to send to Mexico earthquake survivors.
Nancy Montoya, AZPM