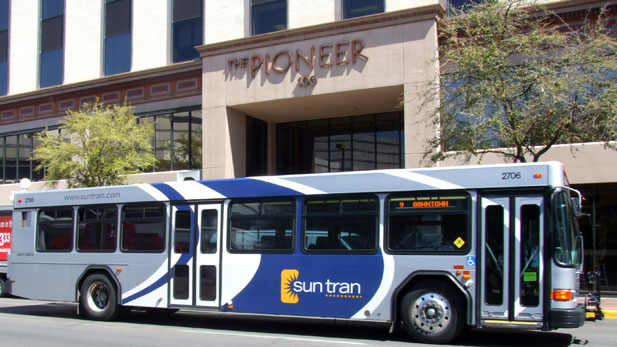 Pima Association of Governments planners are considering shutting down or modifying a few lesser-used Sun Tran routes in order to increase service efficiency.
Routes 411, 412, 413, 421 and 401 — the ones in question — service Oro Valley, Marana, Sahuarita and Green Valley.
PAG Transit Services Manager James McGinnis said Sun Tran might fully discontinue route 411 in Marana because of low ridership, while they plan on modifying the other four routes to improve their efficiency. For example: PAG officials have proposed route 412's stop be relocated to the Marana Outlet Mall — something he said will better serve the public.
"We do want the public to understand that the changes that we're making are with the intention of improving the system," McGinnis said. "Those are set with the intent that we're optimizing the public tax dollars that we spend on transit."
But PAG won't change anything until Pima County residents share their opinions about the proposed changes.
PAG has planned four public open houses this week to get a feel for how changing routes will affect Sun Tran riders.
"If we find that there is a particular stop that is highly valued by the community or a portion of the ridership that uses that stop frequently, that for some reason our numbers aren't giving us the complete story — then we can reevaluate the recommendations from there," McGinnis said.
The first open house concerns Sun Tran routes 412 and 413. It will start at 4 p.m. Tuesday at the Marana Municipal Complex, 11555 W. Civic Dr.
Find the full open house schedule here.