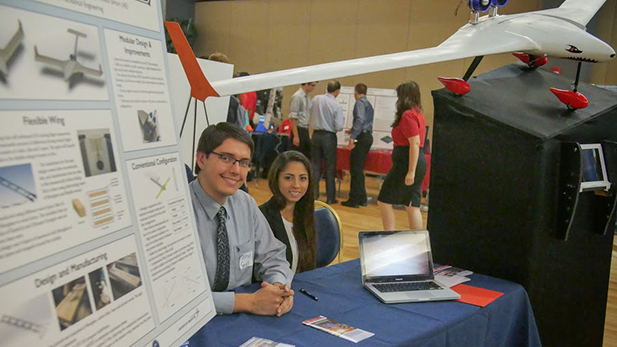 UA College of Engineering students show off their project at Design Day 2015.

University of Arizona College of Engineering
The University of Arizona Student Union and mall on Tuesday will be full of engineering projects designed by College of Engineering seniors.
More than 100 teams will show off projects ranging from smart space suits and unmanned aerial vehicles to a solar-powered whiskey still and self-healing concrete.
Many of the projects were designed for companies including Boeing, Raytheon, Texas Instruments and Ventana Medical Systems. Most of the student teams have members from more than one engineering discipline.
Watch a video from Engineering Design Day 2015.
The teams will compete for $20,000 in prize money. The students have gained experience in designing projects that could become commercial products.
Eddie Mackay's team designed a wastewater reuse system for Shamrock Foods in Phoenix.
"The hard challenges, at first, were figuring out a method to clean the water because there's a lot of wastewater treatment methods, so we went through a lot of design phases, probably about three or four main design phases," said Mackay, an engineering management major.
Mackay said his team came up with a functional design while learning about project management and sharing knowledge and skills from each of their disciplines.
Design day runs from 11 a.m. to 5 p.m. Tuesday, May 3 at the Student Union Memorial Center ballroom and on the campus mall.