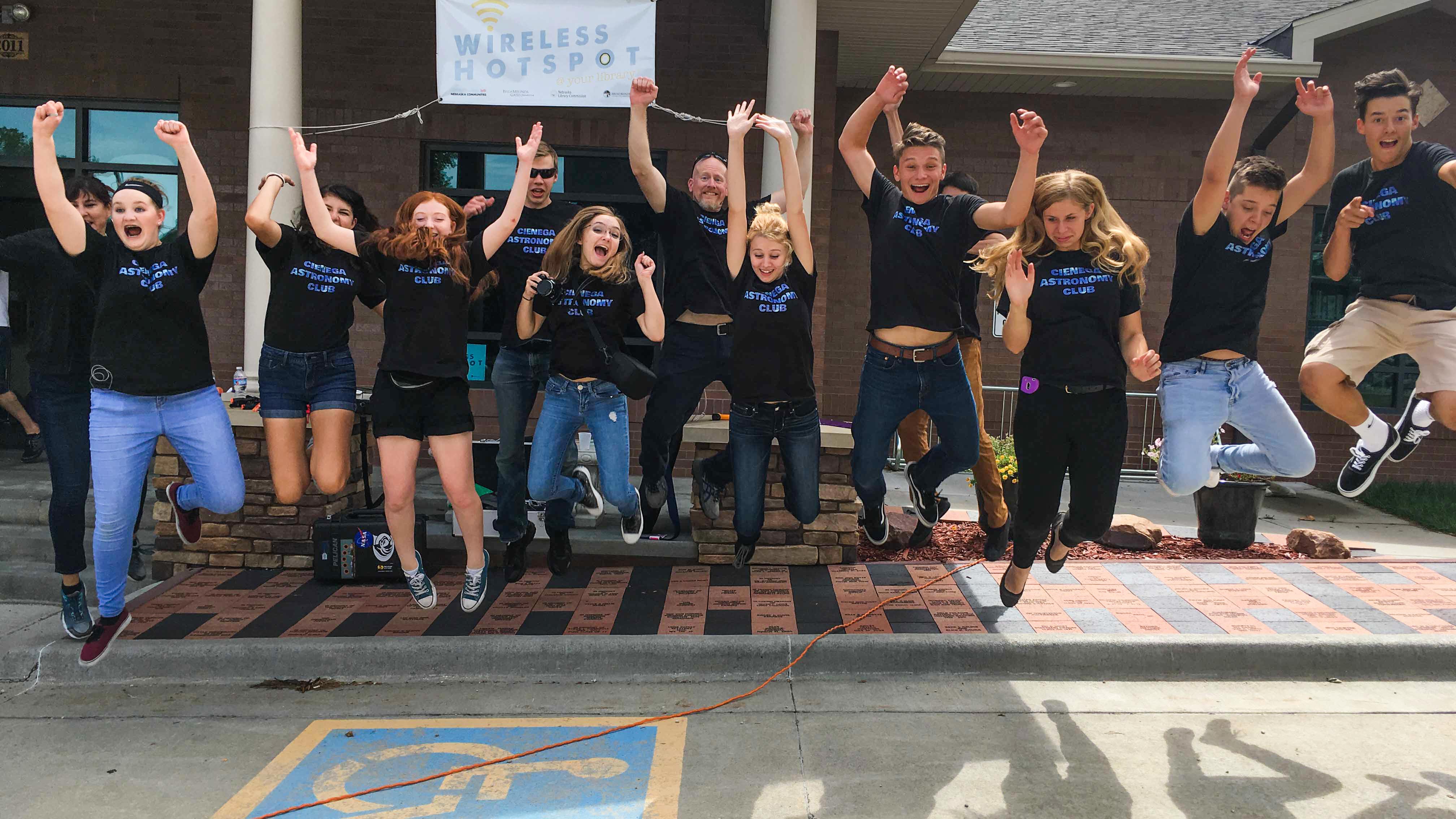 Members of the Cienega High School Citizen Continental-America Telescopic Eclipse Experiment celebrate at the Pawnee City (Nebraska) Library during the Great American Eclipse, Aug. 21, 2017.
Courtesy of Jack Erickson
Astronomy students from Cienega High School in Vail were among 68 groups nationwide who recorded the total eclipse Monday as part of the Citizen Continental-America Telescopic Eclipse Experiment.
They were back at school Wednesday recalling the experience.
"What I'm going to remember most is the moment when it changed from partial to totality. We all had our glasses on and we were watching it. It was just amazing and like the corona appeared and I was so amazed I almost forgot to start taking the data," said junior Savannah Shoffner.
The students' two-and-a-half-minute video will be stitched together with the other data collected into a 90-minute video giving a rare look at the sun's corona, not normally visible. Tucson-based solar astronomer Matt Penn, with the National Solar Observatory, put the solar viewing project together.
The Cienega team worked for two years to prepare for the two and a half minutes. They had to work through problems and many practice sessions before they headed to Pawnee City, Nebraska.
On Monday morning, "There were no clouds for the two and a half minutes of totality, and it was just beautiful and it felt like a miracle because there have been so many problems," said freshman Emilie McClellan. There was rain in Pawnee City just before the moon blocked the sun's light.
"The one thing I'll remember most is during totality how just amazing it was and how everything went dark and the temperature dropped and all you could see was the ring in the sky. It was like a diamond. It was definitely more than I expected," said Cole Bramhall, a sophomore.
While they had work to do, the students were able to take in the rare celestial experience.
"The coolest part was in totality. We're all jumping around and we're all super hyped because we'd been preparing for it for months and there had been so many practices and even that day with all of the clouds and the rain and everything and it was just so cool to see it work out and see totality," recalled freshman Ella Erickson.
Senior Daniel Stelly was looking at the path of the next eclipse in April 2024. He saw that the path runs through Ohio, where he has relatives.
"I wouldn't mind going about chasing down these eclipses every now and again whenever they are nearby. It's something everybody should experience at least once in their life," he said.
Senior Julie Vanvoorhis said her takeaway from the experience is the friendships the group forged as they worked together toward a goal. Brynn Brettell, a junior, said she'll remember how the students spent a lot of time in a van while in Nebraska, and when they got stressed out, they cranked up the music to calm themselves and refocus.
Junior Madison Kroeger said the eclipse experience was "perfect," largely due to all of the work put in by the students, their teacher Jack Erickson, parents and mentors in order to teach them how to use the telescopes and other equipment and to be prepared for the day.